Abstract
The utilization of carbon dioxide (CO2) as a sustainable feedstock for chemical products is becoming more interesting topic as the public issue of global warming has been increasingly emphasized. In this study, CO2 was polymerized in the presence of propylene oxide by using a double metal cyanide catalyst, affording poly(ether carbonate) (PEC) polyol. Rigid polyurethane foams (RPUFs) were successfully prepared with a bi-polyol mixture of different compositions containing the CO2-based PEC polyol. Approximately 43 wt% of petroleum-based polyether polyol was successfully substituted by the CO2-based PEC polyol, affording RPUFs with controlled characteristics. The properties of the RPUFs, such as apparent density, compressive strength, thermal conductivity, thermal stability and cell morphology, supported the potential of the RPUFs as thermal insulating materials and CO2 as an eco-friendly sustainable resource.
This is a preview of subscription content, log in to check access.
Access options
Buy single article
Instant access to the full article PDF.
US$ 39.95
Price includes VAT for USA
Subscribe to journal
Immediate online access to all issues from 2019. Subscription will auto renew annually.
US$ 99
This is the net price. Taxes to be calculated in checkout.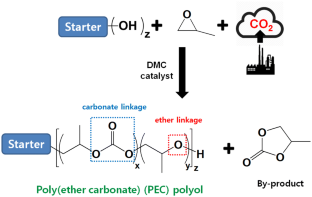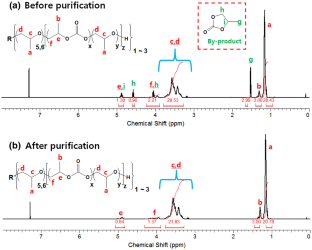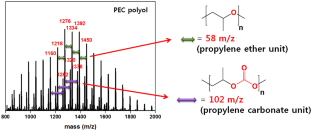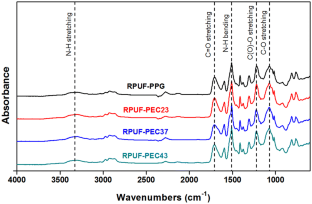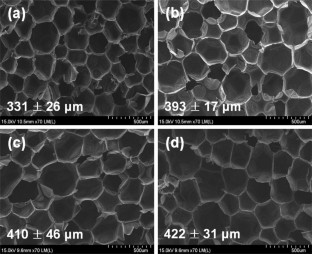 Abbreviations
1H-NMR:

Proton nuclear magnetic resonance

CCU:

CO2 capture/utilization

CO2 :

Carbon dioxide

DEG:

Diethylene glycol

DMC:

Double metal cyanide

EEA:

2-Ethoxyethyl acetate

FE-SEM:

Field emission-scanning electron microscopy

FPUF:

Flexible polyurethane foam

FT-IR:

Fourier transform infrared

K3[CO(CN)6]:

Potassium hexacyanocobaltate (III)

KOH:

Potassium hydroxide

M-200:

Polymeric 4,4′‐diphenylmethane isocyanate

MALDI-TOF MS:

Matrix-assisted laser desorption ionization-time of flight mass spectrometry

Mn,maldi :

Number-average molecular weight determined by MALDI-TOF MS

MW:

Molecular weight

Mw,maldi :

Weight-average molecular weight determined by MALDI-TOF MS

P123:

Poly(ethylene glycol)-block-poly(propylene glycol)-block-poly(ethylene glycol)

P3059:

Low MW multifunctional polypropylene glycol

PC:

Polycarbonate

PC%:

Content of propylene carbonate unit

PEC:

Poly(ether carbonate)

PO:

Propylene oxide

Polycat 8:

N,N-Dimethylcyclohexylamine

PPG:

Poly(propylene glycol)

PU:

Polyurethane

PUF:

Polyurethane foam

RPUF:

Rigid polyurethane foam

TGA:

Thermogravimetric analysis

ZnCl2 :

Zinc chloride
References
1.

Meehl GA, Washington WM (1996) Nature 382:56

2.

Boot-Handford ME, Abanades JC, Anthony EJ, Blunt MJ, Brandani S, Mac Dowell N, Fernández JR, Ferrari M-C, Gross R, Hallett JP, Haszeldine RS, Heptonstall P, Lyngfelt A, Makuch Z, Mangano E, Porter RTJ, Pourkashanian M, Rochelle GT, Shah N, Yao JG, Fennell PS (2014) Energy Environ Sci 7:130

3.

Yu KMK, Curcic I, Gabriel J, Tsang SCE (2008) Chemsuschem 1:893

4.

Alagi P, Ghorpade R, Choi YJ, Patil U, Kim I, Baik JH, Hong SC (2017) ACS Sustain Chem Eng 5:3871

5.

Akindoyo JO, Beg MDH, Ghazali S, Islam MR, Jeyaratnam N, Yuvaraj AR (2016) RSC Adv 6:114453

6.

Abdel Hakim AA, Nassar M, Emam A, Sultan M (2011) Mater Chem Phys 129:301

7.

Kacperski M, Spychaj T (1999) Polym Adv Technol 10:620

8.

Silva MC, Takahashi JA, Chaussy D, Belgacem MN, Silva GG (2010) J Appl Polym Sci 117:3665

9.

Mahmood N, Yuan Z, Schmidt J, Tymchyshyn M, Xu C (2016) Green Chem 18:2385

10.

Tan S, Abraham T, Ference D, Macosko CW (2011) Polymer 52:2840

11.

Wang S-X, Zhao H-B, Rao W-H, Huang S-C, Wang T, Liao W, Wang Y-Z (2018) Polymer 153:616

12.

Cho ST, So JI, Jung J-Y, Hwang S, Baeck S-H, Shim SE (2019) Macromol Res 27:153

13.

Choi YJ, Alagi P, Jang JH, Lee SJ, Yoon HY, Hong SC (2018) Polym Test 68:279

14.

Alagi P, Ghorpade R, Jang JH, Patil C, Jirimali H, Gite V, Hong SC (2018) Macromol Res 26:696

15.

Alagi P, Ghorpade R, Jang JH, Patil C, Jirimali H, Gite V, Hong SC (2018) Ind Crop Prod 113:249

16.

Alagi P, Choi YJ, Seog J, Hong SC (2016) Ind Crop Prod 87:78

17.

Alagi P, Choi YJ, Hong SC (2016) Eur Polym J 78:46

18.

Langanke J, Wolf A, Hofmann J, Böhm K, Subhani MA, Müller TE, Leitner W, Gürtler C (2014) Green Chem 16:1865

19.

Pohl M, Danieli E, Leven M, Leitner W, Blümich B, Müller TE (2016) Macromolecules 49:8995

20.

Wang J, Zhang H, Miao Y, Qiao L, Wang X, Wang F (2016) Green Chem 18:524

21.

Liu S, Miao Y, Qiao L, Qin Y, Wang X, Chen X, Wang F (2015) Polym Chem 6:7580

22.

Park JE, Kim WK, Hwang DY, Choi GH, Suh DH (2018) Macromol Res 26:246

23.

DeBolt M, Kiziltas A, Mielewski D, Waddington S, Nagridge MJ (2016) J Appl Polym Sci 133:44086

24.

Jang JH, Ha JH, Kim I, Baik JH, Hong SC (2019) ACS Omega 4:7944

25.

Jacobs G, Meyer-Ahrens S, Klesczewski B, Schultz A, US 2016/0257776 A1, 8 Sept 2016

26.

Klesczewski B, Hofmann J, Malsch K, Welsch N, Lorenz K, Nefzger H, Laemmerhold K, US 2018/0273674 A1, 27 Sept 2018

27.

Mijolovic D, Bauer S, US 8247467 B2, 21 Aug 2012

28.

Chen S, Xiao Z, Ma M (2008) J Appl Polym Sci 107:3871

29.

Zhang M, Pan H, Zhang L, Hu L, Zhou Y (2014) Ind Crop Prod 59:135

30.

Kim I, Ahn J-T, Ha CS, Yang CS, Park I (2003) Polymer 44:3417

31.

Tran CH, Pham LTT, Lee Y, Jang HB, Kim S, Kim I (2019) J Catal 372:86

32.

Yilgör I, Yilgör E, Wilkes GL (2015) Polymer 58:A1

33.

Adhikari R, Gunatillake PA, McCarthy SJ, Meijs GF (2000) J Appl Polym Sci 78:1071

34.

Wenning C, Noe J, Barbe S, Leimenstoll MC (2018) Macromol Res 26:395

35.

Dounis DV, Wilkes GL (1997) J Appl Polym Sci 66:2395

36.

Lim H, Kim SH, Kim BK (2008) J Appl Polym Sci 110:49

37.

Zhang H, Fang W-Z, Li Y-M, Tao W-Q (2017) Appl Therm Eng 115:528

38.

Shutov FA (1983) In: Industrial developments, advances in polymer science, vol 51. Springer, Berlin, p 155

39.

Paruzel A, Michałowski S, Hodan J, Horák P, Prociak A, Beneš H (2017) ACS Sustain Chem Eng 5:6237

40.

Guo A, Javni I, Petrovic Z (2000) J Appl Polym Sci 77:467

41.

Septevani AA, Evans DAC, Chaleat C, Martin DJ, Annamalai PK (2015) Ind Crop Prod 66:16

42.

Peng S, An Y, Chen C, Fei B, Zhuang Y, Dong L (2003) Polym Degrad Stabil 80:141
Acknowledgements
This work was supported by the National Research Foundation of Korea (NRF) grant funded by the Korea government (MSIT) (NRF-2019R1A2C1003735). This work was also supported by POSCO (No. 2018A014).
Additional information
Publisher's Note
Springer Nature remains neutral with regard to jurisdictional claims in published maps and institutional affiliations.
About this article
Cite this article
Lee, D.H., Ha, J.H., Kim, I. et al. Carbon Dioxide Based Poly(ether carbonate) Polyol in Bi-polyol Mixtures for Rigid Polyurethane Foams. J Polym Environ (2020). https://doi.org/10.1007/s10924-020-01668-0
Keywords
Carbon dioxide

Poly(ether carbonate)

Polyol

Rigid polyurethane foam

Thermal conductivity