Abstract
Poly (urethane-glutaric-esteramide) (PUGEA) was synthesized using corn oil and glutaric acid and further treated with toluene-2, 4-diisocyanate. Fumed silica with 1, 2, and 3 weight percentage was included in the synthesized PUGEA resin to obtain PUGEA-1, PUGEA-2 and PUGEA-3 nanocomposite resins, respectively. The chemical structure of glutaric polyesteramide and PUGEA was characterized by Fourier-transform infrared spectroscopy and nuclear magnetic resonance (1H and 13C NMR). The morphology, hydrophobicity and thermal stability of the PUGEA nanocomposites were investigated by using scanning electron microscopy and energy-dispersive X-ray spectroscopy, by measuring contact angle and by thermogravimetric analysis (TGA). Afterward, the PUGEA/fumed silica nanocomposite coatings were applied on mild steel and dried at room temperature, and they were physico-mechanically characterized by measuring their scratch and pencil hardness, bending, impact resistance and cross-hatch adhesion. The anti-corrosion effectiveness of PUGEA-2 was investigated by electrochemical impedance spectroscopy immersing it for 42 days in a 3.5 wt% NaCl aqueous solution. Finally, TGA reveals that the PUGEA-3 nanocomposite coating can be safely used up to 275 °C.
This is a preview of subscription content, log in to check access.
Access options
Buy single article
Instant access to the full article PDF.
US$ 39.95
Price includes VAT for USA
Subscribe to journal
Immediate online access to all issues from 2019. Subscription will auto renew annually.
US$ 99
This is the net price. Taxes to be calculated in checkout.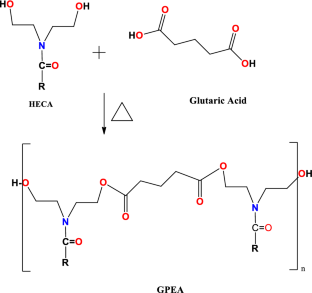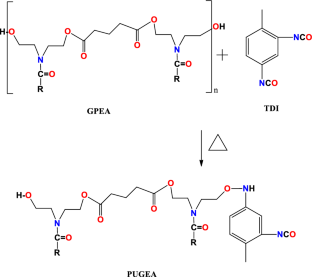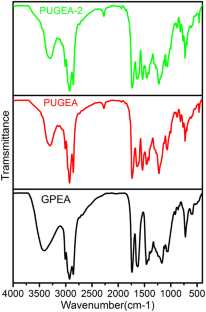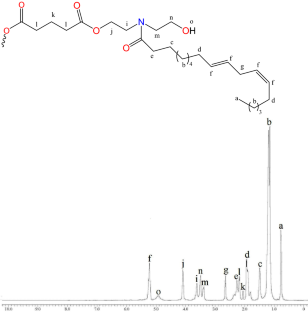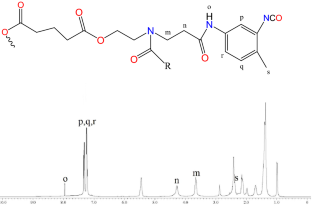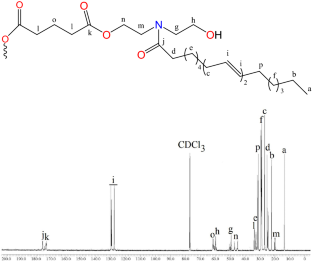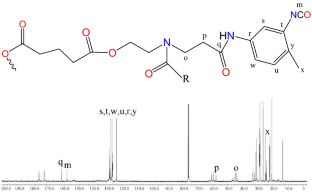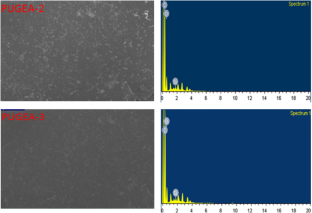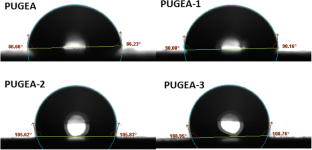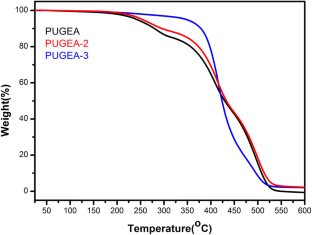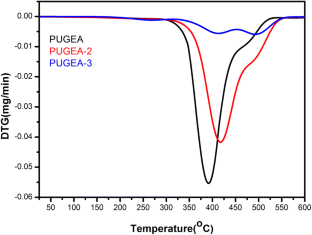 References
1.

Sharmin E, Zafar F, Akram D, Alam M, Ahmad S (2015) Ind Crops Prod 76:215

2.

Shogren RL, Petrovic Z, Liu Z, Erhan SZ (2004) J Polym Environ 12:173

3.

Alam M, Akram D, Sharmin E, Zafar F, Ahmad S (2014) Arab J Chem 7:469

4.

Scala JL, Wool RP (2005) Polymer 46:61

5.

Ferrer MCC, Babb D, Ryan AJ (2008) Polymer 49:3279

6.

Maisonneuve L, Lebarbe T, Grau E, Cramail H (2013) Polym Chem 4:5472

7.

Dutta S, Karak N, Baruah S (2010) J Appl Polym Sci 115:843

8.

Koprululu A, Onen A, Serhatli E, Guner FS (2008) Prog Org Coa 63:365

9.

Lligadas G, Ronda JC, Galia M, Biermann U, Metzger JO (2006) J Polym Sci Part A 44:634

10.

Tsujimoto T, Uyama H, Kobayashi S (2003) Macromol Rapid Commun 24:711

11.

Behzadnasab M, Mirabedini SM, Esfandeh M, Farnood RR (2017) Prog Org Coat 105:212

12.

Chen S, Wang Q, Wang T, Pei X (2011) Mater Deg 32:803

13.

Siyanbola TO, Sasidhar K, Anjaneyula B, Kumar KP, Rao BVSK, Narayan R, Olaofe O, Akintayo ET, Raju KVSN (2013) J Mater Sci 48:8215

14.

Alam M, Alandis NM, Ahmad N, Alam MA, Sharmin E (2019) Open Chem 17:206

15.

Alam M, Alandis NM, Ahmad N, Sharmin E, Zafar F, Alam MA (2016) Korean J Chem Eng 33:1736

16.

Alam M, Ashraf SM, Ray AR, Ahmad S (2010) J Polym Environ 18:208

17.

Alam M, Alandis NM (2014) Ind Crops Prod 57:17

18.

Huang Y, Lu J, Chen H, Du W, Wang X (2019) J Cryst Growth 507:1

19.

Dheep GR, Sreekumar A (2018) Appl Therm Eng 129:1189

20.

Rozenberg BA, Tenne R (2008) Prog Polym Sci 33:40

21.

Oprea S (2010) Polym Bull 65:753

22.

Eksik O, Erciyes AT, Yagci Y (2008) J Macromol Sci Part A 45:698

23.

Dhoke SK, Khanna AS (2009) Corros Sci 51:6

24.

Mallakpour S, Dinari M (2012) Prog Org Coat 75:373

25.

Yang J, Han CR, Duan JF, Xu F, Sun RC (2013) Nanoscale 5:10858

26.

Sangermano MG, Malucelli G, Amerio E, Priola A, Billi E, Rizza G (2005) Prog Org Coat 54:134

27.

Chiang HC, Hu HC, Tsiang RCC (2008) J Polym Sci Part A 46:8149

28.

Zhou S, Wu L, Sun J, Shen W (2002) Prog Org Coat 45:33

29.

Sangermano M, Periolatto M, Signore V, Spena PR (2017) Prog Org Coat 103:152

30.

Madhup MK, Shah NK, Parekh NR (2017) Prog Org Coat 102:186

31.

Dolatzadeh F, Moradian S, Jalili MM (2011) Corros Sci 53:4248

32.

Garcia YG, Gonzalez S, Souto RM (2007) Corros Sci 49:3514

33.

Zhang JT, Hu JM, Zhang JQ, Cao CN (2004) Prog Org Coat 51:145

34.

Hosseini MG, Sabouri M, Shahrabi T (2007) Prog Org Coat 60:178

35.

Grundmeier G, Schmidt W, Stratmann M (2000) Electrochem Acta 45:2515

36.

Macedo MCSS, Mattos ICPM, Fragata FL, Jorcin JB, Pebere N, Mattos OR (2009) Corros Sci 51:1322

37.

Zhu Y, Xiong J, Tang Y, Zuo Y (2010) Prog Org Coat 69:7

38.

Srikanth AP, Nanjundan S, Rajendran N (2007) Prog Org Coat 60:320

39.

Liu YL, Hsu CY, Wei WL, Jeng RJ (2003) Polymer 44:5159

40.

Saavedra JT, Beceiro JL, Naya S, Artiaga R (2008) Polym Degrad Stabil 93:2133
Acknowledgments
The Project was supported by King Saud University, Deanship of Scientific Research, and College of Science—Research Center.
Additional information
Publisher's Note
Springer Nature remains neutral with regard to jurisdictional claims in published maps and institutional affiliations.
Electronic supplementary material
Below is the link to the electronic supplementary material.
About this article
Cite this article
Alam, M., Alandis, N.M., Ahmad, N. et al. Corn Oil-Derived Poly (Urethane-Glutaric-Esteramide)/Fumed Silica Nanocomposite Coatings for Anticorrosive Applications. J Polym Environ 28, 1010–1020 (2020). https://doi.org/10.1007/s10924-020-01660-8
Keywords
Corn oil

Fumed silica

Corrosion

Nanocomposite