Abstract
Modified chitosan gel beads, prepared by molybdate and tungstate coagulation methods, were tested for As(V) removal from solutions in the range of 5–200 mg As L−1. The sorbent is efficient at removing As(V) from acid solutions (optimum pH close to 3), the sorption capacities for As uptake in molybdate- and tungstate-loaded beads are 75 and 44 mg As g−1 of dry mass, respectively. The mechanism of As(V) sorption is related to the ability of molybdate and tungstate ions to complex As(V) ions in acid solutions. As(V) sorption process is mainly influenced by the presence of phosphate ions, but there is no influence of co-ions as nitrate and chloride. Arsenic desorption can be performed using phosphoric acid solutions. Arsenic adsorption proceeds in acidic solutions with a partial release of molybdate and tungstate and with residual concentrations of arsenic above the regulations for drinking water. For that reason, this material is a candidate for the treatment of industrial effluents.
Graphic Abstract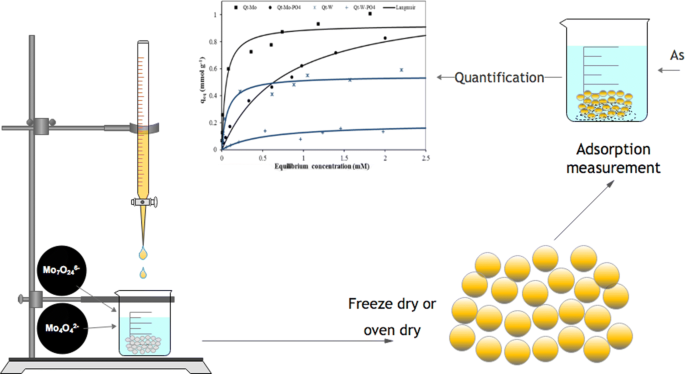 This is a preview of subscription content, log in to check access.
Access options
Buy single article
Instant access to the full article PDF.
US$ 39.95
Price includes VAT for USA
Subscribe to journal
Immediate online access to all issues from 2019. Subscription will auto renew annually.
US$ 99
This is the net price. Taxes to be calculated in checkout.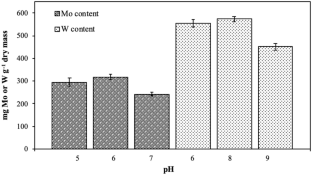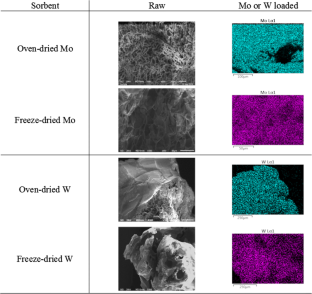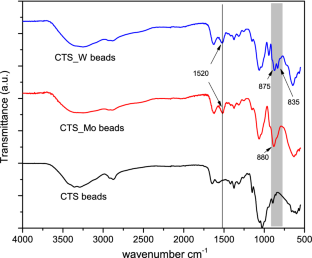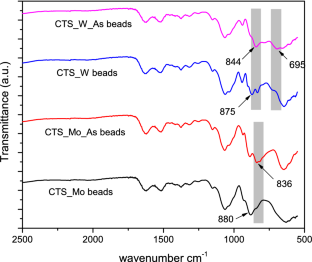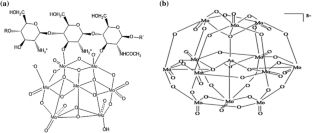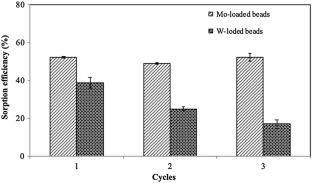 References
1.

Mohan D, Pittman C Jr (2007) J Hazard Mater 142:1–53

2.

Navarro O, González J, Júnez-Ferreira H, Bautista C-F, Cardona A (2017) Procedia Eng 186:333–340

3.

Missimer TM, Teaf CM, Beeson WT, Maliva RG, Woolschlager J, Covert DJ (2018) Int J Environ Res Public Health 15:1–30

4.

Rahman M, Rahman A, Kaiser Khan M, Renzaho AM (2018) Ecotoxicol Environ Saf 150:335–343

5.

Bhowmick S, Pramanik S, Singh P, Mondal P, Chatterjee D, Nriagu J (2018) Sci Total Environ 612:148–169

6.

Kwok K, Koong LF, Chen G, McKay G (2014) J Colloid Interface Sci 416:1–10

7.

Guibal E (2004) Sep Purif Technol 38:43–74

8.

Kumar AS, Jiang SJ (2016) J Environ Chem Eng 4:1698–1713

9.

Ngah W, Endud C, Mayanar R (2002) React. Funct. Polym 50:181–190

10.

Pang M, Kano N, Imaizumi H (2015) J Chem Chem Eng 9:433–441

11.

Beheshti H, Irani M, Hosseini L, Rahimi A, Aliabadi M (2016) Chem Eng J 284:557–564

12.

Wang Y, Li L, Luoa C, Wanga X, Duan H (2016) Int J Biol Macromol 86:505–511

13.

Dambies L, Guibal E, Roze A (2000) Colloids Surf A 170:19–31

14.

Dambies L, Vincent T, Guibal E (2002) Water Res 36:3699–3710

15.

Gibert F, Moine B, Schott J, Dandurand JL (1992) Contrib Mineral Petrol 112:371–384

16.

Rinaudo M (2006) Prog Polym Sci 31:603–632

17.

Kasaai MR (2007) Carbohydr Polym 68:477–488

18.

Brunauer S, Emmett P, Teller E (1938) J Am Chem Soc 60:309–319

19.

Basha CA, Selvi SJ, Ramasamy E, Chellammal S (2008) Chem Eng J 141:89–98

20.

Dziubek J (2017) Web conf 17:1–8

21.

Dambies L, Vincent T, Domard A, Guibal E (2001) Biomacromol 2:1454–1463

22.

Gustafsson JP (2003) Chem Geol 200:105–115

23.

Xu N, Christodoulatos C, Braida W (2006) Chemosphere 64:1325–1333

24.

Koutsospyros A, Braida W, Christodoulatos C, Dermatas D, Strigul N (2006) J Hazard Mater 136:1–19

25.

Rakshit S, Sallman B, Davantés A, Lefèvre G (2017) Chemosphere 168:685–691

26.

Gecol H, Miakatsindila P, Ergican E, Hiibel SR (2006) Desalination 197:165–178

27.

Rietra RP, Hiemstra T, van Riemsdijk WH (1999) Geochim Cosmochim Acta 63:3009–3015

28.

Qian L, Zhang H (2011) J Chem Technol Biotechnol 86:172–184

29.

Rahman I, Vejayakumaran P, Sipaut C, Ismail J, Chee C (2008) Ceram Int 2059:2066

30.

Di Renzo F, Valentin R, Boissiere M, Tourrette A, Sparapano G, Molvinger K (2005) … Quignard F. Chem Mater 17:4693–4699

31.

Robitzer M, Di Renzo F, Quignard F (2011) Microporous Mesoporous Mater 140:9–16

32.

Klobes P, Meyer K, Munro RG (2006) In: Specific Surface Area and Pore Analysis by Gas Adsorption (ed), US Government printing office, Washington DC, p 23–24

33.

Instruments Q (2015) Powder Tech 51:51

34.

Pawlak A, Mucha M (2003) Thermochim Acta 396:153–166

35.

Fernandes Queiroz M, Teodosio Melo KR, Araujo Sabry D, Lanzi Sassaki G, Oliveira Rocha HA (2015) Mar Drugs 13:141–158

36.

Tuchowska M, Muir B, Kowalik M, Socha RP, Bajda T (2019) Materials 12:2253

37.

Guibal E, Milot C, Eterradossi O, Gauffier C, Domard A (1999) Int J Biol Macromol 24:49–59

38.

Severo E, Rossi Abaide E, Gonçalves Anchieta C, Segabinazzi Foletto V, Trevisan Weber C, Bisognin Garlet T, Foletto E (2016) Mater Res 19:781–785

39.

Bertoni FA, González JC, García SI, Sala LF, Bellú SE (2018) Carbohydr Polym 180:55–62

40.

Das J, Sarkar P (2016) Environ Sci-Wat Res 2:693–704

41.

Alekseev EV, Felbinger O, Wu S, Malcherek T, Depmeier W, Atuchin VV (2013) J Solid State Chem 204:59–63

42.

Chiban M, Zerbet M, Carja G, Sinan F (2012) J Environ Chem Ecotoxicol 4:91–102

43.

Taylor JB, Calvert D, Hun IR (1965) Can J Chem 43:3045–3051

44.

Girma Asere T, Mincke S, Jeriffa DC, Verbeken K, Tessema D, Fufa F (2017) … Du Laing G. Int J Environ Res Public Health 14:1–19

45.

Pontoni L, Fabbricino M (2012) Carbohydr Res 356:86–92

46.

Wan Ngah W, Fatinathan S (2008) Chem Eng J 143:62–72

47.

Ayawei N, Ebelegi A, Wankasi D (2017) J Chem 2017:1–11

48.

ZabihiSahebi A, Koushkbaghi S, Pishnamazi M, Askari A, Khosravi R, Irani M (2019) Int J Biol Macromol 140:1296–1304

49.

Nisticò R, Celi LR, Bianco Prevot A, Carlos L, Magnacca G, Zanzo E, Martin M (2018) J Hazard Mater 342:260–269

50.

Abou El-Reash YG, Otto M, Kenawy IM, Ouf AM (2011) Int J Biol Macromol 49:513–522

51.

Ruiz M, Sastre A, Guibal E (2002) Sep Sci Technol 37:2143–2166

52.

Chiou M, Li H (2003) Chemosphere 50:1095–1105

53.

Tran HN, You SJ, Hosseini-Bandegharaei A, Chao HP (2017) Water Res 120:88–116

54.

Qi J, Zhang G, Li H (2015) Bioresour Technol 193:243–249

55.

Elwakeel KZ, Guibal E (2015) Carbohydr Polym 134:190–204

56.

De Marques Neto JO, Bellato CR, Milagres JL, Pessoa KD, De Alvarenga ES (2013) J Braz Chem Soc 24:121–132

57.

Gupta A, Chauhan V, Sankararamakrishnan N (2009) Water Res 43:3862–3870

58.

Zeng H, Yu Y, Wang F, Zhang J, Li D (2020) Colloids Surf A 585:124036

59.

Tajuddin Sikder M, Tanaka S, Saito T, Kurasaki M (2014) J Environ Chem Eng 2:370–376

60.

He J, Bardelli F, Gehin A, Silvester E, Charlet L (2016) Water Res 101:1–9
Acknowledgement
National Council for Science and Technology—CONACYT. Scholarship # 401226 and scholarship as visiting research student at Ecole des Mines d´Alès, France. We want to thank Prof. Fierro-González for helping with specific surface area analysis, Prof. Almendárez-Camarillo for helping with SEM images, and Prof. Galindo-Vallarino for assistance with FTIR analysis.
Additional information
Publisher's Note
Springer Nature remains neutral with regard to jurisdictional claims in published maps and institutional affiliations.
Electronic supplementary material
Below is the link to the electronic supplementary material.
About this article
Cite this article
Sierra-Trejo, P.V., Guibal, E. & Louvier-Hernández, J.F. Arsenic Sorption on Chitosan-Based Sorbents: Comparison of the Effect of Molybdate and Tungstate Loading on As(V) Sorption Properties. J Polym Environ 28, 934–947 (2020). https://doi.org/10.1007/s10924-020-01654-6
Keywords
Arsenic

Treatment

Chitosan beads

Coagulation