Abstract
In the present study, we introduce the formation of Starch/PEG-poly (acrylic acid) hydrogel (St-PEG-AcAH) and nanocomposite of AgNPs-base St-PEG-AcAH (AgNPs-St-PEG-AcANCH) free radical method, and their characterization using analytical techniques of FT-IR, TEM, SEM, EDX, AFM, XRD, TGA/DTG. The thermodynamic parameters and application of prepared hydrogels was investigated for the removal of Hg2+ ions in water and the various solvents such as ethanol-water (30:70), ethanol-water (50:50), 2-propanol–water (40:60), respectively. The maximum adsorption capacity of Hg2+ ions for St-PEG-AcAH and AgNPs-St-PEG-AcANCH was achieved 158.21 mg/g and 182.53 mg/g in pH 7 and 6 in aqueous solutions, respectively. On the other hand, the results of adsorption isotherms revealed that adsorption process for both adsorbents occurred as a homogenous and monolayer process with L-shape isotherm. Furthermore, investigating the bioactivity of bioadsorbents, the good antimicrobial efficiency of the prepared samples was confirmed on E. coli bacteria.
This is a preview of subscription content, log in to check access.
Access options
Buy single article
Instant unlimited access to the full article PDF.
US$ 39.95
Price includes VAT for USA
Subscribe to journal
Immediate online access to all issues from 2019. Subscription will auto renew annually.
US$ 99
This is the net price. Taxes to be calculated in checkout.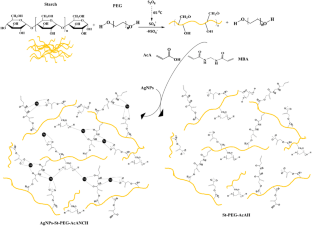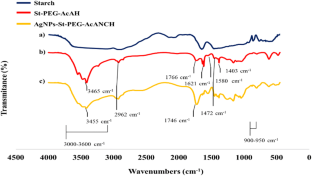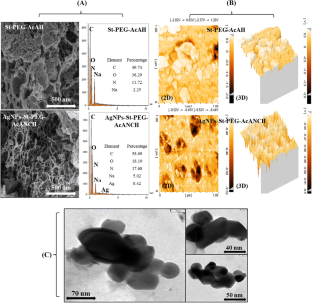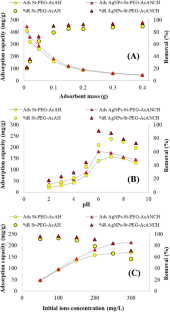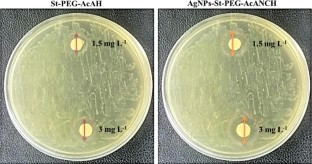 References
1.

Yu G, Lu Y, Guo J, Patel M, Bafana A, Wang X, Qiu B, Jeffryes C, Wei S, Guo Z, Wujcik EK (2018) Carbon nanotubes, graphene, and their derivatives for heavy metal removal. Adv Compos Hybrid Mater 1:56–78

2.

Irani M, Ismail H, Ahmad Z, Fan M (2015) Synthesis of linear low-density polyethylene-g-poly (acrylic acid)-co-starch/organo-montmorillonite hydrogel composite as an adsorbent for removal of Pb (ΙΙ) from aqueous solutions. J Environ Sci 27:9–20

3.

Sung JH, Back SK, Lee ES, Jang HN, Seo YC, Kang YS, Lee MH (2018) Application of powdered activated carbon coating to fabrics in a hybrid filter to enhance mercury removal. J Environ Sci 80:58–65

4.

Likus-Cieślik J, Pietrzykowski M, Chodak M (2018) Chemistry of sulfur-contaminated soil substrate from a former frasch extraction method sulfur mine leachate with various forms of litter in a controlled experiment. Water Air Soil Pollut 229:71

5.

Song D, Yang R, Long F, Zhu A (2019) Applications of magnetic nanoparticles in surface-enhanced Raman scattering (SERS) detection of environmental pollutants. J Environ Sci 80:14–34

6.

Fersi Bennani C, M'hiri O (2015) Comparative study of the removal of heavy metals by two nanofiltration membranes. Desalination Water Treat 53:1024–1030

7.

Santhosh C, Velmurugan V, Jacob G, Jeong SK, Grace AN, Bhatnagar A (2016) Role of nanomaterials in water treatment applications: a review. Chem Eng J 306:1116–1137

8.

Li G, Zhao Z, Liu J, Jiang G (2011) Effective heavy metal removal from aqueous systems by thiol functionalized magnetic mesoporous silica. J Hazard Mater 192:277–283

9.

Meng Q, Chen H, Lin J, Lin Z, Sun J (2017) Zeolite a synthesized from alkaline assisted pre-activated halloysite for efficient heavy metal removal in polluted river water and industrial wastewater. J Environ Sci 56:254–262

10.

Tabesh S, Davar F, Loghman-Estarki MR (2018) Preparation of γ-Al2O3 nanoparticles using modified sol-gel method and its use for the adsorption of lead and cadmium ions. J Alloy Compd 730:441–449

11.

Lo IMC, Yin K, Tang SCN (2011) Combining material characterization with single and multi-oxyanion adsorption for mechanistic study of chromate removal by cationic hydrogel. J Environ Sci 23:1004–1010

12.

Ozay O, Ekici S, Baran Y, Aktas N, Sahiner N (2009) Removal of toxic metal ions with magnetic hydrogels. Water Res 43:4403–4411

13.

Wang X, Deng W, Xie Y, Wang C (2013) Selective removal of mercury ions using a chitosan–poly (vinyl alcohol) hydrogel adsorbent with three-dimensional network structure. Chem Eng J 228:232–242

14.

Lee S, Kim N, Cho S, Ryu JC, Cho Y, Park JA, Lee SH, Kim J, Choi JW (2017) Application of organic-inorganic hybrid composite particle for removal of heavy metal ions from aqueous solution and its toxicity evaluation. Eur Polym J 95:335–347

15.

Liu X, Gan H, Hu C, Sun W, Zhu X, Meng Z, Gu R, Wu Z, Dou G (2019) Silver sulfadiazine nanosuspension-loaded thermosensitive hydrogel as a topical antibacterial agent. Int J Nanomed 14:289–300

16.

Bhuyan MM, Okabe H, Hidaka Y, Hara K (2017) Pectin-[(3-acrylamidopropyl) trimethylammonium chloride-co-acrylic acid] hydrogel prepared by gamma radiation and selectively silver (Ag) metal adsorption. J Appl Polym Sci 135:1–14

17.

Firdaus F, Fizree-Idris MS, Yusof SF (2019) Adsorption of nickel ion in aqueous using rubber-based hydrogel. J Polym Environ 27:1770–1780

18.

Nematidil N, Sadeghi M (2018) Free radical synthesis of nanosilver/gelatin-poly (acrylic acid) nanocomposite hydrogels employed for antibacterial activity and removal of Cu (II) metal ions. J Hazard Mater 351:38–53

19.

Kiatkamjornwong S, Thakeow P, Sonsuk M (2001) Chemical modification of cassava starch for degradable polyethylene sheets. Polym Degrad Stab 73:363–375

20.

Alshehri SM, Aldalbahi A, Al-Hajji AB, Chaudhary AA, Panhuis M, Alhokbany N, Ahamad T (2016) Development of carboxymethyl cellulose-based hydrogel and nanosilver composite as antimicrobial agents for UTI pathogens. Carbohydr Polym 138:229–236

21.

Siddiqui MN, Redhwi HH, IoannisTsagkalias L, Softas C, Ioannidou M, Achilias D (2016) Synthesis and characterization of poly (2-hydroxyethyl methacrylate)/silver hydrogel nanocomposites prepared via in situ radical polymerization. Thermochim Acta 643:53–64

22.

Mohamadi Zahedi S, Mansourpanah Y (2018) Construction of chitosan-carboxymethyl β-cyclodextrin silver nanocomposite hydrogel to improve antibacterial activity. Plast Rubber Compos 47:273–281

23.

Rao KM, Kumar A, Haider A, Han SS (2018) Biodegradable tragacanth gum based silver nanocomposite hydrogels and their antibacterial evaluation. J Polym Environ 26:778–788

24.

Saeedirad R, Ganjali ST, Bazmi M, Rashidi A (2018) Effective mesoporous silica-ZIF-8 nano-adsorbents for adsorptive desulfurization of gas stream. J Taiwan Inst Chem Eng 82:10–22

25.

Dawlet A, Talip D, Mi HY, Ti M (2013) Removal of mercury from aqueous solution using sheep bone charcoal. Procedia Environ Sci 18:800–808

26.

Crini G, Lichtfouse E, Wilson LD, Morin-Crini N (2018) Conventional and non-conventional adsorbents for wastewater treatment. Environ Chem Lett 17:195–213

27.

Jianqi F, Lixia G (2002) Swelling/deswelling behavior of thermally induced PVA/PAA hydrogel fiber in aqueous salt solutions. J Polym Mater 19(1):103–112

28.

Zohuriaan-Mehr MJ, Motazedi Z, Kabiri K, Ershad-Langroudi A, Allahdadi I (2006) Gum arabic-acrylic superabsorbing hydrogel hybrids: studies on swelling rate and environmental responsiveness. J Appl Polym Sci 102:5667–5674

29.

Li A, Wang A, Chen J (2004) Studies on poly(acrylic acid)/attapulgite superabsorbent composites. II. Swelling behaviours of superabsornbent composites in saline solutions and hydrophilic solvent-water mixtures. J Appl Polym Sci 94:1869

30.

Karahan S, Yurdakoç M, Seki Y, Yurdakoç K (2006) Removal of boron from aqueous solution by clays and modified clays. J. Colloid Interface Sci 293:36–42

31.

Saraydın D, Işıkver Y, Karadağ E (2018) A Study on the correlation between adsorption and swelling for poly (Hydroxamic Acid) hydrogels-triarylmethane dyes systems. J Polym Environ 26:3924–3936

32.

Giles CH, Mawan TH, Nakhwa SN, Smith D (1960) Studies in sorption. Part XJ. A system of classification of solution adsorption isotherms. J Chem Soc. https://doi.org/10.1039/JR9600003973

33.

Charles H, Smith G, Smith D (1974) A general treatment and classification of the solute adsorption isotherm I. theoretical. J Colloid Interface Sci 47:755–765

34.

Basu S, Samanta HS, Ganguly J (2018) Green synthesis and swelling behavior of Ag-nanocomposite semi-IPN hydrogels and their drug delivery using dolichos biflorus Linn. Soft Mater 16:7–19

35.

Lakshminarayanan R, Ye E, Young DJ, Li Z, Loh XJ (2018) Recent advances in the development of antimicrobial nanoparticles for combating resistant pathogens. Adv Healtch Mater 7(13):1701400
Acknowledgements
The research leading to these results has received funding from the chemistry laboratory of Islamic Azad University, Tehran-North Branch.
Additional information
Publisher's Note
Springer Nature remains neutral with regard to jurisdictional claims in published maps and institutional affiliations.
About this article
Cite this article
Saberi, A., Sadeghi, M. & Alipour, E. Design of AgNPs -Base Starch/PEG-Poly (Acrylic Acid) Hydrogel for Removal of Mercury (II). J Polym Environ (2020) doi:10.1007/s10924-020-01651-9
Keywords
Nano composites

Hydrogels

Starch

Ag nanoparticles