Abstract
Bionanocomposite hydrogels are suitable candidates for the preparation of the ideal wound dressings due to their unique hydrophilic properties, biocompatibility and appropriate control in delivering therapeutic agents such as drugs, proteins and cells. In this work, bionanocomposite hydrogel wound dressings based on egg white, poly (vinyl alcohol) and clay nanoparticles loaded with honey, as a natural antibiotic, were prepared using the freezing–thawing cyclic process and their performances evaluated in vitro and in vivo as novel wound dressings. The results showed that the swelling and dehydration capabilities of the prepared bionanocomposite hydrogel wound dressings decreased by increasing the content of incorporated clay nanoparticles. Honey release test showed that the presence of clay nanoparticles acts as a key factor in the release of honey and causes control over its release from the wound dressings. The in vivo results exhibited the excellent ability of the honey-loaded bionanocomposite hydrogel wound dressings in the creation and keeping a moist region on the surface of the infected and non-infected wounds and their capability in accelerating the healing process of animal wounds.
This is a preview of subscription content, log in to check access.
Access options
Buy single article
Instant unlimited access to the full article PDF.
US$ 39.95
Price includes VAT for USA
Subscribe to journal
Immediate online access to all issues from 2019. Subscription will auto renew annually.
US$ 99
This is the net price. Taxes to be calculated in checkout.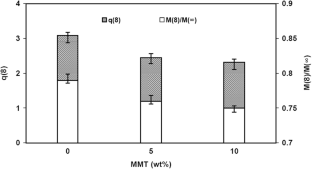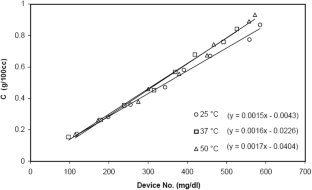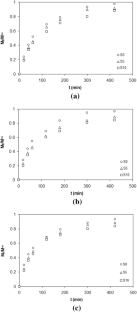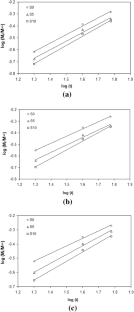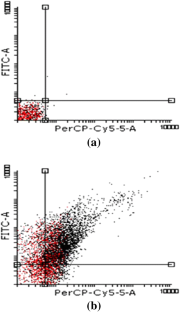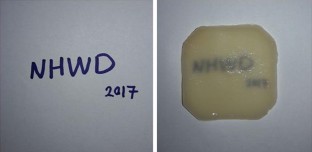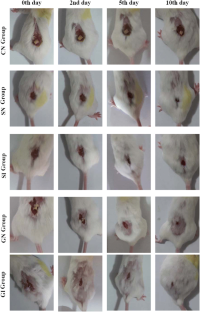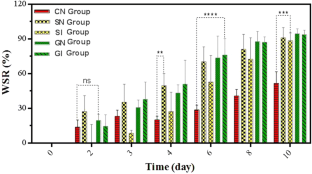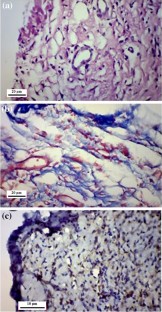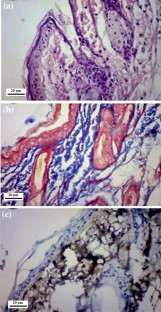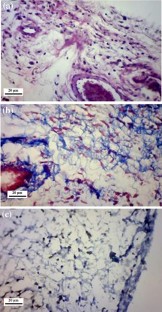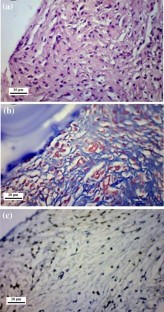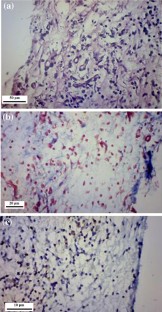 References
1.

Calo E, Khutoryanskiy VV (2015) Eur Polym J 65:252–267

2.

Zahedi P, Rezaeian I, Ranaei-Siadat SO, Jafari SH, Supaphol P (2010) Polym Adv Technol 21:77–95

3.

Gharibi R, Yeganeh H, Rezapour-Lactoee A, Hassan ZM (2015) ACS Appl Mater Interfaces 7:24296–24311

4.

Hall JE (2015) Guyton and hall textbook of medical physiology e-book, 13th edn. Elsevier Health Sciences, New York

5.

Nickerson D, Freibreg A (1995) Can J Plast Surg 3:35–38

6.

Hassan A, Niazi MBK, Hussain A, Farrukh S, Ahmad T (2018) J Polym Environ 26:235–243

7.

Peppas NA, Bures P, Leobandung W, Ichikawa H (2000) Eur J Pharm Biopharm 50:27–46

8.

Sirousazar M, Kokabi M, Hassan ZM, Bahramian AR (2012) J Macromol Sci B 51:1583–1595

9.

Costa AMS, Mano JF (2015) Eur Polym J 72:344–364

10.

Kokabi M, Sirousazar M, Hassan ZM (2007) Eur Polym J 43:773–781

11.

Gonzalez JS, Luduena LN, Ponce A, Alvarez VA (2014) Mater Sci Eng C 34:54–61

12.

El-Mohdy HA (2013) J Polym Res 20:177

13.

Varaprasad K, Mohan YM, Vimala K, Raju KM (2011) J Appl Polym Sci 121:784–796

14.

Shaabani Y, Sirousazar M, Kheiri F (2016) Appl Clay Sci 126:287–296

15.

Jahani-Javanmardi A, Sirousazar M, Shaabani Y, Kheiri F (2016) J Biomater Sci Polym Ed 12:1262–1276

16.

Sirousazar M, Jahani-Javanmardi A, Kheiri F, Hassan ZM (2016) J Biomater Sci Polym Ed 16:1569–1583

17.

Khan MS, Bhaisare ML, Gopal J, Wu HF (2016) J Ind Eng Chem 36:49–58

18.

Gholami H, Yeganeh H, Burujeny SB, Sorayya M, Shams E (2018) J Polym Environ 26:462–473

19.

McLoone P, Warnock M, Fyfe L (2016) J Microbiol Immunol Infect 49:161–167

20.

Ahmed R, Tariq M, Ali I, Asghar R, Khanam PN, Augustine R, Hasan A (2018) Int J Biol Macromol 120:385–393

21.

Augustine R, Hasan A, Nath VKY, Thomas J, Augustine A, Kalarikkal N, Moustafa AA, Thomas S (2018) J Mater Sci Mater Med 29:163

22.

Afshari MJ, Sheikh N, Afarideh H (2015) Radiat Phys Chem 113:28–35

23.

Pascoal A, Feas X, Dias T, Dias LG, Estevinho LM (2014) The role of honey and propolis in the treatment of infected wounds. In: Kon K, Rai M (eds) Microbiology for surgical infections: diagnosis, prognosis and treatment. Elsevier, Amsterdam, pp 221–234

24.

Vandamme L, Heyneman A, Hoeksema H, Verbelen J, Monstrey S (2013) Burns 39:1514–1525

25.

Park JS, An SJ, Jeong SI, Gwon HJ, Lim YM, Nho YC (2017) Polymers 9:248

26.

Tavakoli J, Tang Y (2017) Mater Sci Eng C 77:318–325

27.

El-Malek FF, Yousef AS, El-Assar SA (2017) J Glob Antimicrob Re 11:171–176

28.

Noori S, Kokabi M, Hassan ZM (2018) J Appl Polym Sci 135:46311

29.

Zhou HM, Shen Y, Wang ZJ (2013) J Endod 39:478–483

30.

Sirousazar M (2013) J Drug Deliv Sci Tec 23:619–621

31.

Gal P, Kilik R, Mokry M, Vidinsky B, Vasilenko T, Mozes S, Bobrov N, Tomori Z, Bober J, Lenhardt L (2008) Vet Med 53:652–659

32.

Samarghandian S, Afshari JT, Davoodi S (2011) Pharmacogn Mag 7:46

33.

Yaacob NS, Nengsih A, Norazmi M (2013) Evid Based Complement Alternat Med 2013:989841

34.

Song Y, Zeng R, Hu L, Maffucci KG, Ren X, Qu Y (2017) Biomed Pharmacother 93:451–461

35.

Dombi GW, Haut RC, Sulivan WG (1993) J Surg Res 54:21–28
Additional information
Publisher's Note
Springer Nature remains neutral with regard to jurisdictional claims in published maps and institutional affiliations.
About this article
Cite this article
Rafati, Z., Sirousazar, M., Hassan, Z.M. et al. Honey-Loaded Egg White/Poly(vinyl alcohol)/Clay Bionanocomposite Hydrogel Wound Dressings: In Vitro and In Vivo Evaluations. J Polym Environ 28, 32–46 (2020). https://doi.org/10.1007/s10924-019-01586-w
Keywords
Bionanocomposite hydrogel

Wound dressing

Infection

Egg white

Poly(vinyl alcohol)

Clay

Honey