Abstract
Nanocomposites based on waterborne poly(urethane-urea)s (NWPUU) containing hydrophilic montmorillonite (MMT) clay, reduced graphene oxide (rGO) or MMT/rGO hybrids were produced by a green synthesis method. Polymer matrices were based on poly(ethylene glycol-block-propylene glycol) (PEG-b-PPG) (with different contents of PEG-based segments), poly(propylene glycol) (PPG), isophorone diisocyanate (IPDI), dimethylolpropionic acid (DMPA) and hydrazine. Aqueous dispersions were characterized in terms of particle hydrodynamic diameter (DH) and rheological parameters and respective cast films were investigated by X-ray diffraction (XRD), low-field nuclear magnetic resonance (NMR) relaxometry and Fourier-transform infrared spectrometry (FTIR). Pseudoplastic dispersions with DH < 200 nm were stable for more than 12 months. The formation of exfoliated structures suggested the homogeneous nanodispersion of MMT silicate layers and rGO nanosheets. MMT/rGO synergism and layer-to-layer interactions suggested segregation of phases. Hydrogen bonds between polar groups of nanoloads and rigid segments of WPUU influenced the structure and molecular dynamics of the chains.
Graphic Abstract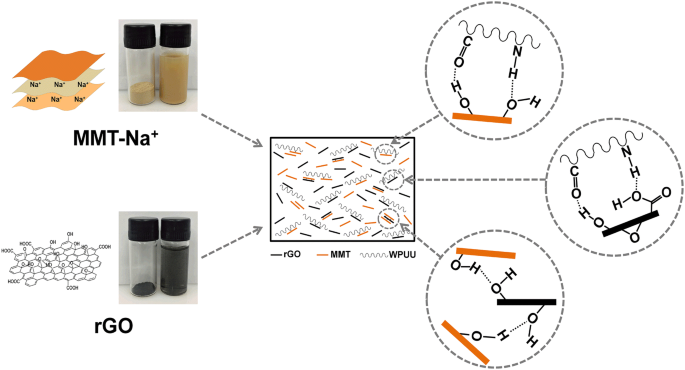 This is a preview of subscription content, log in to check access.
Access options
Buy single article
Instant unlimited access to the full article PDF.
US$ 39.95
Price includes VAT for USA
Subscribe to journal
Immediate online access to all issues from 2019. Subscription will auto renew annually.
US$ 99
This is the net price. Taxes to be calculated in checkout.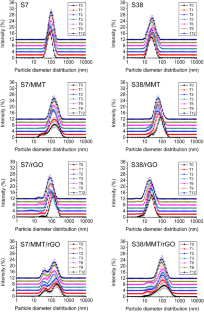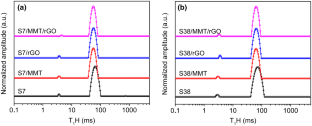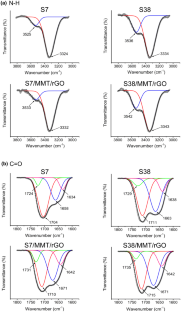 References
1.

Li R, Shan Z (2018) Polym Test 69:125

2.

Fuensanta M, Jofre-Reche JA, Rodríguez-Llansola F, Costa V, Iglesias JI, Martín-Martínez JM (2017) Prog Org Coat 112:141

3.

Xi T, Tang L, Hao W, Yao L, Cui P (2018) RSC Adv 8:7792

4.

Reis RA, Pereira JHC, Campos ACC, Barboza EM, Delpech MC, Cesar DV, Dahmouche K, Bandeira CF (2017) J Appl Polym Sci 135:46003

5.

Isfahani AP, Sadeghi M, Wakimoto K, Gibbons AH, Bagheri R, Sivaniah E, Ghalei B (2017) J Membr Sci 542:143

6.

Hsu SH, Dai LG, Hung YM, Dai NT (2018) Int J Nanomed 13:5485

7.

Vieira IRS, Miranda GS, Ricci-Junior E, Delpech MC (2019) e-Polymers 19:168

8.

Bahadur A, Saeed A, Iqbal S, Shoaib M, Rahman MS, Bashir MI, Asghar M, Ali MA, Mahmood T (2017) React Funct Polym 119:57

9.

Miranda GS, Delpech MC, Reis RA, Garcia CP (2015) Sci Adv Mater 7:2557

10.

Santamaria-Echart A, Fernandes I, Saralegi A, Costa MRPFN, Barreiro F, Corcuera MA, Eceiza A (2016) J Colloid Interface Sci 476:184

11.

Song H, Wang M, Wang Y, Zhang Y, Umar A, Guo Z (2017) Sci Adv Mater 9:1895

12.

Barboza EM, Delpech MC, Garcia MEF, Pimenta FD (2014) Polímeros 24:94

13.

Panda SS, Panda BP, Mohanty S, Nayak SK (2017) J Coat Technol Res 14:377

14.

Barick AK, Tripathy DK (2010) J Appl Polym Sci 117:639

15.

Wan T, Chen D (2018) Prog Org Coat 12:73

16.

Zhang S, Zhang D, Li Z, Yang Y, Sun M, Kong Z, Wang Y, Bai H, Dong W (2018) J Coat Technol Res 15:1333

17.

Wang S, Li S, Hou C, Ma G, Wang H, Wu J, Hao X, Zhang H (2018) J Appl Polym Sci 135:46757

18.

Verma G, Kaushik A, Ghosh AK (2013) Prog Org Coat 76:1046

19.

Russo P, Acierno D, Capezzuto F, Buonocore GG, Di Maio L, Lavorgna M (2015) AIP Conf Proc 1695:020030

20.

Yousefi N, Gudarzi MM, Zheng Q, Lin X, Shen X, Jia J, Sharif F, Kim JK (2013) Compos A 49:42

21.

Appel AK, Thomann R, Mülhaupt R (2012) Polymer 53:4931

22.

Kim H, Miura Y, Macosko CW (2010) Chem Mater 22:3441

23.

Rafiemanzelat F, Adli V, Mallakpour S (2015) Des Monomers Polym 18:303

24.

Tien YI, Wei KH (2001) Polymer 42:3213

25.

Sheng D, Tan J, Liu X, Wang P, Yang Y (2011) J Mater Sci 46:6508

26.

Lee HT, Hwang JJ, Liu HJ (2006) J Polym Sci A 44:5801

27.

Taheri S, Sadeghi GMM (2015) Appl Clay Sci 114:430

28.

Dimitry OI, Abdeen ZI, Ismail EA, Saad ALG (2010) J Polym Res 17:801

29.

Rahman MM (2017) J Coat Technol Res 14:1357

30.

Romani EC, Nardecchia S, Vilani C, Qi S, Dong H, Freire JFL (2018) J Coat Technol Res 15:1371

31.

Strankowski M, Wlodarczyk D, Piszczyk L, Strankowska J (2016) J Spectrosc 2016:1

32.

Sahoo G, Sarkar N, Swain SK (2018) Appl Clay Sci 162:69

33.

Wang F, Wang M, Shao Z (2018) Cellulose 25:7143

34.

Vermisoglou EC, Giannakopoulou T, Todorova N, Vaimakis T, Boukos N, Petridis D, Trapalis C (2018) J Nanosci Nanotechnol 18:4684

35.

Chen GG, Hu YJ, Peng F, Bian J, Li MF, Yao CL, Sun RC (2018) Chem Eng J 337:436

36.

Delpech MC, Miranda GS (2012) Cent Eur J Eng 2:231

37.

Santos CC, Delpech MC, Coutinho FMB (2009) J Mater Sci 44:1317

38.

Coutinho FMB, Delpech MC, Santos CC, Almeida RBL (2008) Quím Nova 31:1437

39.

Delpech MC, Miranda GS, Santos WLE (2011) Polímeros 21:315

40.

Delpech MC, Coutinho FMB (2000) Polym Test 19:939

41.

McAllister MJ, Li JL, Adamson DH, Schniepp HC, Abdala AA, Liu J, Alonso MH, Milius DL, Car R, Prud'homme RK, Aksay IA (2007) Chem Mater 19:4396

42.

Serkis M, Poręba R, Hodan J, Kredatusová J, Špírková M (2015) J Appl Polym Sci 132:42672

43.

Zhang F, Wei X (2018) J Coat Technol Res 15:141

44.

Silva PSRC, Menezes LR, Tavares MIB (2016) Mater Sci Appl 7:150

45.

Monteiro MSSB, Rodrigues CL, Neto RPR, Tavares MIB (2012) J Nanosci Nanotechnol 12:7307

46.

Silva GR, Silva-Cunha Júnior A, Behar-Cohen F, Ayres E, Oréfice RL (2011) Mater Sci Eng C 31:414

47.

Pavličević J, Špírková M, Jovičić M, Bera O, Poręba R, Budinski-Simendić J (2013) Compos B 45:232

48.

Ayres E, Oréfice RL (2007) Polímeros 17:339

49.

Bullermann J, Friebel S, Salthammer T, Spohnholz R (2013) Prog Org Coat 76:609

50.

Nanda AK, Wicks DA (2006) Polymer 47:1805

51.

Barthel MJ, Schacher FH, Schubert US (2014) Polym Chem 5:2647

52.

Loiola LMD, Más BA, Duek EAR, Felisberti MI (2015) Eur Polym J 68:618

53.

Ocepek M, Zabret J, Kecelj J, Venturini P, Golob J (2015) Mater Technol 49:495

54.

Chen TK, Tien YI, Wei KH (2000) Polymer 41:1345

55.

D'almeida AR, Dias ML (1997) Polym Degrad Stab 56:331

56.

Mumtaz F, Zuber M, Zia KM, Jamil T, Hussain R (2013) Korean J Chem Eng 30:2259

57.

Liu N, Zhao Y, Kang M, Wang J, Wang X, Feng Y, Li Q (2015) Prog Org Coat 82:46

58.

Brito LM, Sebastião PJ, Tavares MIB (2015) Polym Test 45:161

59.

Maji PK, Guchhait PK, Bhowmick AK (2008) ACS Appl Mater Interfaces 1:289

60.

Rodrigues EJDR, Nascimento SA, Tavares MI, Merat PP (2012) Polímeros 22:436

61.

Guseva EN, Zuev VV (2016) Fuller Nanotub Carbon Nanostruct 24:474

62.

An YX, Qu WJ, Yu PZ, Lü JG (2018) Petrol Sci 15:366

63.

Silva MAD, Tavares MI, Nascimento SA, Rodrigues EJDR (2012) Polímeros 22:481

64.

Jena KK, Chattopadhyay DK, Raju KVSN (2007) Eur Polym J 43:1825

65.

Dan CH, Lee MH, Kim YD, Min BH, Kim JH (2006) Polymer 47:6718

66.

Pattanayak A, Jana SC (2005) Polymer 46:3275
Acknowledgements
The authors thank Coordenação de Aperfeiçoamento de Pessoal de Nível Superior (CAPES) and Fundação Carlos Chagas Filho de Amparo à Pesquisa do Estado do Rio de Janeiro (FAPERJ), for finantial support. Also thank Centro Técnico Aeroespacial (CTA), Dow Brasil, Bentonita União do Nordeste S.A. and Grafite do Brasil for the donation of materials to execution out this work.
Ethics declarations
Conflict of interest
The authors declare that they have no conflict of interest.
Additional information
Publisher's Note
Springer Nature remains neutral with regard to jurisdictional claims in published maps and institutional affiliations.
About this article
Cite this article
Vieira, I.R.S., Costa, L.d.F.d.O., Miranda, G.d.S. et al. Waterborne Poly(urethane-urea)s Nanocomposites Reinforced with Clay, Reduced Graphene Oxide and Respective Hybrids: Synthesis, Stability and Structural Characterization. J Polym Environ 28, 74–90 (2020). https://doi.org/10.1007/s10924-019-01584-y
Keywords
Waterborne poly(urethane-urea)s nanocomposites

Hydrophilic montmorillonite clay

Reduced graphene oxide

MMT/rGO hybrids

Green synthesis