Abstract
Conventionally, network migration models study competition between emerging and incumbent technologies by considering the resulting increase in revenue and associated cost of migration. We propose to advance the science in the existing network migration models by considering additional critical factors, including (1) synergistic relationships across multiple technologies, (2) reduction in operational expenditures as a reason to migrate, and (3) implications of local network effects on migration decisions. To this end, we propose a novel agent-based migration model considering these factors. Based on the model, we analyze the case study of network migration to two emerging networking paradigms, i.e., IETF Path Computation Element (PCE) and Software-Defined Networking (SDN). We validate our model using extensive simulations. Our results demonstrate the synergistic effects of migration to multiple complementary technologies, and show that a technology migration may be eased by the joint migration to multiple technologies. In particular, we find that migration to SDN can be eased by joint migration to PCE, and that the benefits derived from SDN are best exploited in combination with PCE, than by itself.
This is a preview of subscription content, log in to check access.
Access options
Buy single article
Instant access to the full article PDF.
US$ 39.95
Price includes VAT for USA
Subscribe to journal
Immediate online access to all issues from 2019. Subscription will auto renew annually.
US$ 99
This is the net price. Taxes to be calculated in checkout.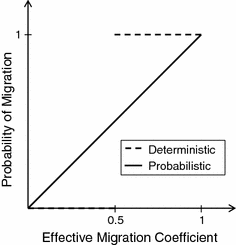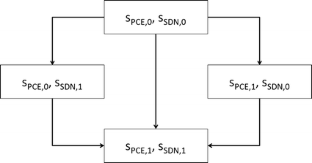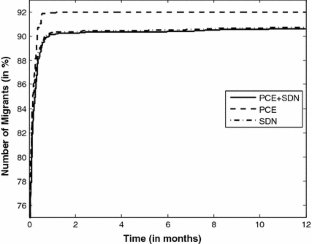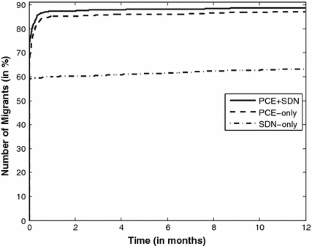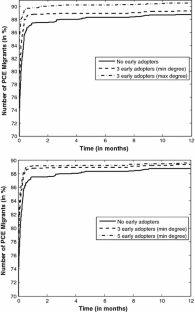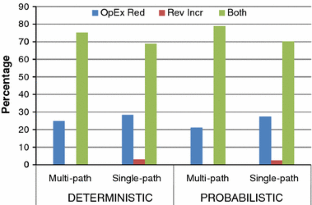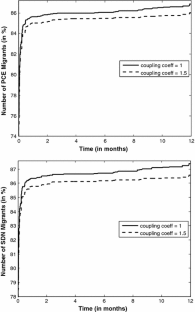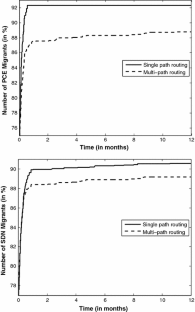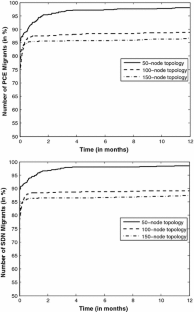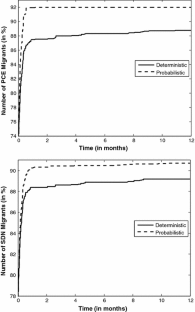 Notes
1.

In Sect. 3.3, we discuss at length the inter-relationships between PCE and SDN. However, here we would like the reader to note that SDN and PCE are not really fundamentally re-thinking the technologies in the networking landscape. For instance, SDN is more like a natural evolution, incorporating technologies that existed already for quite some time. Just like, before OpenFlow, there was SNMP.

2.

Although in our simulations (in Sect. 5), we consider the relevant radius to be five hops, it would be interesting to investigate the effect of this parameter on the migration profile for real-world scenarios. This effect can probably be game-theoretically modeled, however, this is in particular is not our focus here, and hence beyond the scope of this paper.
References
1.

Deering, S., Hinden, R.: RFC 2460: Internet Protocol, Version 6 (IPv6) specification, (1998)

2.

Iekel-Johnson, S.: World IPv6 launch : A longer view. http://ddos.arbornetworks.com/2012/06/ipv6-launch-day-a-longer-view/

3.

Internet2 Headroom Practice. https://wiki.internet2.edu/confluence/download/attachments/17383/Internet2+Headroom+Practice+8-14-08.pdf

4.

Leibenstein, H.: Bandwagon, snob, and veblen effects in the theory of consumers' demand. Quart. J. Econ. 64(2), 183–207 (1950)

5.

Economides, N., Viard, B.: Pricing of complementary goods and network effects. In: Regulation and the Economic Performance of Communication and Information Networks. Edward Elgar, (2011)

6.

Farrel, A., Vasseur, J.-P., Ash, J.: A Path Computation Element (PCE)-Based Architecture, RFC 4655 (Informational), Internet Engineering Task Force (2006)

7.

ONF White paper. (2012, April 13) Software-defined networking: The new norm for networks. https://www.opennetworking.org/images/stories/downloads/sdn-resources/white-papers/wp-sdn-newnorm.pdf

8.

Metaswitch. (2012, February) PCE - An Evolutionary Approach To SDN. http://pcetosdn.com/downloads/PCE-Evolutionary-SDN-feb2012.pdf

9.

L. Online. (2013, March 11) Researchers integrate openflow with path computation to improve network navigation. http://www.lightwaveonline.com/articles/2013/03/researchers-integrate-openflow-with-path-computation-to-improve-.html

10.

Beal, G.M., Bohlen, J.M.: The diffusion process. Agricultural Experiment Station. Iowa State College, Ames (1957)

11.

Peres, R., Muller, E., Mahajan, V.: Innovation diffusion and new product growth models: A critical review and research directions. Int. J. Res. Market. 27(2), 91–106 (2010)

12.

Eveland, J.: Diffusion, technology transfer, and implementation thinking and talking about change. Sci. Commun. 8(2), 303–322 (1986)

13.

Rogers, E.M.: Diffusion of Innovations. Simon and Schuster, New York (1962)

14.

Bass, F. M.: A new product growth for model consumer durables. Manag. Sci. 15 (5), 215–227 (1969). http://pubsonline.informs.org/doi/abs/10.1287/mnsc.15.5.215

15.

Norton, J.A., Bass, F.M.: A diffusion theory model of adoption and substitution for successive generations of high-technology products. Manag. Sci. 33(9), 1069–1086 (1987)

16.

Bass, F.M., Krishnan, T.V., Jain, D.C.: Why the bass model fits without decision variables. Market. Sci. 13(3), 203–223 (1994)

17.

Jin, Y., Sen, S., Guérin, R., Hosanagar, K., Zhang, Z.-L.: Dynamics of competition between incumbent and emerging network technologies. In Proceedings of the 3rd International Workshop on Economics of Networked Systems (NetEcon). ACM, pp. 49–54. (2008)

18.

Sen, S., Jin, Y., Guerin, R., Hosanagar, K.: Modeling the dynamics of network technology adoption and the role of converters. IEEE/ACM Transactions on Networking 18(6), 1793–1805 (2010)

19.

Macy, M.W., Willer, R.: From factors to actors: Computational sociology and agent-based modeling. Ann. Rev. Sociol. 28(1), 143–166 (2002)

20.

Bonabeau, E.: Agent-based modeling: Methods and techniques for simulating human systems. Proc. Natl. Acad. Sci. USA 99(Suppl 3), 7280–7287 (2002)

21.

Gill, P., Schapira, M., Goldberg, S.: Let the market drive deployment: A strategy for transitioning to bgp security. In: Proceedings of the ACM SIGCOMM 2011 Conference. ACM, pp. 14–25. (2011)

22.

Borshchev, A., Filippov, A.: From system dynamics and discrete event to practical agent-based modeling: Reasons, techniques, tools. In Proceedings of the 22nd international conference of the system dynamics society, no. 22, (2004)

23.

Joseph, D., Shetty, N., Chuang, J., Stoica, I.: Modeling the adoption of new network architectures. In Proceedings of the 2007 ACM CoNEXT conference. New York, NY, USA: ACM, pp. 1–12, (2007)

24.

Trinh, T., Gyarmati, L., Sallai, G.: Migrating to IPv6: A game-theoretic perspective. In: 2010 IEEE 35th Conference on Local Computer Networks (LCN), pp. 344–347

25.

Chan, H., Dash, D., Perrig, A., Zhang, H.: Modeling adoptability of secure bgp protocol. In: Proceedings of the 2006 Conference on Applications, Technologies, Architectures, and Protocols for Computer Communications. ACM, pp. 279–290

26.

Sohn, S.Y., Kim, Y.: Economic evaluation model for international standardization of correlated technologies. IEEE Trans. Eng. Manag. 58(2), 189–198 (2011)

27.

Verbrugge, S., Pasqualini, S., Westphal, F.-J., Jäger, M., Iselt, A., Kirstä dter, A., Chahine, R., Colle, D., Pickavet, M., Demeester, P.: Modeling operational expenditures for telecom operators. In: 2005 Conference on optical network design and modelling. IEEE, pp. 455–466

28.

Das, T., Drogon, M., Jukan, A., Hoffmann, M.: An agent-based modeling approach of network migration to new technologies. In: 2013 IEEE International Conference on Communications (ICC)

29.

McKeown, N., Anderson, T., Balakrishnan, H., Parulkar, G., Peterson, L., Rexford, J., Shenker, S., Turner, J.: Openflow: Enabling innovation in campus networks. SIGCOMM Comput. Commun. Rev. 38(2), 69–74 (2008)

30.

Yannuzzi, M., Jukan, A., Masip-Bruin, X., Chamania, M., Serral-Gracia, R., Lopez-Alvarez, V., Gonzalez de Dios, O., Azanon, A., Maciejewski, M., Brunn, C., Roth, M., Altmann, J.: The internet and transport network management ecosystems: A roadmap toward convergence. In: 2012 16th International Conference on Optical Network Design and Modeling (ONDM), pp. 1–6

31.

Vasseur, J., Zhang, R., Bitar, N., Roux, J. L.: A Backward-Recursive PCE-Based Computation (BRPC) Procedure to Compute Shortest Constrained Inter-Domain Traffic Engineering Label Switched Paths, RFC 5441 (Proposed Standard), Internet Engineering Task Force, Apr. (2009)

32.

Merritt, R.: (2012, April 17) Google describes its openflow network. EE Times. http://www.eetimes.com/electronics-news/4371179/Google-describes-its-OpenFlow-network

33.

Stephan, E., Zhao, Q., King, D.: Definitions of managed objects for path computation element discovery. http://tools.ietf.org/html/draft-ietf-pce-disc-mib-04

34.

Marsden, P.V., Friedkin, N.E.: Network studies of social influence. Sociol. Methods Res. 22(1), 127–151 (1993)

35.

Katona, Z., Zubcsek, P.P., Sarvary, M.: Network effects and personal influences: The diffusion of an online social network. J. Market. Res. 48(3), 425–443 (2011)

36.

DeGroot, M.H.: Reaching a consensus. J. Am. Stat. Assoc. 69(345), 118–121 (1974)

37.

DeMarzo, P.M., Vayanos, D., Zwiebel, J.: Persuasion bias, social influence, and unidimensional opinions. Quart. J. Econ. 118(3), 909–968 (2003)

38.

Gao, L.: On inferring autonomous system relationships in the internet. IEEE/ACM Trans. Netw. 9(6), 733–745 (2001)

39.

Albert, R., Barabási, A.-L.: Topology of evolving networks: Local events and universality. Phys. Rev. Lett. 85, 5234–5237 (2000)

40.

He, Y., Faloutsos, M., Krishnamurthy, S., Chrobak, M.: Obtaining provably legitimate internet topologies. IEEE/ACM Trans. Netw. 20(1), 271–284 (2012)
Acknowledgments
This work has been supported by the German Federal Ministry of Education and Research (BMBF) under support code 01BP12300A; EUREKA-Project SASER.
About this article
Cite this article
Das, T., Drogon, M., Jukan, A. et al. Study of Network Migration to New Technologies Using Agent-Based Modeling Techniques. J Netw Syst Manage 23, 920–949 (2015). https://doi.org/10.1007/s10922-014-9327-3
Received:

Revised:

Accepted:

Published:

Issue Date:
Keywords
Network economics

Agent-based models

Path computation element

Software defined networking

Local network effects