Abstract
The objective of this work was to develop an automated air-coupled impact-echo testing device for mapping the occurrence of delamination in a concrete bridge deck from a continuously moving platform with a fast, repeatable excitation mechanism and algorithms for collecting and analyzing the acoustic data. The apparatus developed in this research included an impactor unit, a moving platform, a microphone for air-coupled sensing, a distance measurement instrument, and signal processing modules. Given the absence of an existing universal threshold for differentiating among intact and delaminated areas using the new device, a delamination detection threshold value was determined in a first field demonstration also involving chain dragging and coring of a concrete bridge deck. While the maps of the air-coupled impact-echo data and chain-dragging data exhibit a high degree of similarity and are highly consistent with the results of coring, a quantitative method of comparison also demonstrates the utility of the new device across a broad range of delamination percentages. Specifically, the results indicate that the percentage of the deck area determined to be delaminated using impact-echo testing was within 3 percentage points of that determined to be delaminated using chain dragging for 10 of the 13 deck test sections, which generally exhibited delamination percentages ranging from 7 to 21%. Finally, testing with the new device was more than seven times faster than chain dragging.
This is a preview of subscription content, log in to check access.
Access options
Buy single article
Instant access to the full article PDF.
US$ 39.95
Price includes VAT for USA
Subscribe to journal
Immediate online access to all issues from 2019. Subscription will auto renew annually.
US$ 99
This is the net price. Taxes to be calculated in checkout.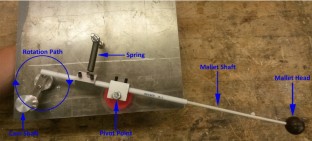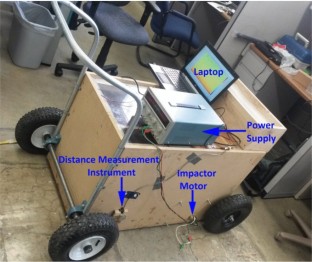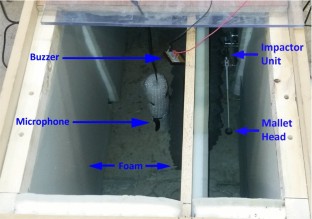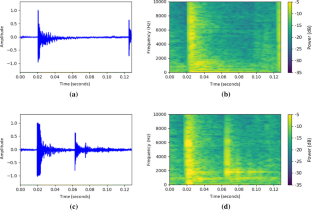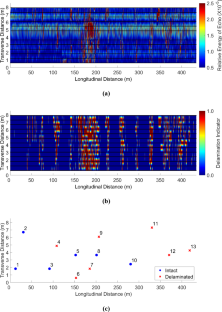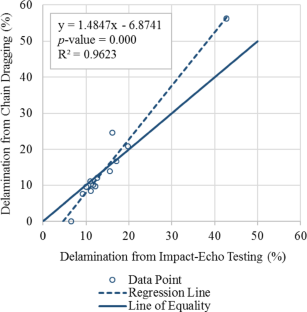 References
1.

Hema, J., Guthrie, W.S., Fonseca, F.S.: Concrete bridge deck condition assessment and improvement strategies, Report UT-04.16. Utah Department of Transportation, Salt Lake City, UT, Nov (2004)

2.

Young, J.F., Mindess, S., Gray, R.J., Bentur, A.: The science and technology of civil engineering materials. Prentice-Hall, Inc., Upper Sadde River (1998)

3.

Gucunski, N., Imani, A., Romero, F., Nazarian, S., Yuan, D., Wiggenhauser, H., et al.: Nondestructive testing to identify concrete bridge deck deterioration. Transportation Research Board, Washington, D.C (2013)

4.

Sansalone, M.: Impact-echo: the complete story. ACI Struct. J. 94, 777–786 (1997)

5.

Sansalone, M., Carino, N.J.: Detecting delaminations in concrete slabs with and without overlays using the impact-echo method. ACI Mater. J. 86(2), 175–184 (1989)

6.

Oh, T., Popovics, J.S., Sim, S.-H.: Analysis of vibration for regions above rectangular delamination defects in solids. J. Sound Vib. 332, 1766–1776 (2013)

7.

Mazzeo, B.A., Patil, A.N., Hurd, R.C., Klis, J.M., Truscott, T.T., Guthrie, W.S.: Air-coupled impact-echo delamination detection in concrete using spheres of ice for excitation. J. Nondestruct. Eval. (2013). https://doi.org/10.1007/s10921-013-0215-7

8.

Mazzeo, B.A., Patil, A.N., Guthrie, W.S.: Acoustic impact-echo investigation of concrete delaminations using liquid droplet excitation. NDT&E Int. 51, 41–44 (2012)

9.

Gucunski, N., Romero, F., Kruschwitz, S., Feldmann, R., Abu-Hawash, A., Dunn, M.: Multiple complementary nondestructive evaluation technologies for condition assessment of concrete bridge decks. Transp. Res. Rec. 2201, 34–44 (2010)

10.

Tinkey, Y., Olson, L. D., Olson Engineering: Vehicle-mounted bridge deck scanner, Transportation Research Board: Highway IDEA Program, Project 132, Aug (2010)

11.

Popovics, J. S.: Investigation of a full-lane acoustic scanning method for bridge deck nondestructive evaluation, Transportation Research Board: Highway IDEA Program, Project 134, Nov (2010)

12.

Zhu, J.Y., Popovics, J.S.: Imaging concrete structures using air-coupled impact-echo. J. Eng. Mech.-ASCE 133, 628–640 (2007)

13.

Shin, S.W., Popovics, J.S., Oh, T.: Cost effective air-coupled impact-echo sensing for rapid detection of delamination damage in concrete structures. Adv. Struct. Eng. 15, 887–895 (2012)

14.

Zhang, G., Harichandran, R.S., Ramuhalli, P.: An automatic impact-based delamination detection system for concrete bridge decks. NDT&E Int. 45, 120–127 (2012)

15.

Sun, H., Zhu, J., Ham, S.: Acoustic evaluation of concrete delaminations using ball-chain impact excitation. J. Acoust. Soc. Am. 141(5), 477 (2017)

16.

Mazzeo, B. A., Truscott, T. T., Guthrie, W. S.: Signal processing of acoustic impact response for reinforced concrete testing using paintballs and airsoft pellets for excitation, Audio and Acoustic Signal Processing Technical Committee Newsletter, vol. 1, (2014)

17.

Kee, S., Gucunski, N.: Interpretation of flexural vibration modes from impact-echo testing. J. Infrastruct. Syst. 04016009, 1–10 (2016)
Acknowledgements
The authors gratefully acknowledge the Utah Department of Transportation and the U.S. Army Dugway Proving Ground for funding this research and BYU research assistants Amanda Bitnoff, Alec Escamilla, Danny Flannery, Jaren Knighton, Aaron Smith, Elizabeth Smith, Eric Sweat, Janelle Taysom, Tenli Waters, and David Young for their assistance with the extensive data collection required for the field demonstration.
About this article
Cite this article
Guthrie, W.S., Larsen, J.L., Baxter, J.S. et al. Automated Air-Coupled Impact-Echo Testing of a Concrete Bridge Deck from a Continuously Moving Platform. J Nondestruct Eval 38, 32 (2019). https://doi.org/10.1007/s10921-019-0566-9
Received:

Accepted:

Published:
Keywords
Air-coupled impact-echo testing

Chain dragging

Concrete bridge deck

Delamination