Abstract
The Epic electronic health record (EHR) platform supports structured data entry systems (SDES), which allow developers, with input from users, to create highly customized patient-record templates in order to maximize data completeness and to standardize structure. There are many potential advantages of using discrete data fields in the EHR to capture data for secondary analysis and epidemiological research, but direct data acquisition from clinicians remains one of the largest obstacles to leveraging the EHR for secondary use. Physician resistance to SDES is multifactorial. A 35-item questionnaire based on Unified Theory of Acceptance and Use of Technology, was used to measure attitudes, facilitation, and potential incentives for adopting SDES for clinical documentation among 25 pediatric specialty physicians and surgeons. Statistical analysis included chi-square for categorical data as well as independent sample t-tests and analysis of variance for continuous variables. Mean scores of the nine constructs demonstrated primarily positive physician attitudes toward SDES, while the surgeons were neutral. Those under 40 were more likely to respond that facilitating conditions for structured entry existed as compared to the two older age groups (p = .02). Pediatric surgeons were significantly less positive than specialty physicians about SDES effects on Performance (p = .01) and the effect of Social Influence (p = .02); but in more agreement that use of forms was voluntary (p = .02). Attitudinal differences likely reflect medical training, clinical practice workflows, and division specific practices. Identified resistance indicate efforts to increase SDES adoption should be discipline-targeted rather than a uniform approach.
This is a preview of subscription content, log in to check access.
Access options
Buy single article
Instant access to the full article PDF.
US$ 39.95
Price includes VAT for USA
Subscribe to journal
Immediate online access to all issues from 2019. Subscription will auto renew annually.
US$ 199
This is the net price. Taxes to be calculated in checkout.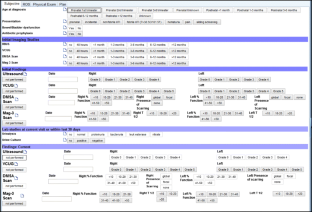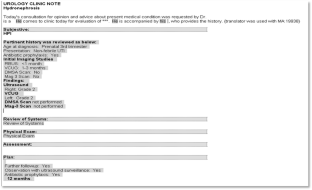 References
1.

Rosenbloom, S. T., Denny, J. C., Xu, H., Lorenzi, N., Stead, W. W., and Johnson, K. B., Data from clinical notes: a perspective on the tension between structure and flexible documentation. J. Am. Med. Inform. Assoc. 18(2):181–186, 2011. doi:10.1136/jamia.2010.007237.

2.

Epic Electronic Health Record [Computer software]. Madison, WI: Epic.

3.

Rosenbloom, S. T., Miller, R. A., Johnson, K. B., Elkin, P. L., and Brown, S. H., Interface terminologies: facilitating direct entry of clinical data into electronic health record systems. J. Am. Med. Inform. Assoc. 13(3):277–288, 2006. doi:10.1197/jamia.M1957.

4.

Johnson, S. B., Bakken, S., Dine, D., Hyun, S., Mendonça, E., Morrison, F., et al., An electronic health record based on structured narrative. J. Am. Med. Inform. Assoc. 15(1):54–64, 2008. doi:10.1197/jamia.M2131.

5.

Gilbert, J. A., Physician data entry: providing options is essential. Health Data. Manag. 6(9):84–6,88,90–92, 1998. http://www.ncbi.nlm.nih.gov/pubmed/10185232.

6.

Leu, M.G., O'Connor, K. G., Marshall, R., Price, D. T., and Klein, J. D., Pediatricians' use of health information technology: a national survey. Pediatrics. 130(6):e1441–e1446, 2012. doi:10.1542/peds.2012-0396.

7.

Murray, T., and Berberian, L., The importance of structured data elements in EHRs. Computer World, (2011, Mar). http://www.computerworld.com/article/2470987/healthcare-it/the-importance-of-structured-data-elements-in-ehrs.html.

8.

Marill, K. A., Gauharou, E. S., Nelson, B. K., Peterson, M. A., Curtis, R. L., and Gonzalez, M. R., Prospective, randomized trial of template-assisted versus undirected written recording of physician records in the emergency department. Ann. Emerg. Med. 33(5):500–509, 1999. http://www.ncbi.nlm.nih.gov/pubmed/10216325.

9.

Duyck, P., Pynoo, B., Devolder, P., Voet, T., Adang, L., and Vercruysse, J., User acceptance of a picture archiving and communication system. Applying the unified theory of acceptance and use of technology in a radiological setting. Methods Inf. Med. 47(2):149–156, 2008. http://www.ncbi.nlm.nih.gov/pubmed/18338086.

10.

Venkatesh, V., Morris, M., Davis, G., and Davis, F., User acceptance of information technology: toward a unified view. MIS Quart. 27(3):425–478, 2003. doi:10.2307/30036540.

11.

IBM Corp. Released, IBM SPSS statistics for windows, version 21.0. IBM Corp: Armonk, NY, 2012.

12.

Scheepers, R. A., Lombarts, K. M., van Aken, M. A., Heineman, M. J., and Arah, O. A., Personality traits affect teaching performance of attending physicians: results of a multi-center observational study. PLoS One. 9(5):e98107, 2014. doi:10.1371/journal.pone.0098107.

13.

Boonstra, A., and Broekhuis, M., Barriers to the acceptance of electronic medical records by physicians from systematic review to taxonomy and interventions. BMC Health Serv. Res. 10:231, 2010. doi:10.1186/1472-6963-10-231.

14.

Kruse, C. S., Kristof, C., Jones, B., Mitchell, E., and Martinez, A., Barriers to electronic health record adoption: a systematic literature review. J. Med. Syst. 40(12):252, 2016. doi:10.1007/s10916-016-0628-9.

15.

Ben-Zion, R., Pliskin, N., and Fink, L., Critical success factors for adoption of electronic health record systems: literature review and prescriptive analysis. Inf. Syst. Manag. 31(4):296–312, 2014. doi:10.1080/10580530.2014.958024.
Acknowledgments
This project was supported in part by grant number K99/R00 HS022404 from the Agency for Healthcare Research and Quality. The content is solely the responsibility of the authors and does not necessarily represent the official views of the Agency for Healthcare Research and Quality.
Additional information
This article is part of the Topical Collection on Systems-Level Quality Improvement
Appendix physician questionnaire
Appendix physician questionnaire
Name:
Medical Specialty:
Age:
College Major/study area:
Years after fellowship/residency/postgraduate training:
Position (i.e. Physician/Physician Assistant /Nurse Practitioner):
PE: Performance Expectancy
Complete agreement
Complete disagreement
1. I will find Smartforms useful in my job
1
2
3
4
5
6
7
2. Using Smartforms will enable me to accomplish my tasks more quickly
1
2
3
4
5
6
7
3. Using Smartforms will increase my productivity
1
2
3
4
5
6
7
4. If I use Smartforms, I will increase my chances of getting a raise
1
2
3
4
5
6
7
EE: Effort Expectancy
Complete agreement
Complete disagreement
1. My personal interaction with Smartforms will be clear and understandable
1
2
3
4
5
6
7
2. It will be easy for me to become skillful at using Smartforms
1
2
3
4
5
6
7
3. I will find Smartforms easy to use
1
2
3
4
5
6
7
4. Learning to operate Smartforms will be easy for me
1
2
3
4
5
6
7
SI: Social Influence
Complete agreement
Complete disagreement
1. People who influence my behavior think that I should use Smartforms
1
2
3
4
5
6
7
2. People who are important to me think that I should use Smartforms
1
2
3
4
5
6
7
3. The senior management of the hospital has been helpful in the use of the Smartforms
1
2
3
4
5
6
7
4. In general, the hospital has supported the use of Smartforms
1
2
3
4
5
6
7
FC: Facilitating Conditions
Complete agreement
Complete disagreement
1. I will have the resources necessary to use Smartforms
1
2
3
4
5
6
7
2. Smartforms will be compatible with other systems I use
1
2
3
4
5
6
7
3. A specific person or group will be available for assistance with Smartforms difficulties
1
2
3
4
5
6
7
ATT: Attitude towards using technology
Complete agreement
Complete disagreement
1. Using Smartforms is a good idea
1
2
3
4
5
6
7
2. Smartforms will make work more interesting
1
2
3
4
5
6
7
3. Working with Smartforms will be fun
1
2
3
4
5
6
7
4. I will like to work with Smartforms
1
2
3
4
5
6
7
SE: Self-efficacy
Complete agreement
Complete disagreement
I will be able to complete a task using Smartforms…
1. ... if there was no one around to tell me what to do as I go
1
2
3
4
5
6
7
2. ... if I could call someone for help if I got stuck
1
2
3
4
5
6
7
3. ...if I had a lot of time to complete the job for which Smartforms is provided
1
2
3
4
5
6
7
4. ... if I had just the built-in help facility for assistance
1
2
3
4
5
6
7
ANX: Anxiety
Complete agreement
Complete disagreement
1. I feel apprehensive about using Smartforms
1
2
3
4
5
6
7
2. I am not confident that Smartforms will successfully save my information
1
2
3
4
5
6
7
3. I will hesitate to use Smartforms for fear of making mistakes I cannot correct
1
2
3
4
5
6
7
4. Smartforms are somewhat intimidating for me
1
2
3
4
5
6
7
VOL: Voluntary Use
Complete agreement
Complete disagreement
1. Although it might be helpful, using Smartforms is certainly not compulsory in my job.
1
2
3
4
5
6
7
2. My boss does not require me to use Smartforms
1
2
3
4
5
6
7
3. My superiors expect me to use Smartforms
1
2
3
4
5
6
7
4. My use of Smartforms is voluntary (as opposed to required by my superiors/job)
1
2
3
4
5
6
7
BI: Behavioral Intention
Complete agreement
Complete disagreement
1. I intend to use Smartforms in the next nine months
1
2
3
4
5
6
7
2. I predict I would use Smartforms in the next nine months
1
2
3
4
5
6
7
3. I plan to use the Smartforms in the next nine months
1
2
3
4
5
6
7
About this article
Cite this article
Bush, R.A., Kuelbs, C., Ryu, J. et al. Structured Data Entry in the Electronic Medical Record: Perspectives of Pediatric Specialty Physicians and Surgeons. J Med Syst 41, 75 (2017). https://doi.org/10.1007/s10916-017-0716-5
Received:

Accepted:

Published:
Keywords
Electronic health records

Health information technology

Pediatrics

Physicians

Survey