Abstract
The cryogenic underground observatory for rare events (CUORE) is a 1-ton scale bolometric experiment whose detector consists of an array of 988 TeO\(_2\) crystals arranged in a cylindrical compact structure of 19 towers. This will be the largest bolometric mass ever operated. The experiment will work at a temperature around or below 10 mK. CUORE cryostat consists of a cryogen-free system based on pulse tubes and a custom high power dilution refrigerator, designed to match these specifications. The cryostat has been commissioned in 2014 at the Gran Sasso National Laboratories and reached a record temperature of 6 mK on a cubic meter scale. In this paper, we present results of CUORE commissioning runs. Details on the thermal characteristics and cryogenic performances of the system will be also given.
This is a preview of subscription content, log in to check access.
Access options
Buy single article
Instant access to the full article PDF.
US$ 39.95
Price includes VAT for USA
Subscribe to journal
Immediate online access to all issues from 2019. Subscription will auto renew annually.
US$ 199
This is the net price. Taxes to be calculated in checkout.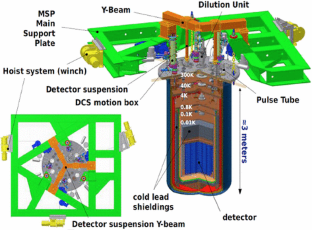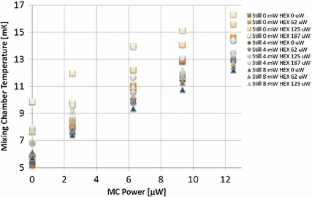 References
1.

D.R. Artusa et al., Adv. High Energy Phys. 2015, 879871 (2015). doi:10.1155/2015/879871

2.

L. Canonica et al., J. Low Temp. Phys., this Special Issue

3.

A. Nucciotti et al., J. Low Temp. Phys. 167, 528 (2012). doi:10.007/s10909-011-0429-y
About this article
Cite this article
Ligi, C., Alduino, C., Alessandria, F. et al. The CUORE Cryostat: A 1-Ton Scale Setup for Bolometric Detectors. J Low Temp Phys 184, 590–596 (2016). https://doi.org/10.1007/s10909-015-1389-4
Received:

Accepted:

Published:

Issue Date:
Keywords
Cryogenic intrumentations

Neutrinoless double-beta decay

Bolometers