Abstract
The CUORE detector will be made of 988 TeO2 crystals and will need a base temperature lower than 10 mK in order to meet the performance specifications. To cool the CUORE detector a large cryogen-free cryostat with five pulse tubes and one specially designed high-power dilution refrigerator has been designed. The detector assembly has a total mass of about 1.5 ton and uses a vibration decoupling suspension system. Because of the stringent requirements regarding radioactivity, about 12 tons of lead shielding need to be cooled to 4 K and below, and only a limited number of construction materials are acceptable. The eight retractable radioactive sources for detector calibration and about 2600 signal wires add further complexity to the system. The many stringent and contrasting requirements together with the overall large size made the design of the CUORE cryogenic system a real mechanical and cryogenic engineering challenge. The cryogenic system is expected to be fully operational in the Gran Sasso Laboratory in July 2013. We report here about the current status of the cryogenic system construction, which has started about one year.
This is a preview of subscription content, log in to check access.
Access options
Buy single article
Instant access to the full article PDF.
US$ 39.95
Price includes VAT for USA
Subscribe to journal
Immediate online access to all issues from 2019. Subscription will auto renew annually.
US$ 199
This is the net price. Taxes to be calculated in checkout.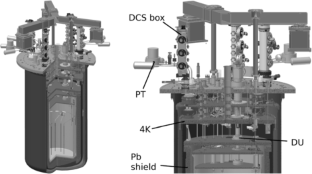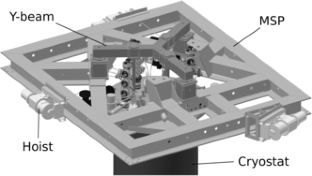 References
1.

L. Gironi, CUORE: the challenge of a 988 bolometer array. J. Low Temp. Phys. (submitted)

2.

A. Nucciotti et al., J. Low Temp. Phys. 151, 662 (2008)

3.

M. Martinez et al., AIP Conf. Proc. 1185, 693 (2009)

4.

S. Sangiorgio et al., AIP Conf. Proc. 1185, 677 (2009)
About this article
Cite this article
Nucciotti, A., Alessandria, F., Ameri, M. et al. Status of the Cryogen-Free Cryogenic System for the CUORE Experiment. J Low Temp Phys 167, 528–534 (2012). https://doi.org/10.1007/s10909-011-0429-y
Received:

Accepted:

Published:

Issue Date:
Keywords
Dilution refrigerator

Pulse tube

Cryostat

Double beta decay