Abstract
Courtship behavior of males was studied in four closely related Drosophila species: D. virilis, D. lummei, D. a. americana and D. littoralis. Using a video-computing approach, we compared behavior in males courting conspecific and heterospecific females. In males of all species studied, touching and licking were found to be the most prolonged courtship elements. Touching and licking were typically proceeding together; wing vibration was usually produced against a background of touching and licking. We found only minor interspecific variations in courtship rituals. Heterospecific courtships in D. virilis and D. lummei were almost as active as conspecific ones; however, isolation between D. a. americana and D. littoralis appeared to be much stronger than between D. virilis and D. lummei. Analysis of prolonged touching and licking raises a question about chemical and tactile sensory stimuli exchanged between sexes in the developed courtship of D. virilis group.
This is a preview of subscription content, log in to check access.
Access options
Buy single article
Instant unlimited access to the full article PDF.
US$ 39.95
Price includes VAT for USA
Subscribe to journal
Immediate online access to all issues from 2019. Subscription will auto renew annually.
US$ 99
This is the net price. Taxes to be calculated in checkout.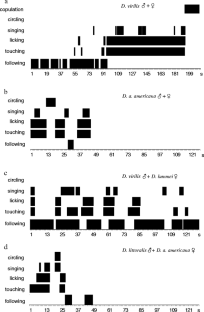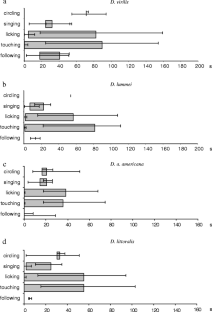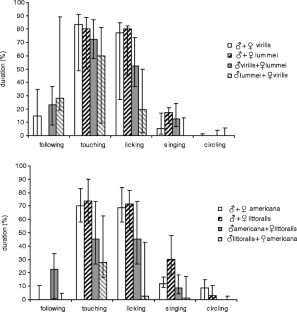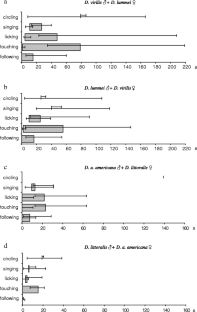 References
Aspi J, Hoikkala A (1995) Male mating success and survival in the field with respect to size and courtship song characters in Drosophila littoralis and D. montana (Diptera: Drosophilidae). J Insect Behav 8:67–87

Aspi J, Lumme J, Hoikkala A, Heikkinen E (1993) Reproductive ecology of the boreal riparian guild of Drosophila. Ecography 16:65–72

Bartelt RJ, Arnold MT, Schaner A, Jackson LL (1986) Comparative analysis of cuticular hydrocarbons in the Drosophila virilis species group. Comp Biochem Physiol 83:731–742

Brown RGB (1965) Courtship behavior in the Drosophila obscura group. Part II: Comparative studies. Behavior 25:281–323

Cobb M, Burnet B, Connolly K (1985) The structure of courtship in the Drosophila melanogaster species sub-group. Behavior 97:182–212

Cobb M, Burnet B, Blizard R, Jallon J-M (1989) Courtship in Drosophila sechellia: its structure, functional aspects, and relationship to those of other members of the Drosophila melanogaster species subgroup. J Insect Behav 2:63–89

Cobb M, Ferveur JF (1996) Evolution and genetic control of mate recognition and stimulation in Drosophila. Behav Processes 35:35–54

Coyne JA, Crittenden AP, Mah K (1994) Genetics of a pheromonal difference contributing to reproductive isolation in Drosophila. Science 265:1461–1464

Dankert H, Wang L, Hoopfer ED, Anderson DJ, Perona P (2009) Automated monitoring and analysis of social behavior in Drosophila. Nat Methods 6:297–303

Everaerts C, Farine JP, Cobb M, Ferveur JF (2010) Drosophila cuticular hydrocarbons revisited: mating status alters cuticular profiles. PLoS One 5:e9607

Ewing AW (1983) Functional aspects of Drosophila courtship. Biol Rev 58:275–292

Fabre CCG, Casal J, Lawrence PA (2008) The abdomen of Drosophila: Does planar cell polarity orient the neurons of mechanosensory bristles? Neural Dev 3:12

Ferveur JF (2005) Cuticular hydrocarbons: Their evolution and roles in Drosophila pheromonal communication. Behav Genet 35:279–285

Foley B, Chenoweth SF, Nuzhdin SV, Blows MW (2007) Natural genetic variation in cuticular hydrocarbon expression in male and female Drosophila melanogaster. Genetics 175:1465–1477

Grillet M, Everaerts C, Houot B, Ritchie MG, Cobb M, Ferveur J-F (2012) Incipient speciation in Drosophila melanogaster involves chemical signals. Sci Rep 2:224

Hoikkala A (1988) The importance of different courtship stimuli in the mating behavior of European species of the Drosophila virilis group. Ann Zool Fennici 25:257–263

Hoikkala A, Aspi J (1993) Criteria of female mate choice in Drosophila littoralis, D. montana and D. ezoana. Evolution 47:768–777

Hoikkala A, Aspi J, Suvanto L (1998) Male courtship song frequency as an indicator of male genetic quality in an insect species, Drosophila montana. Proc R Soc Lond B 265:503–508

Hoikkala A, Lumme J (1987) The genetic basis of evolution of the male courtship sounds in the Drosophila virilis group. Evolution 41:827–845

Hoikkala A, Crossley SA (2000) Copulatory courtship in Drosophila: behavior and songs of D. birchii and D. serrata. J Insect Behav 13:71–86

Jallon JM, David JR (1987) Variations in cuticular hydrocarbons along the eight species of the Drosophila melanogaster subgroup. Evolution 41:487–502

Jallon J-M, Hotta Y (1979) Genetic and behavioral studies of female sex appeal in Drosophila. Behav Genet 9:257–275

Klappert K, Mazzi D, Hoikkala A, Ritchie MG (2007) Male courtship song and female preference variation between phylogeographically distinct populations of Drosophila montana. Evolution 61:1481–1488

Kulikov AM, Melnikov AI, Gornostaev NG, Lazebny OE, Mitrofanov VG (2004) Morphological analysis of male mating organ in the Drosophila virilis species group: A multivariate approach. J Zool Syst Evol Research 42:135–144

Kyriacou CP, Hall JC (1982) The function of courtship song rhythms in Drosophila. Anim Behav 30:794–801

Lasbleiz C, Ferveur J-F, Everaerts C (2006) Courtship behaviour of Drosophila melanogaster revisited. Anim Behav 72:1001–1012

Liimatainen JO, Hoikkala A (1998) Interactions of the males and females of three sympatric Drosophila virilis—group species, D. montana, D. littoralis, and D. lummei, (Diptera Drosophilidae) in intra-and interspecific courtships in the wild and in the laboratory. J Insect Behav 11:399–417

Liimatainen JO, Jallon JM (2007) Genetic analysis of cuticular hydrocarbons and their effect on courtship in Drosophila virilis and D. lummei. Behav Genet 37:713–725

Manning A (1959) The sexual behavior of two sibling Drosophila species. Behavior 15:123–145

Markow TA, O'Grady PM (2005) Evolutionary genetics of reproductive behavior in Drosophila: Connecting the Dots. Annu Rev Genet 39:263–291

Nayak SV, Singh RN (1983) Sensilla on the tarsal segments and the mouthparts of adult Drosophila melanogaster. Int J Insect Morphol Embryol 12:273–291

Oguma Y, Nemoto T, Kuwahara Y (1992) (Z)-11-Pentacosene is the major sex pheromone component in Drosophila virilis (Diptera). Chemoecology 3:60–64

Päällysaho S, Aspi J, Liimatainen JO, Hoikkala A (2003) Role of X chromosomal song genes in the evolution of species-specific courtship songs in Drosophila virilis group species. Behav Genetics 33:25–32

Popov AV, Savvateeva-Popova EV, Kamyshev NG (2000) Peculiarities of acoustic communication in fruit flies Drosophila melanogaster. Sensornye Systemy 14:60–74

Ritchie MG, Kyriacou CP (1996) Artificial selection for a courtship signal in Drosophila melanogaster. Anim Behav 52:603–611

Ritchie MG, Townhill RM, Hoikkala A (1998) Female preference for fly song: playbacks confirm correlational evidence of the targets of sexual selection. Anim Behav 56:713–717

Saarikettu M, Liimatainen JO, Hoikkala A (2005a) Intraspecific variation in mating behavior does not cause sexual isolation between Drosophila virilis strains. Anim Behav 70:417–426

Saarikettu M, Liimatainen JO, Hoikkala A (2005b) The role of male courtship song in species recognition in Drosophila montana. Behav Genet 35:257–263

Sawamura K, Tomaru M (2002) Biology of reproductive isolation in Drosophila: toward a better understanding of speciation. Popul Ecol 44:209–219

Shorey HH (1962) Nature of sound produced by Drosophila melanogaster during courtship. Science 137:677–678

Spieth HT (1951) Mating behavior and sexual isolation in the Drosophila virilis species group. Behavior 3:105–145

Spieth HT (1974) Courtship behavior in Drosophila. Annu Rev Entomol 19:385–405

Throckmorton LH (1982) The virilis species group. In: Ashburner MA, Novitsky E (eds) The genetics and biology of Drosophila, vol 3B. Academic, London, pp 227–297
Acknowledgements
We are grateful to students T. Rogatykh, G. Alexandrov, E. Belyaev, N. Blochina, M. Kazaryan and A. Yudina for their valuable help in videotaping courtships. We also wish to thank Dr. A. Kulikov for stimulating discussions during the manuscript preparation. This work was partly supported by a grant from the Russian Foundation of Basic Research 08-04-01752-а.
About this article
Cite this article
Vedenina, V.Y., Ivanova, T.I. & Lazebny, O.Е. Analysis of courtship behavior in closely related species of Drosophila virilis group: a new approach arises new questions. J Insect Behav 26, 402–415 (2013) doi:10.1007/s10905-012-9359-z
Revised:

Accepted:

Published:

Issue Date:
Keywords
Drosophila

courtship behavior

sensory stimuli

sexual isolation