Abstract
This paper describes the synthesis of novel amphiphilic diblock copolymer composed of polystyrene (PS) as the hydrophobic block and Poly(N-[3-(dimethylamino)propyl] methacrylamide) (PDMAPMA) as hydrophilic block by reverse-mode iodine transfer controlled radical polymerization (RITP). Initially, homopolymer based on activated monomers (styrene) was synthesized by RITP. Thereafter, amphiphilic diblock copolymer was synthesized. The diblock copolymer obtained was characterized by spectroscopic methods: FTIR, 1H NMR, 13C NMR, Energy-dispersive X-ray spectroscopy (EDX) to analyze the elemental composition. Their thermal behaviour was investigated by thermogravimetric analysis (TGA). Study of the self-organization in aqueous phase of the amphiphilic copolymer revealed that formation of micelles for concentrations was higher than critical aggregation concentration (CAC) which their values were determined by tensiometry. The self-assembly behaviors of this copolymer was studied in aqueous solution at different concentrations, PH and temperatures using Dynamic light scattering (DLS).
This is a preview of subscription content, log in to check access.
Access options
Buy single article
Instant access to the full article PDF.
US$ 39.95
Price includes VAT for USA
Subscribe to journal
Immediate online access to all issues from 2019. Subscription will auto renew annually.
US$ 99
This is the net price. Taxes to be calculated in checkout.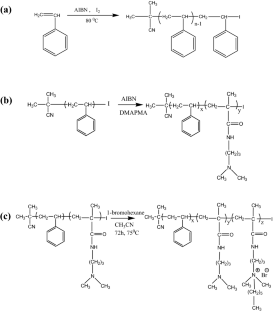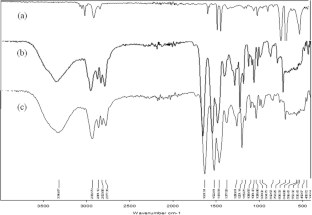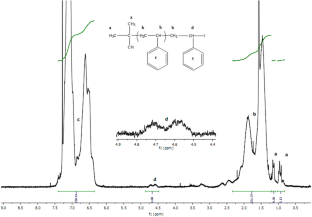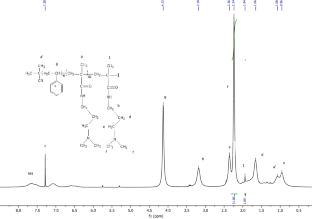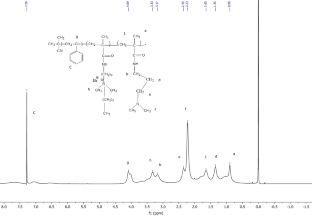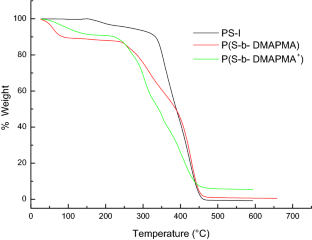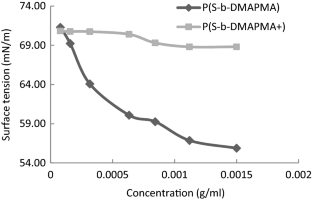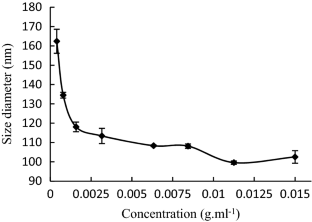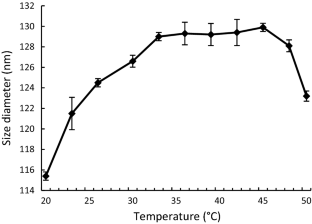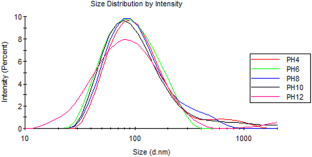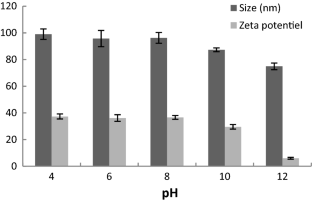 References
1.

A. Laschewsky, Tenside Surf. Det. 40, 246–249 (2003)

2.

P. Alexandridis, Curr. Opin. Colloid Interface Sci. 2, 478–489 (1997)

3.

N.S. Cameron, M.K. Corbierre, A. Eisenberg, Can. J. Chem. 77, 1311–1326 (1999)

4.

G. Riess, Prog. Polym. Sci. 28, 1107–1170 (2003)

5.

J. Storsberg, A. Laschewsky, SO FW-J. 130, 14 (2004)

6.

N. Gaillard, A. Guyot, J. Claverie, J. Polym. Sci. Part A: Polym. Chem. 41, 684–698 (2003)

7.

A.T. Nikova, V.D. Gordon, G. Cristobal, M.R. Talingting, D.C. Bell, C. Evans, M. Joanicot, J.A. Zasadzinski, D.A. Weitz, Macromolecules 37, 2215–2218 (2004)

8.

G. Riess, Colloids Surf. A 153, 99–110 (1999)

9.

K. Tauer, A. Zimmermann, H. Schlaad, Macromol. Chem. Phys. 203, 319–327 (2002)

10.

M. Save, M. Manguian, C. Chassenieux, B. Charleux. Macromol. 38, 280–289 (2004)

11.

G. Riess, C. Labbe, Macromol. Rapid Commun. 25, 401–435 (2004)

12.

B. Jakobs, T. Sottmann, R. Strey, J. Allgaier, D. Richter, Langmuir 15, 6707–6711 (1999)

13.

H. Endo, J. Allgaier, M. Mihailescu, M. Monkenbusch, G. Gompper, D. Richter, B. Jakobs, T. Sottmann, R. Strey, Appl. Phys. A: Mater. Sci. Process. 74, 392–395 (2002)

14.

D. Byelov, H. Frielinghaus, J. Allgaier, G. Gompper, Physica B 350, 931–933 (2004)

15.

H. Frielinghaus, D. Byelov, J. Allgaier, G. Gompper, D. Richter, Physica B 350, 186–192 (2004)

16.

Y. Kakizawa, K. Kataoka, Adv. Drug Deliv. Rev. 54, 203–222 (2002)

17.

P.A. Bertin, K.J. Watson, S.T. Nguyen, Macromolecules 37, 8364–8372 (2004)

18.

E.K. Park, S.B. Lee, Y.M. Lee, Biomaterials 26, 1053–1061 (2005)

19.

A. Skandalis, A. Sergides, A. Bakandritsos, S. Pispas, Polymers 10, 1–14 (2018)

20.

C. Liu, J. Xu, H. Chen, J. Inorg. Organomet. Polym. 25, 153–158 (2015)

21.

K. Letchford, H. Burt, Eur. J. Pharm. Biopharm. 65, 259–269 (2007)

22.

M.A. Semsarzadeh, S. Amiri, J. Inorg. Organomet. Polym. 23, 432–438 (2013)

23.

K. Matyjaszewski, J. Xia, Chem. Rev. 101, 2921–2990 (2001)

24.

W.A. Braunecker, K. Matyjaszewski, Prog. Polym. Sci. 32, 93–146 (2007)

25.

C.J. Hawker, A.W. Bosman, E. Harth, Chem. Rev. 101, 3661–3688 (2001)

26.

G. Moad, E. Rizzardo, S.H. Thang, Aust. J. Chem. 59, 669–692 (2006)

27.

G. David, C. Boyer, J. Tonnar, B. Ameduri, P. Lacroix-Desmazes, B. Boutevin, Chem. Rev. 106, 3936–3962 (2006)

28.

S. Garnier, A. Laschewsky, Macromolecules 38, 7580–7592 (2005)

29.

P. Lacroix-Desmazes, R. Severac, B. Boutevin, V. Kurowski, S.A. Solvay Belg. WO, 03097704 (2003)

30.

P. Lacroix-Desmazes, R. Severac, B. Boutevin, V. Bodart, V. Kurowski, W.O. Patent, 2004094356 (2004)

31.

P. Lacroix-Desmazes, R. Severac, B. Boutevin, Macromolecules 38, 6299–6309 (2005)

32.

C. Boyer, P. Lacroix-Desmazes, J.-J. Robin, B. Boutevin, Macromolecules 39, 4044–4053 (2006)

33.

B. Boutevin, B. Otazaghine, P. Lacroix-Desmazes, M. Dubreuil, V. Bodart, FR. Patent 2839725 (2003)

34.

P. Lacroix-Desmazes, R. Severac, B. Boutevin, V. Bodart, V. Kurowsky, FR. Patent 2839724 (2003)

35.

B.N. Patra, D. Rayeroux, P. Lacroix-Desmazes, React. Funct. Polym. 70, 408–413 (2010)

36.

D. Rayeroux, B.N. Patra, P. Lacroix-Desmazes, J. Polym. Sci. Part A: Polym. Chem. 51, 4389–4398 (2013)

37.

Y.H. Chang, C.L. Mccormick, Macromolecules 26, 6121–6126 (1993)

38.

W. Chaibi, A. Ziane, Z. Benzehaim, L. Bennabi, K. Guemra, Mater. Sci. Appl. Chem. 33, 40–44 (2016)

39.

W. Chaibi, L. Bennabi, I. Boukhouya, K. Guemra, Acta Chem. IASI 2, 185–202 (2019)

40.

P. Lacroix-Desmazes, R. Severac, B. Boutevin, V. Kurowski, S.A. Solvay, Belg. WO, 03097704 (2003)

41.

S. Antoun, J.F. Ghoy, R. Jérôme, Polymer 42, 3641–3648 (2001)

42.

M.J. Rosen, Surfactant and Interfacial Phenomena (Wiley, New York, 1989)

43.

B. Tan, D.W. Grijpma, T. Nabuurs, J. Feijen, Polymer 46, 1347–1357 (2005)

44.

T.F. Tadros, Applied Surfactants Principles and Applications (Wiley, Weinheim, 2005)

45.

Y.L. Zhang, X.W. Dou, T. Jin, eXPRESS Polym. Lett. 4, 599–610 (2010)

46.

K. Leonavicius, A. Ramanaviciene, A. Ramanavicius, Langmuir 27, 10970–10976 (2011)

47.

C.-Y. Chen, T.H. Kim, W.-C. Wu, C.M. Huang, H. Wei, C.W. Mount, Y. Tian, S.H. Jang, S.H. Pun, A.K. Jen, Biomaterials 34, 4501–4509 (2013)

48.

Q. Chen, S. Li., Z. Feng, M. Wang, C. Cai, J. Wang, Int. J. Nanomed. 12, 6857–6870 (2017)

49.

S. Förster, B. Bunsenges, Phys. ChemPhys. Chem. 101, 1671–1678 (1997)

50.

M. Cao, H. Nie, Y. Hou, G. Han, W. Zhang, Polym. Chem. 10, p. 403 (2019)

51.

C. Chang, H. Dan, L.-P. Zhang, M.-X. Chang, Y.-F. Sheng, G.-H. Zheng, X.-Z. Zhang, J. Appl. Polym. Sci. (2014), https://doi.org/10.1002/app.41752

52.

S. Luo, M. Han, Y. Cao, C. Ling, Y. Zhang, Colloid Polym. Sci. 11, 1243–1251 (2011)

53.

G.K. Saraiva, V.V. de Souza, L.C. de Oliveira, et al: Colloid Polym. Sci. 297, 557–569 (2019)

54.

M. Chountoulesi, N. Pippa, V. Chrysostomou, S. Pispas, C.E.D. Hrysina, et al: . Polymers 11, p. 1400 (2019)

55.

Y. Xu, K. He, H. Wang, M. Li, T. Shen, X. Liu, Micromachines 6, p. 258 (2018)

56.

Y.-L. Luo, X.-L. Yang, F. Xu, Y.-S. Chen, X. Zhao, Colloid Polym. Sci. 5, 1061–1072 (2014)
About this article
Cite this article
Chaibi, W., Guemra, K. Synthesis of Amphiphilic Diblock Copolymer and Study of Their Self-assembly in Aqueous Solution. J Inorg Organomet Polym (2020). https://doi.org/10.1007/s10904-020-01464-2
Received:

Revised:

Accepted:

Published:
Keywords
Amphiphilic diblock copolymer

Controlled radical polymerization (CRP)

Reverse iodine transfer polymerization (RITP)

Self-organization

P(S-b-DMAPMA)