Incorporation of Polymerizable Osmium(II) Bis-terpyridine Complexes into PMMA Backbones
Abstract
For the first time, an Os(II) bis-terpyridine complex bearing a polymerizable methacryloyl function was synthesized and subsequently copolymerized with MMA using the RAFT polymerization technique. The well-defined polymer was analyzed by SEC, ESI-TOF MS, 1H NMR spectroscopy as well as UV–Vis absorption and emission spectroscopy. The lifetime as well as redox potentials of the complex and the corresponding polymer were also determined. Additionally, the film forming properties of the polymer were investigated and preliminary UV–Vis absorption as well as emission experiments were carried out with a second donor pendant polymer revealing energy transfer from the donor to the Os(II) complex.
Graphical Abstract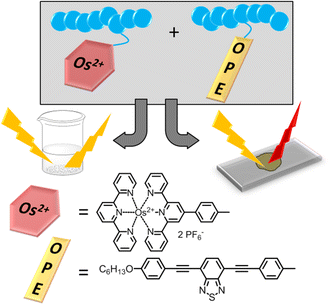 The synthesis and subsequent polymerization of a methacrylate functionalized Os(II) bis-terpyridine complex is described. The copolymerization with MMA resulted in a polymer that features the well-defined optical and electrochemical properties of the complex combined with typical polymer properties.
Keywords
Energy transfer 
Lifetime measurements 
Os(II) bis-terpyridine complexes 
Polymerizable metal complexes 
RAFT polymerization 
Notes
Acknowledgments
The authors thank the Thüringer Ministerium für Bildung, Wissenschaft und Kultur (Grant No. B 514-09049: PhotoMic) as well as the Dutch Polymer Institute (DPI, technology area HTE). USS acknowledge financial support of the Fonds der Chemischen Industrie.
Copyright information
© Springer Science+Business Media, LLC 2012