The First A-Frame-Containing Organometallic Polymer: Taking Advantage of the Site Selectivity in PdPt-Mixed Metal Bimetallics
Abstract
ClPd(μ-dppm)2PtCl (1) reacts with (CNC6H4–2-OCH2–)2 to form a sparingly soluble and thermally stable orange polymeric material 4. 1 reacts with 1 or 2 equivalents of CNC6H4–2-OCH3 to form the soluble A-frame d8–d8 model complexes 2 [ClPd(μ-dppm)2(μ-CNR)PtCl], and 3 [ClPd(μ-dppm)2(μ-CNR)Pt(CNR)](Cl) (R = C6H4–2-OCH3), respectively. IR (ν(NC) bridging versus terminal) and NMR data reveal an A-frame structure where the terminal CNR ligands are bonded to Pt. 4 which is amorphous (XRD) appears stable up to 290 °C (TGA), but exhibits an exothermic process between 215 and 255 °C upon the first scan in DSC, but disappears upon the second. Two compounds, model 2 (λe = 674 nm; τe = 0.38 ± 0.01 μs; Φe = 0.0079 (±10%)) and polymer 4 (λe = 660 nm; τe = 0.18 ± 0.01 μs; Φe = 0.0056 (±10%)) are luminescent at 77 K in the solid state and in fluid solution (PrCN).
Graphical abstract
The First A-Frame-Containing Organometallic Polymer: Taking Advantage of the Site Selectivity in PdPt-Mixed Metal Bimetallics
Sébastien Clément, Shawkat Mohammed Aly, Karl Gagnon, Alaa S. Abd-El-Aziz, Michael Knorr, Pierre D. Harvey
ClPd(μ-dppm)
2
Cl
2
reacts with (CN–C
6
H
4
–O–CH
2
–)
2
to form the first A-frame-containing organometallic polymer, which is unambiguously characterized with the use of model compounds. This polymer does not experience any weight loss up to 290 °C based on TGA measurements, but DSC traces reveal an irreversible process at 215 °C (DSC). The novel material is also luminescent at 77 K. For example, λ
e
 = 660 nm; τ
e
 = 0.18 ± 0.01 μs; Φ
e
 = 0.0056 (±10%) in PrCN.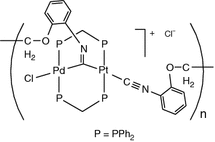 Keywords
A-frame 
Isocyanide 
Palladium 
Platinum 
Differential scanning calorimetry (DSC) 
Heterobimetallic 
Organometallic polymers 
Oligomers 
Thermogravimetric analysis (TGA) 
Notes
Acknowledgements
PDH thanks the Natural Science and Engineering Research Council of Canada (NSERC). MK thanks the French Ministère de la Recherche et Technologie for financial support and a PhD grant for SC.
Copyright information
© Springer Science+Business Media, LLC 2007