Easy as (Happiness) Pie? A Critical Evaluation of a Popular Model of the Determinants of Well-Being
Abstract
An underlying principle behind much of the research in positive psychology is that individuals have considerable leeway to increase their levels of happiness. In an influential article that is frequently cited in support of such claims, Lyubomirsky et al. (Rev Gen Psychol 9:111–131, 2005.  https://doi.org/10.1037/1089-2680.9.2.111) put forward a model (subsequently popularized under the name of the "happiness pie") in which approximately 50% of individual differences in happiness are due to genetic factors and 10% to life circumstances, leaving 40% available to be changed via volitional activities. We re-examined Lyubomirsky et al.'s claims and found several apparent deficiencies in their chain of arguments on both the empirical and the conceptual level. We conclude that there is little empirical evidence for the variance decomposition suggested by the "happiness pie," and that even if it were valid, it is not necessarily informative with respect to the question of whether individuals can truly exert substantial influence over their own chronic happiness level. We believe that our critical re-examination of Lyubomirsky et al.'s seminal article offers insights into some common misconceptions and pitfalls of scientific inference, and we hope that it might contribute to the construction of a more rigorous and solid empirical basis for the field of positive psychology.
Keywords
Happiness 
Positive psychology 
Heritability 
Life circumstances 
Interventions 
One of the key claims of the positive psychology movement is that most individuals are able to exercise substantial control over their own levels of happiness.1 On this account, people can become durably happier—in Seligman's (2002, p. ix) words, "go from plus two to plus seven" in their lives—by adopting a variety of strategies, such as expressing gratitude (Emmons and McCullough 2003), applying one's character strengths in novel ways (Seligman et al. 2005), writing about positive experiences (Burton and King 2004), or practicing loving-kindness meditation (Fredrickson 2013). Over the past 2 decades or so, these ideas have been widely publicized both within scholarly circles and in the popular media (e.g., Scelpo 2017).
Arguably the most popular model of the factors influencing well-being, and hence people's ability to improve their own happiness, is the one presented by Lyubomirsky et al. (
2005
) that has become widely known as the "happiness pie." This model, reproduced here as Fig. 
1
, purports to show the percentage of variance in well-being that is explained by each of three sources of variation (which Lyubomirsky et al. referred to as "factors"): genetic predisposition (which was labeled the "happiness set point" by Lyubomirsky et al.; see also Lykken
1999
; Lykken and Tellegen
1996
), life circumstances, and volitional (intentional) activities. It should be noted that this model attempts to explain "chronic happiness levels," that is, an experience that is more enduring than momentary fluctuations in well-being and can be captured by retrospective summary judgments or by averaging momentary judgments over a period of months. Lyubomirsky et al. claimed that up to 40% of the variance in well-being levels according to this definition was explained by volitional activities, suggesting further that intentional activity was "arguably [the] most promising means of altering one's happiness level" (p. 118). According to Lyubomirsky et al., 50% of the variance in well-being is explained by genetic factors and just 10% by "life circumstances," a term whose meaning and scope we explore in some depth in the present article.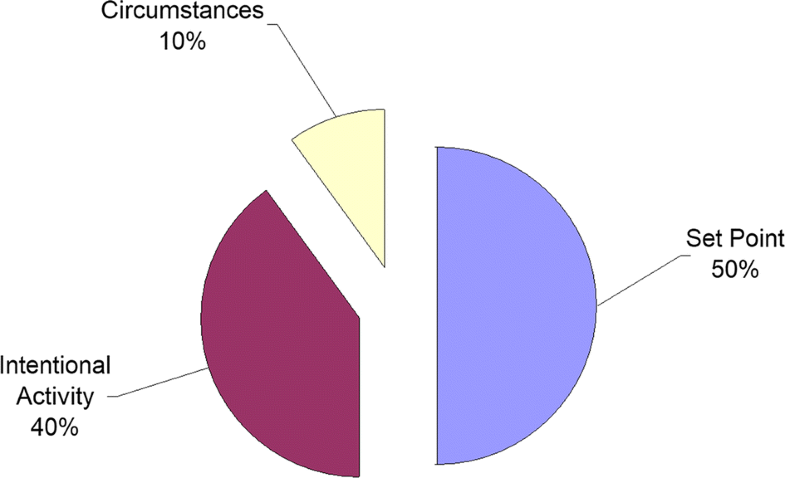 Since the publication of Lyubomirsky et al.'s (
2005
) article, which according to Google Scholar had 3086 citations as of May 7, 2019, the "happiness pie"—including the relative proportions of its components, and especially the claim that intentional activity is a far more important determinant of well-being than life circumstances—has become a key element of the discourse surrounding well-being. In the academic sphere, this model has been cited by scholars working not only on topics that might be considered as the traditional domain of positive psychology, such as employee well-being (Page and Vella-Brodrick
2009
), the relation between pleasure and engagement (Schueller and Seligman
2010
), or interventions to enhance happiness in normal populations (Proyer et al.
2013
), but also in research areas as diverse as psychotherapy (Rashid
2008
), aging (Butler and Ciarrochi
2007
), consumer behavior (Hudders and Pandelaere
2012
), negative emotions (Jordan et al.
2011
), self-care for psychologists (Wise et al.
2012
), heart disease (Huffman et al.
2011
), tourism (Nawijn and Mitas
2012
), and intellectual disability (Dykens
2006
). In wider society, the happiness pie has been a prominent element in the popularization of positive psychology, especially in the areas of happiness-related coaching, self-help books (e.g., Achor
2010
; Fredrickson
2009
), and other "personal development" products and services that have sprung up on the periphery of this new subfield. For example, a large cherry pie cut into two parts (60–40%) features prominently on the front of the hardcover edition of Lyubomirsky's (
2007
) book
The How of Happiness
:
A Scientific Approach to Getting the Life You Want
, and the same image was used by a training company to promote a "Positive Psychology Master Class" with the same author (MentorCoach
2008
). The 40% figure has been widely touted as an empirical fact, as an Internet search for the terms "happiness" and "40%" will quickly reveal. As the New York-based British writer Ruth Whippman put it:
This 40 per cent figure is much quoted in the positive-psychology literature in both academic and popular texts, and represents the field's great marketing opportunity. This is the 40 per cent that anyone with a book to sell, a course of coaching to offer or a happiness technique to promote is hoping to co-opt. (Whippman 2016, p. 195)
Although some researchers have written brief critiques of the "happiness pie" in blog posts (e.g., Bergink
2015
; Kashdan
2015
; Krueger
2015
), it seems that until now no prominent peer-reviewed articles have been published in the formal psychological literature that discuss the origins and validity of Lyubomirsky et al.'s model. Such an exploration is the focus of the present article. First, we consider some conceptual issues that arise when using population-level variance decomposition to make claims about individual-level potential for change. Second, we discuss weaknesses of the "happiness equation" that is implied by the "happiness pie" and Lyubomirsky et al.'s claim that up to 40% of the variance in happiness can be attributed to volitional activities. Third, we re-examine the numerical estimates that Lyubomirsky et al. assigned to the genetic set point and circumstances. We conclude with a summary of our findings and some recommendations for future research directions.
Notes
Acknowledgements
The authors wish to thank Stefan C. Schmukle for providing feedback on a draft of this manuscript, Stuart Ritchie for some interesting discussions about heritability, Lian Beijers for her involvement at an early stage of the project, and the members of our Delphi panel.
Copyright information
© The Author(s) 2019
Open AccessThis article is distributed under the terms of the Creative Commons Attribution 4.0 International License (http://creativecommons.org/licenses/by/4.0/), which permits unrestricted use, distribution, and reproduction in any medium, provided you give appropriate credit to the original author(s) and the source, provide a link to the Creative Commons license, and indicate if changes were made.