Abstract
This study examined the association between place of service and adherence to select diabetes screening measures in a homeless population. At a Midwestern metropolitan federally qualified health center (FQHC), 508 participants with diabetes and also experiencing homelessness were studied throughout calendar year 2018. Diabetes measures included controlled blood pressure, diabetic foot exam and hemoglobin A1C screening. Patients were seen at one of three locations: FQHC only, shelter only and both shelter and FQHC. After controlling for primary insurance, insurance status, homeless status, age group, ethnicity, primary language, race, sex and poverty level, a stepwise binary logistic regression demonstrated significant model improvement in A1c screening (p ≤ 0.001) and controlled blood pressure (p = 0.009) when place of service was added as a predictor. Specifically, results showed significant negative associations in screening adherence for shelter as compared to FQHC for both controlled blood pressure (OR = 0.40; 95% CI = 0.20–0.79; p = 0.009) and A1c screening (OR = 0.06; 95% CI = 0.03–0.16; p ≤ 0.001). Our results support the hypothesis that FQHC care results in higher rates of adherence than shelter only or FQHC and shelter combined care. The study addresses the gap in literature surrounding place of service and patient adherence. Recommendations for future research are included.
This is a preview of subscription content, log in to check access.
Access options
Buy single article
Instant unlimited access to the full article PDF.
US$ 39.95
Price includes VAT for USA
Subscribe to journal
Immediate online access to all issues from 2019. Subscription will auto renew annually.
US$ 99
This is the net price. Taxes to be calculated in checkout.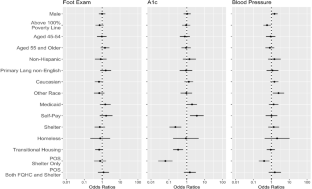 References
1.

Changes in the HUD Definition of "Homeless". (n.d.). Retrieved from https://endhomelessness.org/resource/changes-in-the-hud-definition-of-homeless/.

2.

Pribish, A., Khalil, N., Mhaskar, R., Woodard, L., & Mirza, A. (2018). Chronic disease burden of the homeless: A descriptive study of student-run free clinics in Tampa, Florida. Journal of Community Health. https://doi.org/10.1007/s10900-018-0580-3.

3.

HCH Clinicians' Network. (2013). Adapting your practice: Treatment and recommendations for patients who are homeless with diabetes mellitus. Retrieved from http://www.nhchc.org/wp-content/uploads/2013/06/2013DiabetesGuidelines_FINAL_20130612.pdf.

4.

Asgary, R., Naderi, R., & Wisnivesky, J. (2017). Opt-out patient navigation to improve breast and cervical cancer screening among homeless women. Journal of Womens Health,26(9), 999–1003.

5.

Kaplan-Weisman, L., Waltermaurer, E., & Crump, C. (2018). Assessing and improving Zoster Vaccine uptake in a homeless population. Journal of Community Health. https://doi.org/10.1007/s10900-018-0517-x.

6.

Davachi, S., & Ferrari, I. (2012). Homelessness and diabetes: Reducing disparities in diabetes care through innovations and partnerships. Canadian Journal of Diabetes,36(2), 75–82.

7.

Zazworsky, D., & Johnson, N. (2014). It takes a village: A community partnership model in caring for the homeless. Nursing Administration Quarterly,38(2), 179–185.

8.

Wilk, T., Mora, P. F., Chaney, S., & Shaw, K. (2002). Use of an insulin pen by homeless patients with diabetes mellitus. Journal of the American Academy of Nurse Practitioners,14(8), 372–380.

9.

Baty, P. J., Viviano, S. K., Schiller, M., & Wendling, A. L. (2010). A systematic approach to diabetes mellitus care in underserved populations: Improving care of minority and homeless persons. Family Medicine,42(9), 623–627.

10.

To, M. J., Brothers, T. D., & Zoost, C. V. (2016). Foot conditions among homeless persons: A systematic review. PLoS ONE,11(12), e0167463.

11.

Uniform Data System Reporting Instructions for 2018 Health Center Data (p. 45, 2018 UDS Manual). (2018). Rockville, MD: Bureau of Primary Health.
Additional information
Publisher's Note
Springer Nature remains neutral with regard to jurisdictional claims in published maps and institutional affiliations.
About this article
Cite this article
Wainwright, M.K., Earle, M., Kosog, K. et al. The Effect of Place of Service on Diabetic Screening Adherence in the Homeless Population. J Community Health 45, 73–80 (2020). https://doi.org/10.1007/s10900-019-00718-6
Keywords
Homelessness

FQHC

Diabetes

Adherence