Abstract
A newly designed fluorescent and colorimetric probe was synthesized and selective detection of cu2+ was successful in aqueous medium. The design strategy exhibited strongly fluorescent when binding with cu2+ based on the change in structure between spirocyclic to a non-cyclic form of rhodamine based dye. The UV visible spectra of probe (6GS2) exhibited three absorption peaks at 229, 309 and 530 nm respectively. The emission spectra of fluorescent probe exhibited wavelength at 550 nm. The peak intensity increases during the addition of copper ion to probe through n-π transition. The probe characterized by different techniques like NMR, absorption, emission, mass and test strips methods.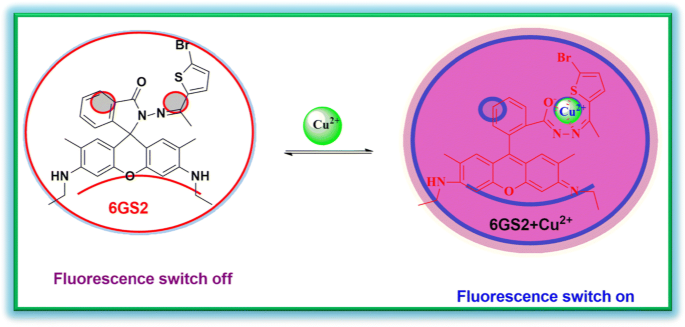 This is a preview of subscription content, log in to check access.
Access options
Buy single article
Instant access to the full article PDF.
US$ 39.95
Price includes VAT for USA
Subscribe to journal
Immediate online access to all issues from 2019. Subscription will auto renew annually.
US$ 99
This is the net price. Taxes to be calculated in checkout.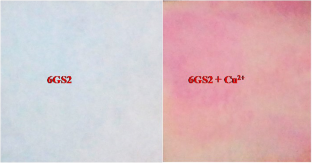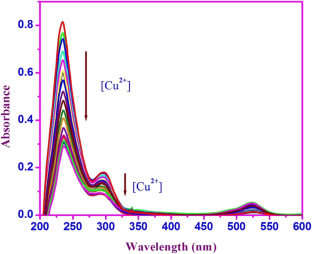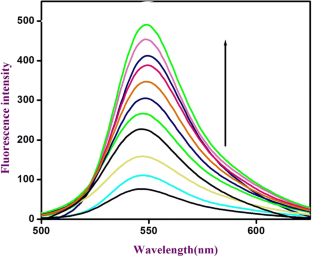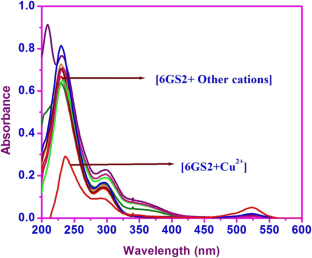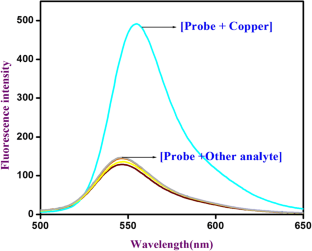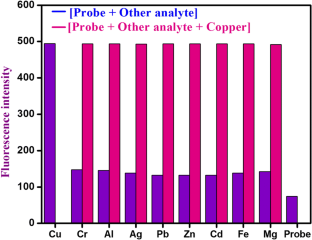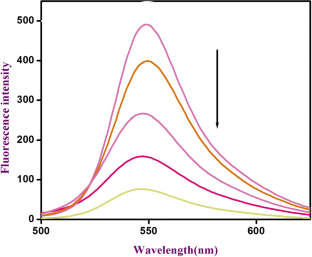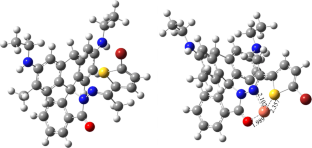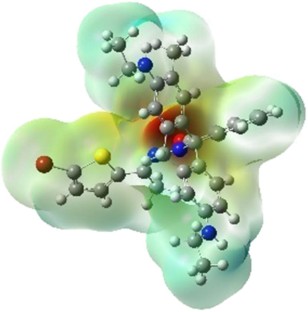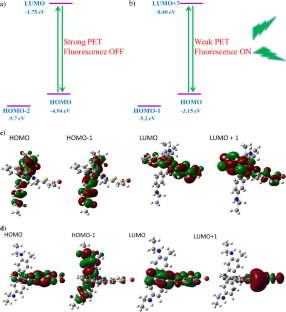 References
1.

Yu F, Zhang W, Li P, Xing Y, Tong L, Ma J, Tang B (2009) Cu2+-selective naked-eye and fluorescent probe: its crystal structure and application in bioimaging. Analyst 134:1826–1833

2.

Yin J, Bing Q, Wang L, Wang G (2018) Spectrochim. Acta A 189:495–501

3.

Wang N, Liu Y, Li Y, Liu Q, Xie M (2018) Sens. Actuators B 255:78–86

4.

Vengaian KM, Britto CD (2016) K Sekar, G. Sivaraman, S. Singaravadivel. Sens. Actuators B 235:232–240

5.

Safty SAE, Shenashen MA, Ismael M, Khairy M, Awual MR (2012) Optical mesosensors for monitoring and removal of ultra-trace concentration of Zn(II) and Cu(II) ions from water. Analyst 137:5278–5290

6.

Li C, Xiang K, Liu Y, Zheng Y, Pan L, Tian B, Zhang J (2015) Res Chem Intermediates.ens 41:5915–5927

7.

Lin Z, Luo F, Dong T, Zheng L, Wang Y, Chi Y, Chen G (2012) Recyclable fluorescent gold nanocluster membrane for visual sensing of copper(II) ion in aqueous solution. Analyst 137:2394–2399

8.

Lee HY, Son H, Lim JM, Oh J, Kang D, Han WS, Jung JH (2010) BODIPY-functionalized gold nanoparticles as a selective fluoro-chromogenic chemosensor for imaging Cu2+ in living cells. Analyst 135:2022–2027

9.

Su J, Sun YQ, Huo FJ, Yang YT, Yin CX (2010) Naked-eye determination of oxalate anion in aqueous solution with copper ion and pyrocatechol violet. Analyst 135:2918–2923

10.

Liu JM, Wang HF, Yan XP (2011) A gold nanorod based colorimetric probe for the rapid and selective detection of Cu2+ ions. Analyst 136:3904–3910

11.

Park J, Rao BA, Son YA (2015) Fiber Polym 16:953–960

12.

Saleh SM, Ali R, Ali IA (2017) Spectrochim. Acta A 183:225–231

13.

Wang Y, Mao PD, Wu WN, Mao XJ, Zhao XL, Xu ZQ, Xu ZH (2017) Sens. Actuators B 251:813–820

14.

Ekmekci Z (2015) Tetrahedron Lett 56:1878–1881

15.

More AB, Mula S, Thakare S, Chakraborty S, Ray AK, Sekar N, Chattopadhyay S (2017) J Lumin 190:476–484

16.

Wang Y, Chang HQ, Wu WN, Peng WB, Yan YF, He CM, Xu ZQ (2016) Sens. Actuators B 228:395–400

17.

DingLi B, Pu S, Liu G, Jia D, Zhou Y (2017) Sens. Actuators B 247:26–35

18.

Xu Z, Xiao Y, Qian X, Cui J, Cui D (2005) Ratiometric and selective fluorescent sensor for CuII based on internal charge transfer (ICT). Org Lett 7:889–892

19.

Anand T, Sivaraman G, Anandh P, Chellappa D, Govindarajan S (2014) Tetrahedron Lett 55:671–675

20.

Mergu N, Kim M, Son YA (2018) Spectrochim. Acta A 188:571–580

21.

Gao Y, Zhang C, Peng S, Chen H (2017) Sens. Actuators B 238:455–461

22.

Cheng Y, Feng Q, Yin M, Wang C, Zhou Y (2016) Tetrahedron Lett 57:3814–3818

23.

Guo X, Qian X, Jia L (2004) A highly selective and sensitive fluorescent chemosensor for Hg2+ in neutral buffer aqueous solution. J Am Chem Soc 126:2272–2273

24.

Zhang G, Zhang H, Zhang J, Ding W, Xu J, Wen Y (2017) Sens. Actuators B 253:224–230

25.

Sun T, Niu Q, Li T, Guo Z, Liu H (2018) Spectrochim. Acta A 188:411–417

26.

Liu L, Dong X, Xiao Y, Lian W, Liu Z (2011) Two-photon excited fluorescent chemosensor for homogeneous determination of copper(II) in aqueous media and complicated biological matrix. Analyst 136:2139–2145

27.

Sivaraman G, Anand T, Chellappa D (2012) Analyst 137:5881–5884

28.

Xu Z, Deng P, Li J, Tang S (2018) Sens. Actuators B 255:2095–2104

29.

Gholivand MB, Niroomandi P, Yari A, Joshagani M (2005) Anal. Chim. Acta 538:225–231

30.

Zhou Y, Wang F, Kim Y, Kim SJ, Yoon J (2009) Org Lett 11:4442–4445

31.

Sánchez J, BenjamínOrtíz A, Ortiz Navarrete V, Farfán N, Santillan R (2015) Analyst 17:6031–6039

32.

Kursunlu N, Koc ZE, Obalı AY, Güler E (2014) J Lumin 149:215–220

33.

Huang L, Wang X, Xie G, Xi P, Li Z, Xu M, Zeng Z (2010) A new rhodamine-based chemosensor for Cu2+ and the study of its behaviour in living cells. Dalton Trans 39:7894–7896

34.

Sivaraman G, Chellappa D, Mater J (2013) Chem B 1:5768–5772

35.

Sivaraman G, Sathiyaraja V, Chellappa D (2014) J Lumin 145:480–485

36.

Aigner D, Borisov SM, Fernández FJO, Sánchez JFF, Saf R, Klimant I (2012) New fluorescent pH sensors based on covalently linkable PET rhodamines. Talanta 99:194–201

37.

Qin JC, Yang ZY, Wang GQ, Li CR (2015) Tetrahedron Lett 56:5024–5029

38.

Wang Y, Chang HQ, Wu WN, Mao XJ, Zhao XL, Yang Y, Jia YL (2017) J. Photochem. Photobiol. 335:10–16

39.

Yu M, Shi M, Chen Z, Li F, Li X, Gao Y, Huang C (2008) Highly sensitive and fast responsive fluorescence turn-on chemodosimeter for Cu2+ and its application in live cell imaging. Chem Eur J 14:6892–6900

40.

Tang Y, Jiang GF (2017) Tetrahedron Lett 58:2846–2849

41.

Yadav N, Singh AK (2016) RSC Adv 6:100136–100144

42.

Hou S, Qu Z, Zhong K, Bian Y, Tang L (2016) Tetrahedron Lett 57:2616–2619

43.

Becke AD (1988) Phys Rev A 38:3098–3100

44.

Lee CT, Yang WT (1988) Parr, Phys. Rev B 37:785–789

45.

Frisch, M. J.; Trucks, G. W.; Schlegel, H. B.; Scuseria, G. E.; Robb, M. A.; Cheeseman, J. R.; Scalmani, G.; Barone, V.; Mennucci, B.; Petersson, G. A.; Nakatsuji, H.; Caricato, M.; Li, X.; Hratchian, H. P.; Izmaylov, A. F.; Bloino, J.; Zheng, G.; Sonnenberg, J. L.; Hada, M.; Ehara, M.; Toyota, K.; Fukuda, R.; Hasegawa, J.; Ishida, M.; Nakajima, T.; Honda, Y.; Kitao, O.; Nakai, H.; Vreven, T.; Montgomery, J. A., Jr.;Peralta, J. E.; Ogliaro, F.; Bearpark, M.; Heyd, J. J.; Brothers, E.; Kudin,K. N.; Staroverov, V. N.;Kobayashi, R.; Normand, J.; Raghavachari, K.;Rendell, A.; Burant, J. C.; Iyengar, S. S.; Tomasi, J.; Cossi, M.; Rega,N.; Millam, J. M.; Klene, M.; Knox, J. E.; Cross, J. B.; Bakken, V.;Adamo, C.; Jaramillo, J.; Gomperts, R.; Stratmann, R. E.; Yazyev, O.;Austin, A. J.; Cammi, R.; Pomelli, C.; Ochterski, J. W.; Martin, R. L.;Morokuma, K.; Zakrzewski, V. G.; Voth, G. A.; Salvador, P.;Dannenberg, J. J.; Dapprich, S.; Daniels, A. D.; Farkas, Ö.;Foresman, J. B.; Ortiz, J. V.; Cioslowski, J.; Fox, D. J. Gaussian, Inc., Wallingford, CT, 2009
Acknowledgements
Authors thank UGC and DST, New Delhi for financial support. DST- IRHPA, FIST, BRNS and PURSE for instrument facilities.
Additional information
Publisher's Note
Springer Nature remains neutral with regard to jurisdictional claims in published maps and institutional affiliations.
Research Highlights
1. The sensor 6GS2 was synthesized by a simple method with high yield.
2. The sensor colorimetrically detects copper very easily in aqueous medium.
3. The probe was easily recognized copper compared to other metals.
4. The detection limit is 7.4x10-8M for copper in aqueous medium.
Electronic supplementary material
About this article
Cite this article
Deepa, A., Srinivasadesikan, V., Lee, S. et al. Highly Selective and Sensitive Colorimetric and Fluorimetric Sensor for Cu2+. J Fluoresc 30, 3–10 (2020). https://doi.org/10.1007/s10895-019-02450-9
Keywords
Rhodamine dye

Copper

Fluorimetric

Sensor