Nitrogen Doped Carbon Quantum Dots Modified by Lens culinaris β-Galactosidase as a Fluorescent Probe for Detection of Lactose
Abstract
Nitrogen doped carbon quantum dots (NCQDs) were synthesized via hydrothermal route. The NCQDs are thermally and optically stable with high flouresence yield. For the synthesis of NCQDs, citric acid and urea was taken as carbon and nitrogen sources, respectively. The Transmission Electron Microscopy (TEM) of these quantum dots revealed nearly spherical shape and average size of 1.5 nm, which was calculated using Image J software. The quantum dots were also well-characterized using spectroscopic techniques such as FTIR, UV-Visible absorption and fluorescence. These synthesized and characterized dots were utilized for selective detection of lactose in Milli Q water. The bioprobe provide a wide linear range varying from (10.00–77.41) μM with limit of detection 11.36 μM and sensitivity equal to (0.0065 ± 0.0002) μM−1.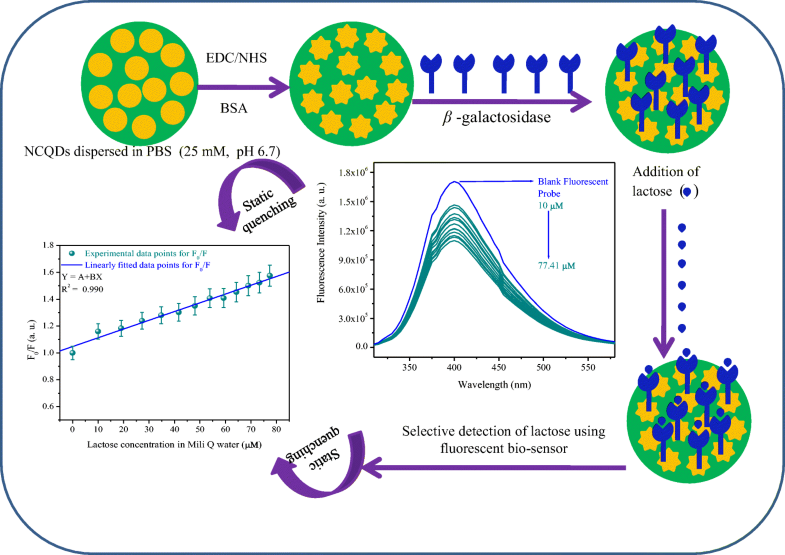 Keywords
Lactose 
Fluorescence 
β-Galactosidase 
Lens culinaris
Biosensor 
Notes
Acknowledgements
Anjali Yadav is grateful to UGC, New Delhi, for fellowship in the form of junior research fellowship and senior research fellowship (F./2015-16/NFO-2015-17-OBC-UTT-32658/ (SA-III-website). Ranjana Singh is grateful to CSIR New Delhi, Govt. of India for providing financial support in terms of CSIR Research Associate ship with file no 09/13 (0846)/2018-EMR-I dated 29/03/2019. Shashank Shekhar want to acknowledge CSIR (09/013(0739)/2017-EMR-I), New Delhi for financial support. Ranjan K. Singh is grateful to AvH Foundation, Germany, DST, India for FIST programme. Authors are extremely thankful to Biophysics Laboratory, Department of Physics, B.H.U. Varanasi, India to access the Edinburg FL 900 fluorescence spectrophotometer for fluorescence measurement.
Compliance with Ethical Standards
Conflict of Interests
The authors declare no competing financial interest.
Copyright information
© Springer Science+Business Media, LLC, part of Springer Nature 2019