Dansyl Based "Turn-On" Fluorescent Sensor for Cu2+ Ion Detection and the Application to Living Cell Imaging
Abstract
A new "turn-on" fluorescent chemosensor based on dansyl derivative was prepared for Cu2+ ion sensing. Hydroxyl, imine and azomethine groups in Schiff base derived compound 1 were deliberately introduced for facilitating the binding of Cu2+ ion. Of screen metal ions, compound 1 showed a high degree of selectivity toward Cu2+ ion. Other interfering metal ions did not affect the fluorescence intensity of compound 1, except Hg2+ and Fe3+ ions exhibited a significant degree of fluorescence quenching. Upon binding of Cu2+ ion, compound 1 displayed a chelation enhanced fluorescence (CHEF) resulting in increasing of the fluorescence intensity. The molecular optimized geometry indicated the binding ratio between compound 1 and Cu2+ ion at 1:1 with the binding constant of 1.68 × 10− 7 M− 1. The optimized condition for sensing ability of compound 1 with a detection limit of 5 × 10− 7 M was found at the physiological pH 7.2 with the excitation wavelength of 366 nm. Due to no cytotoxicity and good photophysical properties, compound 1 was extended its application for the detection of Cu2+ ion in Vero cells. Compound 1 could be potentially used as an intracellular fluorescent chemosensor for tracking Cu2+ ion.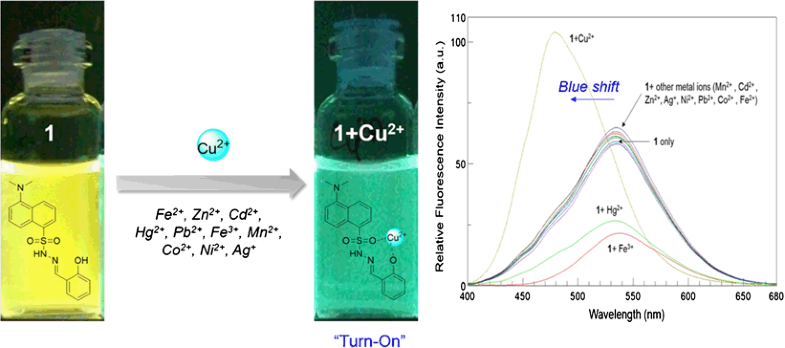 Keywords
Schiff base 
Dansyl derivative 
Copper (II) ion 
Turn-on fluorescence 
Cell imaging 
Notes
Acknowledgements
Mahidol University grant to P.T. (14/2559) and Development and Promotion of Science and Technology Talents Project's scholarship (DPST) to W.N. are gratefully acknowledged. We are also grateful to the support of S.S. from National Center for Genetic Engineering and Biotechnology (BIOTEC).
Copyright information
© Springer Science+Business Media, LLC 2017