Abstract
This study was done to validate the utility of Umesh's intubation detector in detection of tracheal or oesophageal intubation in manikin using volunteers with different levels of experience in tracheal intubation (including novices). The Sim Man II, (Laerdal Medical AS, Norway) manikin was used. Two cuffed tracheal tubes of size 6.5 mm ID were used. One was passed into the trachea and the other into oesophagus. The device was connected to one of the two tubes as per randomisation table and three high quality chest compressions were performed. Each volunteer participated in the study twice. Their opinion regarding the tube position (in trachea or oesophagus or could not determine) was noted. A total of 50 volunteers participated in the study. Eleven of them had not observed intubation (novice), 29 had either only observed or had experience of <10 tracheal intubations (less experienced) and 10 had experience of >10 intubations or >1 year experience in tracheal intubation (experienced). Out of a total 100 performances, 99 were correctly identified. On one instance, a tube placed in trachea was incorrectly interpreted to be in the oesophagus by a novice. Umesh's intubation detector helps in rapid and reliable confirmation of tracheal intubation in manikin irrespective of the experience level of the assessor in tracheal intubation.
This is a preview of subscription content, log in to check access.
Access options
Buy single article
Instant unlimited access to the full article PDF.
US$ 39.95
Price includes VAT for USA
Subscribe to journal
Immediate online access to all issues from 2019. Subscription will auto renew annually.
US$ 99
This is the net price. Taxes to be calculated in checkout.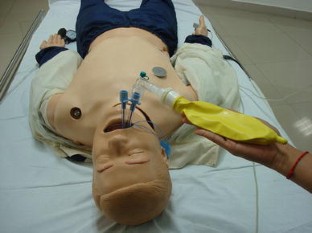 References
1.

Birmingham PK, Cheney FW, Ward RJ. Esophageal intubation: a review of detection techniques. Anesth Analg. 1986;65:886–91.

2.

Peterson AW, Jacker LM. Death following inadvertent esophageal intubation: a case report. Anesth Analg. 1973;52:398–401.

3.

O'Connor RE, Swor RA. Verification of endotracheal tube placement following intubation. Prehospital Emerg Care. 1999;3:248–50.

4.

Dittrich KC. Delayed recognition of esophageal intubation. CJEM. 2002;4:41–4.

5.

Rudraraju P, Eisen LA. Analytic review: confirmation of endotracheal tube position: a narrative review. J Intensive Care Med. 2009;24:283–92.

6.

Castle N. Endotracheal tubes: early detection of oesophageal intubation. Emerg Nurse. 2007;14:22–5.

7.

Sanehi O, Calder I. Capnography and the differentiation between tracheal and oesophageal intubation. Anaesthesia. 1999;54:604–5.

8.

Falk JL, Rackow EC, Weil MH. End tidal carbon dioxide concentration during cardiopulmonary resuscitation. N Engl J Med. 1988;318:607–11.

9.

Delorio NM. Continuous and-tidal carbon dioxide monitoring for confirmation of endotracheal tube placement is neither widely available nor consistently applied by emergency physicians. Emerg Med J. 2005;22:490–3.

10.

Umesh G. The simplest device for confirmation of tracheal intubation. Resuscitation. 2012;83:e79.

11.

Caplan RA, Posner KL, Ward RJ, Cheney FW. Adverse respiratory events in anesthesia: a closed claims analysis. Anesthesiology. 1990;72:828–33.

12.

Knapp S, Kofler J, Stoiser B, Thalhammer F, Burgmann H, Posch M, Hofbauer R, Stanzel M, Frass M. The assessment of four different methods to verify tracheal tube placement in the critical care setting. Anesth Analg. 1999;88:766–70.

13.

Solazzi RW, Ward RJ. The spectrum of medical liability cases. In: Pierce EC, Cooper JB, editors. International anesthesiology clinics, vol. 22. Boston: Little, Brown and Company; 1984. p. 43–59.
Acknowledgments
The authors wish to place their sincere thanks to Professor Ramkumar Venkateswaran, Director, Simulation Centre, Manipal University, Manipal for his support and help for conducting this study. We also wish to place our sincere thanks for the technical help received from Mrs Tara Ganesh and Miss Balya Bhat, Simulation Centre, Manipal University, Manipal during the conduct of the study.
Conflicts of interest
The authors have no conflicts of interest to declare.
Additional information
The work was done in Simulation Centre, Manipal University, Manipal, India.
Electronic supplementary material
Below is the link to the electronic supplementary material.
Performance of the UID during chest compressions when connected to the tube placed in trachea (MPG 6088 kb)
Performance of the UID during chest compressions when connected to the tube placed in oesophagus (MPG 8041 kb)
About this article
Cite this article
Umesh, G., Jasvinder, K. & Tim, T.J. Validation of the new intubation detector device: a manikin study. J Clin Monit Comput 26, 423–427 (2012) doi:10.1007/s10877-012-9369-6
Received:

Accepted:

Published:

Issue Date:
Keywords
Tracheal tube

Tracheal intubation

Manikin

Capnography