Abstract
Purpose
Caspase-associated recruitment domain-9 (CARD9) deficiency is an inborn error of immunity that typically predisposes otherwise healthy patients to single fungal infections and the occurrence of multiple invasive fungal infections is rare. It has been described as the first known condition that predisposes to extrapulmonary Aspergillus infection with preserved lungs. We present a patient that expands the clinical variability of CARD9 deficiency.
Materials and methods
Genetic analysis was performed by Sanger sequencing. Neutrophils and mononuclear phagocyte response to fungal stimulation were evaluated through luminol-enhanced chemiluminescence and whole blood production of the proinflammatory mediator interleukin (IL)-6, respectively.
Results
We report a 56-year-old Argentinean woman, whose invasive Exophiala spinifera infection at the age of 32 years was unexplained and reported in year 2004. At the age of 49 years, she presented with chronic pulmonary disease due to Aspergillus nomius. After partial improvement following treatment with caspofungin and posaconazole, right pulmonary bilobectomy was performed. Despite administration of multiple courses of antifungals, sustained clinical remission could not be achieved. We recently found that the patient's blood showed an impaired production of IL-6 when stimulated with zymosan. We also found that she is homozygous for a previously reported CARD9 loss-of-function mutation (Q289*).
Conclusions
This is the first report of a patient with inherited CARD9 deficiency and chronic invasive pulmonary aspergillosis (IPA) due to A. nomius. Inherited CARD9 deficiency should be considered in otherwise healthy children and adults with one or more invasive fungal diseases.
This is a preview of subscription content, log in to check access.
Access options
Buy single article
Instant unlimited access to the full article PDF.
US$ 39.95
Price includes VAT for USA
Subscribe to journal
Immediate online access to all issues from 2019. Subscription will auto renew annually.
US$ 99
This is the net price. Taxes to be calculated in checkout.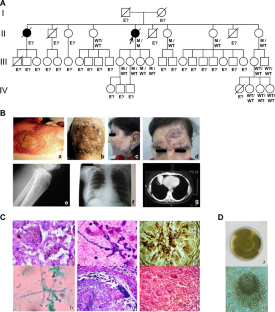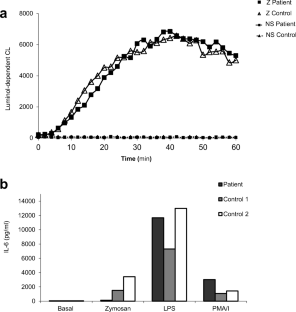 References
1.

Chowdhary A, Perfect J, de Hoog GS. Black Molds and Melanized Yeasts Pathogenic to Humans. Cold Spring Harb Perspect Med. 2014;5(8):a019570.

2.

Song Y, Laureijssen-van de Sande WWJ, Moreno LF, Gerrits van den Ende B, Li R, de Hoog S. Comparative Ecology of Capsular Exophiala Species Causing Disseminated Infection in Humans. Front Microbiol. 2017;8:2514.

3.

Kenney RT, Kwon-Chung KJ, Waytes AT, Melnick DA, Pass HI, Merino MJ, et al. Successful treatment of systemic Exophiala dermatitidis infection in a patient with chronic granulomatous disease. Clin Infect Dis. 1992;14(1):235–42.

4.

Lanternier F, Barbati E, Meinzer U, Liu L, Pedergnana V, Migaud M, et al. Inherited CARD9 deficiency in 2 unrelated patients with invasive Exophiala infection. J Infect Dis. 2015;211(8):1241–50.

5.

Caira M, Posteraro B, Sanguinetti M, de Carolis E, Leone G, Pagano L. First case of breakthrough pneumonia due to Aspergillus nomius in a patient with acute myeloid leukemia. Med Mycol. 2012;50(7):746–50.

6.

Manikandan P, Varga J, Kocsubé S, Samson RA, Anita R, Revathi R, et al. Mycotic keratitis due to Aspergillus nomius. J Clin Microbiol. 2009;47(10):3382–5.

7.

Zotti M, Machetti M, Persi A, Barabino G, Parodi A. Onychomycosis: first case due to Aspergillus nomius. Acta DermVenereol. 2011;91(5):591–2.

8.

Kousha M, Tadi R, Sobani AO. Pulmonary aspergillosis: a clinical review. Eur Respir Rev. 2011;20(121):156–74.

9.

Kosmidis C, Denning DW. The clinical spectrum of pulmonary aspergillosis. Thorax. 2015;70(3):270–7.

10.

Denning DW, Cadranel J, Beigelman-Aubry C, Ader F, Chakrabarti A, Blot S, et al. Chronic pulmonary aspergillosis: rationale and clinical guidelines for diagnosis and management. Eur Respir J. 2016;47(1):45–68.

11.

Patterson TF, Thompson GR 3rd, Denning DW, Fishman JA, Hadley S, Herbrecht R, et al. Practice Guidelines for the Diagnosis and Management of Aspergillosis: 2016 Update by the Infectious Diseases Society of America. Clin Infect Dis. 2016;63(4):e1–e60.

12.

Vázquez E, Messina F, Santiso G, Metta H, Negroni R. Focal brain lesion due to cerebral aspergillosis in a patient with AIDS. Case report and literature review. Rev Chil Infectol. 2017;34(5):502–6.

13.

Lanternier F, Cypowyj S, Picard C, Bustamante J, Lortholary O, Casanova JL, et al. Primary immunodeficiencies underlying fungal infections. Curr Opin Pediatr. 2013;25(6):736–47.

14.

De Bruyne M, Hoste L, Bogaert DJ, Van den Bossche L, Tavernier SJ, Parthoens E, et al. A CARD9 Founder Mutation Disrupts NF-κB Signaling by Inhibiting BCL10 and MALT1 Recruitment and Signalosome Formation. Front Immunol. 2018;9:2366.

15.

Rieber N, Gazendam RP, Freeman AF, Hsu AP, Collar AL, Sugui JA, et al. Extrapulmonary Aspergillus infection in patients with CARD9 deficiency. JCI Insight. 2016;1(17):e89890.

16.

Negroni R, Helou SH, Petri N, Robles AM, Arechavala A, Bianchi MH. Case study: posaconazole treatment of disseminated phaeohyphomycosis due to Exophiala spinifera. Clin Infect Dis. 2004;38(3):e15–20.

17.

Negroni R, López Daneri G, Robles AM, Arechavala A, Bianchi MH, Santiso G. Clinical cases in medical mycology. Case no. 21. Rev Iberoam Micol. 2006;23(2):119–21.

18.

Lanternier F, Pathan S, Vincent QB, Liu L, Cypowyj S, Prando C, et al. Deep dermatophytosis and inherited CARD9 deficiency. N Engl J Med. 2013;369(18):1704–14.

19.

Drummond RA, Lionakis MS. Mechanistic Insights into the Role of C-Type Lectin Receptor/CARD9 Signaling in Human Antifungal Immunity. Front Cell Infect Microbiol. 201;6:39.

20.

Corvilain E, Casanova JL, Puel A. Inherited CARD9 Deficiency: Invasive Disease Caused by Ascomycete Fungi in Previously Healthy Children and Adults. J Clin Immunol. 2018;38(6):656–93.

21.

Drummond RA, Collar AL, Swamydas M, Rodriguez CA, Lim JK, Mendez LM, et al. CARD9-Dependent Neutrophil Recruitment Protects against Fungal Invasion of the Central Nervous System. PLoS Pathog, e1005293. 2015;11(12).

22.

Drewniak A, Gazendam RP, Tool AT, van Houdt M, Jansen MH, van Hamme JL, et al. Invasive fungal infection and impaired neutrophil killing in human CARD9 deficiency. Blood. 2013;121(13):2385–92.

23.

Grumach AS, de Queiroz-Telles F, Migaud M, Lanternier F, Filho NR, Palma SM, et al. A homozygous CARD9 mutation in a Brazilian patient with deep dermatophytosis. J Clin Immunol. 2015;35(5):486–90.

24.

Herbst M, Gazendam R, Reimnitz D, Sawalle-Belohradsky J, Groll A, Schlegel PG, et al. Chronic Candida albicans Meningitis in a 4-Year-Old Girl with a Homozygous Mutation in the CARD9 Gene (Q295X). Pediatr Infect Dis J. 2015;34(9):999–1002.

25.

Liang P, Wang X, Wang R, Wan Z, Han W, Li R. CARD9 deficiencies linked to impaired neutrophil functions against Phialophora verrucosa. Mycopathologia. 2015;179(5-6):347–57.

26.

Bylund J, Brown KL, Movitz C, Lgren C, Karlsson A. Intracellular generation of superoxide by the phagocyte NADPH oxidase: how, where, and what for? Free Radic Biol Med. 2010;49(12):1834–45.

27.

Jhingran A, Mar KB, Kumasaka DK, Knoblaugh SE, Ngo LY, Segal BH, et al. Tracing conidial fate and measuring host cell antifungal activity using a reporter of microbial viability in the lung. Cell Rep. 2012;2(6):1762–73.

28.

Lanternier F, Mahdaviani SA, Barbati E, Chaussade H, Koumar Y, Levy R, et al. Inherited CARD9 deficiency in otherwise healthy children and adults with Candida species-induced meningoencephalitis, colitis, or both. J Allergy Clin Immunol. 2015;135(6):1558–68.

29.

Gavino C, Hamel N, Zeng JB, Legault C, Guiot MC, Chankowsky J, et al. Impaired RASGRF1/ERK-mediated GM-CSF response characterizes CARD9 deficiency in French-Canadians. J Allergy Clin Immunol. 2016;137(4):1178–88.

30.

Alves de Medeiros AK, Lodewick E, Bogaert DJ, Haerynck F, Van Daele S, Lambrecht B, et al. Chronic and Invasive Fungal Infections in a Family with CARD9 Deficiency. J Clin Immunol. 2016;36(3):204–9.

31.

Cetinkaya PG, Ayvaz DC, Karaatmaca B, Gocmen R, Söylemezoğlu F, Bainter W, et al. A young girl with severe cerebral fungal infection due to CARD9 deficiency. Clin Immunol. 2018;191:21–6.

32.

Glocker EO, Hennigs A, Nabavi M, Schäffer AA, Woellner C, Salzer U, et al. A homozygous CARD9 mutation in a family with susceptibility to fungal infections. N Engl J Med. 2009;361(18):1727–35.

33.

Gavino C, Cotter A, Lichtenstein D, Lejtenyi D, Fortin C, Legault C, et al. CARD9 deficiency and spontaneous central nervous system candidiasis: complete clinical remission with GM-CSF therapy. Clin Infect Dis. 2014;59(1):81–4.

34.

Jones N, Garcez T, Newman W, Denning D. Endogenous Candida endophthalmitis and osteomyelitis associated with CARD9 deficiency. BMJ Case Rep. 2016;2016:bcr2015214117.

35.

Gavino C, Mellinghoff S, Cornely OA, Landekic M, Le C, Langelier M, et al. Novel bi-allelic splice mutations in CARD9 causing adult-onset Candida endophthalmitis. Mycoses. 2018;61(1):61–5.

36.

Celmeli F, Oztoprak N, Turkkahraman D, Seyman D, Mutlu E, Frede N, et al. Successful Granulocyte Colony-stimulating Factor Treatment of Relapsing Candida albicans Meningoencephalitis Caused by CARD9 Deficiency. Pediatr Infect Dis J. 2016;35(4):428–31.

37.

Wang X, Wang W, Lin Z, Wang X, Li T, Yu J, et al. CARD9 mutations linked to subcutaneous phaeohyphomycosis and TH17cell deficiencies. J Allergy Clin Immunol. 2014;133(3):905–8.

38.

Jachiet M, Lanternier F, Rybojad M, Bagot M, Ibrahim L, Casanova JL, et al. Posaconazole treatment of extensive skin and nail dermatophytosis due to autosomal recessive deficiency of CARD9. JAMA Dermatol. 2015;151(2):192–4.

39.

Boudghene Stambouli O, Amrani N, Boudghéne Stambouli K, Bouali F. Dermatophytic disease with deficit in CARD9: A new case with a brain impairment. J Mycol Med. 2017;27(2):250–3.

40.

Wang X, Zhang R, Wu W, Song Y, Wan Z, Han W, et al. Impaired Specific Antifungal Immunity in CARD9-Deficient Patients with Phaeohyphomycosis. J Invest Dermatol. 2018;138(3):607–17.

41.

Yan XX, Yu CP, Fu XA, Bao FF, Du DH, Wang C, et al. CARD9 mutation linked to Corynespora cassiicola infection in a Chinese patient. Br J Dermatol. 2016;174(1):176–9.

42.

Arango-Franco CA, Moncada-Vélez M, Beltrán CP, Berrío I, Mogollón C, Restrepo A, et al. Early-Onset Invasive Infection Due to Corynespora cassiicola Associated with Compound Heterozygous CARD9 Mutations in a Colombian Patient. J Clin Immunol. 2018;38(7):794–803.

43.

Wang X, Wang A, Wang X, Li R, Yu J. Cutaneous mucormycosis caused by Mucor irregularis in a patient with CARD9 deficiency. Br J Dermatol. 2019;180(1):213–4.

44.

Sari S, Dalgic B, Muehlenbachs A, De Leon-Carnes M, Goldsmith CS, Ekinci O, et al. Prototheca zopfii Colitis in Inherited CARD9 Deficiency. J Infect Dis. 2018;218(3):485–9.
Acknowledgments
We would like to thank the patient's family for consenting to this publication.
Funding Information
The Laboratory of Human Genetics of Infectious Diseases is supported in part by institutional grants from INSERM, Paris Descartes University, The Rockefeller University and the St. Giles Foundation, the National Institute of Allergy and Infectious Diseases (NIAID) of the National Institutes of Health grant # R01AI127564, and grants from the French National Research Agency (ANR) under the "Investments for the future" program (ANR-10-IAHU-01) and ANR-HGDIFD (ANR-14-CE15-006-01 for AP).
Ethics declarations
Research Involving Human Participants
Informed consent for participation in this study was obtained in accordance with local regulations, with approval from the IRB. The experiments described here were performed in Argentina and in France, in accordance with local regulations, and with the approval of the IRB of Necker Hospital for Sick Children, France.
Informed consent
Written informed consent was obtained from the patient's family.
Conflict of interest
The authors declare that they have no conflict of interest.
Additional information
Publisher's Note
Springer Nature remains neutral with regard to jurisdictional claims in published maps and institutional affiliations.
Electronic supplementary material
About this article
Cite this article
Perez, L., Messina, F., Negroni, R. et al. Inherited CARD9 Deficiency in a Patient with Both Exophiala spinifera and Aspergillus nomius Severe Infections. J Clin Immunol (2020). https://doi.org/10.1007/s10875-019-00740-2
Received:

Accepted:

Published:
Keywords
Inherited CARD9 deficiency

Exophiala spinifera
Aspergillus nomius

Chronic invasive pulmonary aspergillosis

Phaeohyphomycosis