β-Chain Hydrogen-Bonding in 4-Hydroxycoumarins
Abstract
In the solid state, some 3-substituted 4-hydroxycoumarins β-ketoester enols form infinite translational hydrogen-bonded β-chains with varying degrees of alignment between adjacent delocalized systems. Nine related structures have been studied. At the strongest, intermolecular associations are polar, purely translation neighbors interact essentially along a 717 pm crystallographic repeat with shortened 260 pm intermolecular O·OH-bond contacts. Four distinctive features characterize these structures: (1) moderately delocalized β-ketoester enol structures, (2) translational misalignment angles between oxygen donors and acceptors less than 10°, (3) buttressing intermolecular C–H·O contacts co-planar with and near the intermolecular O–H·O interactions, and (4) fully extended ketoester enol hydrogen-bond (ap-anti-anti) geometries. For non-polar β-chains in related coumarin systems, β-ketoester enol alignments are typically poorer, involve hydrogen-bonding between glide relatives, ap-syn-(anti) geometry, and the intermolecular O·OH-bond contacts are longer.
Graphic Abstract
Substituted 4-hydroxycoumarins related to phenprocoumon can form well-aligned polar translational β-chains between enolones showing resonance assisted Hydrogen-bonding and a 717 pm repeat along a crystallographic axis.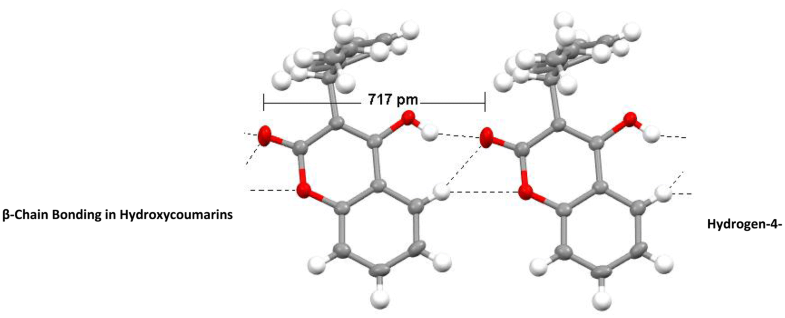 Keywords
Hydrogen-bonding 
Ketoester enol 
Supramolecular 
Coumarin 
4-Hydroxycoumarin 
β-Chains 
Phenprocoumon 
Notes
Acknowledgements
EJV thanks the National Science Foundation (MRI-0618148) for support of crystallographic equipment. Thanks also go to Dr. Verner Schomaker (deceased) of the University of Washington for his encouragement, acumen, persistence and pedagogy with difficult structures.
Compliance with Ethical Standards
Conflict of interest
All the authors declare no conflict of interest.
Copyright information
© Springer Science+Business Media, LLC, part of Springer Nature 2019