Abstract
The crystal structures of tris(ethylmethylamino)cyclopropenium bromide and tris(allylmethylamino)cyclopropenium chloride are found to contain weak dimers of the cyclopropenium cation whereas the structure of the mixed salt of tris(dimethylamino)cyclopropenium chloride and dimethylammonium chloride reveals half of the cyclopropenium cations to have formed dimers and the other not to have formed dimers. These structures are compared to three related triiodide salts ([C3(NMeEt)3]I3, [C3(NEt2)3]I3 and [C3(NBu2)3]I3) as well as the previously-reported salts [C3(NEtMe)3]Cl, [C3(NH2)3]Cl, [C3(NH2)3]I and [C3(NEt2)3]I. The distances between the C3 centroids of the staggered dimers are at the short end of those normally found in π-stacked neutral arenes, let alone charged aromatic rings. Factors leading to the formation of dimers and the effect of dimer formation on the cyclopropenium structures are investigated.
Graphic Abstract
The crystal structures of triaminocyclopropenium halide salts are shown to exhibit dimer formation in some cases, but not in others, whereas corresponding triiodide salts only form cationic monomers in the solid state.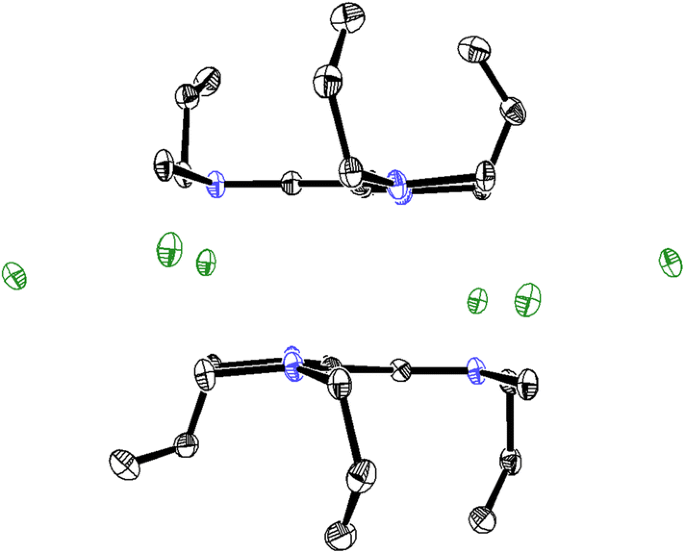 This is a preview of subscription content, log in to check access.
Access options
Buy single article
Instant access to the full article PDF.
US$ 39.95
Price includes VAT for USA
Subscribe to journal
Immediate online access to all issues from 2019. Subscription will auto renew annually.
US$ 199
This is the net price. Taxes to be calculated in checkout.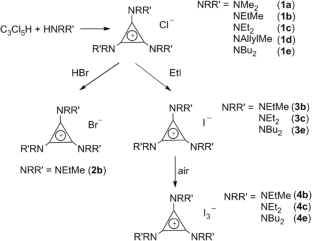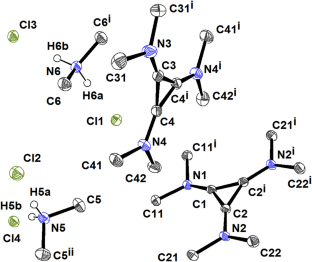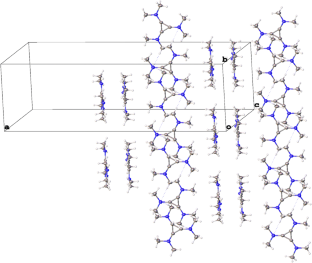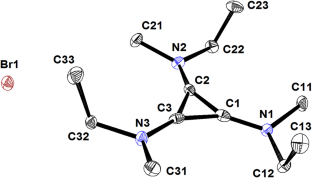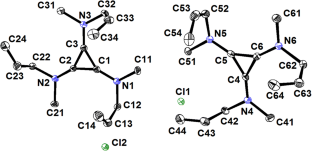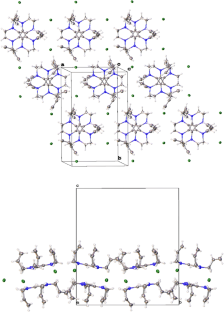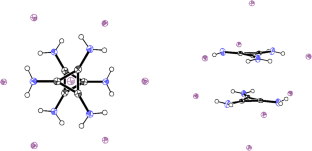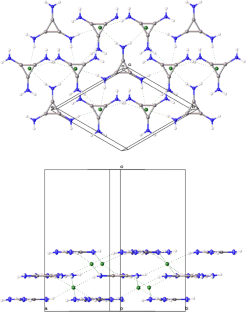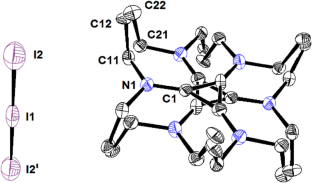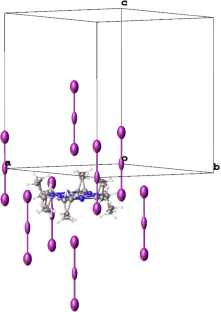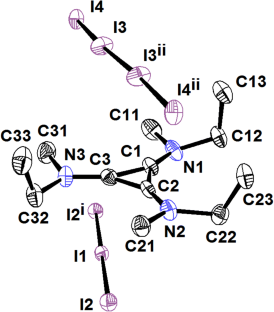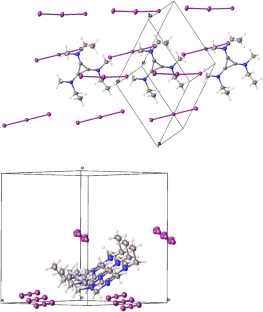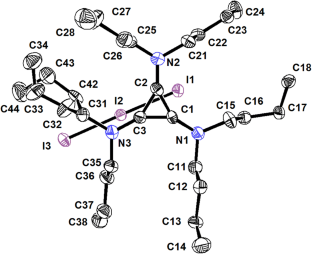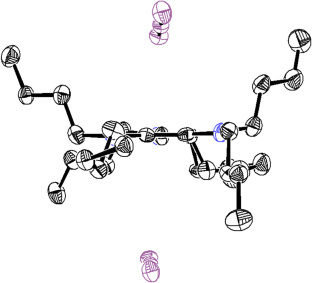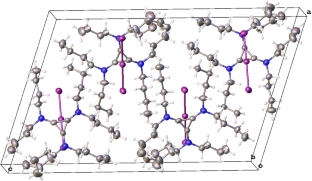 References
1.

Hunter CA, Sanders JKM (1990) J Am Chem Soc 112:5525

2.

Ringer AL, Sherrill CD (2009) J Am Chem Soc 131:4574

3.

Yoshida ZI, Tawara Y (1971) J Am Chem Soc 93:2573

4.

Komatsu K, Kitagawa T (2003) Chem Rev 103:1371

5.

Bandar JS, Lambert TH (2013) Synthesis 45:2485

6.

Bandar JS, Lambert TH (2013) J Am Chem Soc 135:11799

7.

Bruns H, Patil M, Carreras J, Vázquez A, Thiel W, Goddard R, Alcarazo M (2010) Angew Chem Int Ed 49:3680

8.

Bandar JS, Lambert TH (2012) J Am Chem Soc 134:5552

9.

Bandar JS, Tanaset A, Lambert TH (2015) Chem Eur J 21:7365

10.

Wilde MMD, Gravel M (2013) Angew Chem Int Ed 52:12651

11.

Freyer JL, Brucks SD, Gobieski GS, Russell ST, Yozwiak CE, Sun M, Chen Z, Jiang Y, Bandar JS, Stockwell BR, Lambert TH, Campos LM (2016) Angew Chem Int Ed 55:12382

12.

Kadotani S, Inagaki R, Nishihara T, Nokami T, Itoh T (2017) ACS Sustainable Chem Eng 5:8541

13.

Mishiro K, Hu F, Paley DW, Min W, Lambert TH (2016) Eur J Org Chem 2016:1655

14.

Curnow OJ, MacFarlane DR, Walst KJ (2011) Chem Commun 47:10248

15.

Johnson RW (1976) Tetrahedron Lett 8:589

16.

Jiang Y, Freyer JL, Cotanda P, Brucks SD, Killops KL, Bandar JS, Torsitano C, Balsara NP, Lambert TH, Campos LM (2015) Nat Commun 6:5950

17.

Sevov CS, Samaroo SK, Sanford MS (2017) Adv Energy Mater 7:1602027

18.

Weiss R, Brenner T, Hampel F, Wolski A (1995) Angew Chem Int Ed Engl 34:439

19.

Butchard JR, Curnow OJ, Garrett DJ, Maclagan RGAR (2006) Angew Chem Int Ed 45:7550

20.

Butchard JR, Curnow OJ, Garrett DJ, Maclagan RGAR, Libowitzky E, Piccoli PM, Schultz AJ (2012) Dalton Trans 41:11765

21.

Weiss R, Rechinger M, Hampel F, Wolski A (1995) Angew Chem Int Ed 34:441

22.

Weiss R, Schwab O, Hampel F (1999) Chem Eur J 5:968

23.

Wallace AJ, Jayasinghe CD, Polson MIJ, Curnow OJ, Crittenden DL (2015) J Am Chem Soc 137:15528

24.

Janiak C (2000) J Chem Soc Dalton Trans 21:3885

25.

Martinez CR, Iverson BL (2012) Chem Sci 3:2191

26.

Amabilino DB, Stoddart JF (1995) Chem Rev 95:2725

27.

Wheeler SE, Houk KN (2008) J Am Chem Soc 130:10854

28.

Tobey SW, West R (1966) J Am Chem Soc 88:2478

29.

Lucier JJ, Harris AD, Korosec PS (1964) Org Synth 44:72

30.

Wawzonek S, McKillip W, Peterson C (1964) Org Synth 44:75

31.

Leffler MT (1938) Org Synth 18:5

32.

Walst KJ, Yunis R, Bayley PM, MacFarlane DR, Ward CJ, Wang R, Curnow OJ (2015) RSC Adv 5:39565

33.

Dolomanov OV, Bourhis LJ, Gildea RJ, Howard JAK, Puschmann H (2009) J Appl Cryst 42:339

34.

Sheldrick GM (2008) Acta Cryst A64:112

35.

Vu PD, Boydston AJ, Bielawski CW (2007) Green Chem 9:1158

36.

Butchard JR, Curnow OJ, Pipal RJ, Robinson WT, Shang R (2008) J Phys Org Chem 21:127

37.

Clark GR, Surman PWJ, Taylor MJ (1995) J Chem Soc Faraday Trans 91:1523
Acknowledgements
Dr. Deborah Crittenden, University of Canterbury, is thanked for useful discussions.
Additional information
Publisher's Note
Springer Nature remains neutral with regard to jurisdictional claims in published maps and institutional affiliations.
About this article
Cite this article
Curnow, O.J., Jayasinghe, C.D., Polson, M.I.J. et al. Triaminocyclopropenium Halide and Triiodide Salts: The Formation of Cyclopropenium Dimers. J Chem Crystallogr (2019). https://doi.org/10.1007/s10870-019-00809-1
Received:

Accepted:

Published:
Keywords
Crystal structure

Halide

Triiodide

Cyclopropenium