Synthesis, Crystal Structure, Anion Sensing Applications and DFT Studies of (E)-2-[(3,5-Bis(trifluoromethyl)phenylimino)methyl]-4-chlorophenol
Abstract
We report the synthesis and characterization, colorimetric anion sensors properties, density functional theory (DFT) calculation studies of a Schiff base (E)-2-[(3,5-bis(trifluoromethyl)phenylimino)methyl]-4-chlorophenol. The molecular structure of the title compound was experimentally determined using X-ray single-crystal data and was compared to the structure predicted by theoretical calculations using DFT. The experimental and calculated data (using DFT) of the title compound have been compared. To investigate the tautomeric stability, some properties such as total energy, HOMO and LUMO energies, the chemical hardness (η), the ionization potential, the electron affinity, the absolute electronegativity (χ), the absolute softness (σ) of the compound were obtained at B3LYP/6–311++G(d,p) level in the gas phase and solvent phase. The calculated results showed that the enol-imine form of the compound was more favorite than keto-amine form. The colorimetric response of the Schiff base receptors in DMSO was investigated.
Graphical Abstract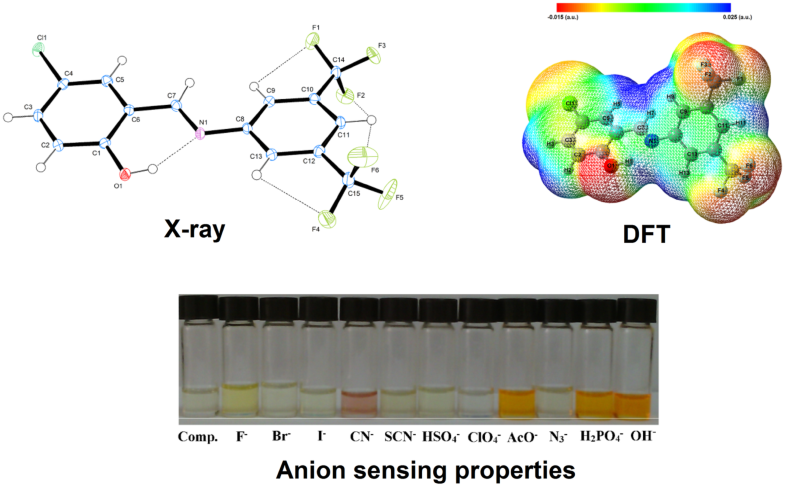 Keywords
X-ray 
Crystal structure 
Density functional theory 
Anion sensors 
Notes
Acknowledgements
The authors are grateful to the Scientific and Technical Research Council of Turkey (TÜBİTAK) for the financial support of this work, grant number TÜBİTAK 115F253.
Copyright information
© Springer Science+Business Media, LLC, part of Springer Nature 2018