Crystal Structures of Spiro Derivatives Including 6,10-Dioxaspiro[4.5]decane-7,9-dione Group and Their Spectral Studies
Abstract
A new intermediate, C22H30N2O8 (J0) was attained by reaction of 6,10-dioxaspiro[4.5]decane-7,9-dione with 1,1-dimethoxy-n,n-dimethyl-methanamin in ethanol. The two oxaspirocyclic compounds C16H17NO4 (J1) and C16H17NO4 (J2) were prepared by adding 2-methylbenzenamine and 3-methylbenzenamine into to the ethanol solution of J0, respectively. Two crystals (J0 and J1) were determined by single-crystal X-ray diffraction. The compound of J0 includes one (C5 H13 N2)+ cation and one (C17 H17 O8)− anion, which indicates it is a salt. There is no classical hydrogen bonds in J0. However, there is one kind of N–H⋅⋅⋅O intramolecular interactions and one kind of C–H⋅⋅⋅O intermolecular interactions in J1. In addition, the fluorescence spectra of J1 and J2 in dilute ethanol were studied, which they exhibit purplish red emission and reddish purple emission, respectively.
Graphical Abstract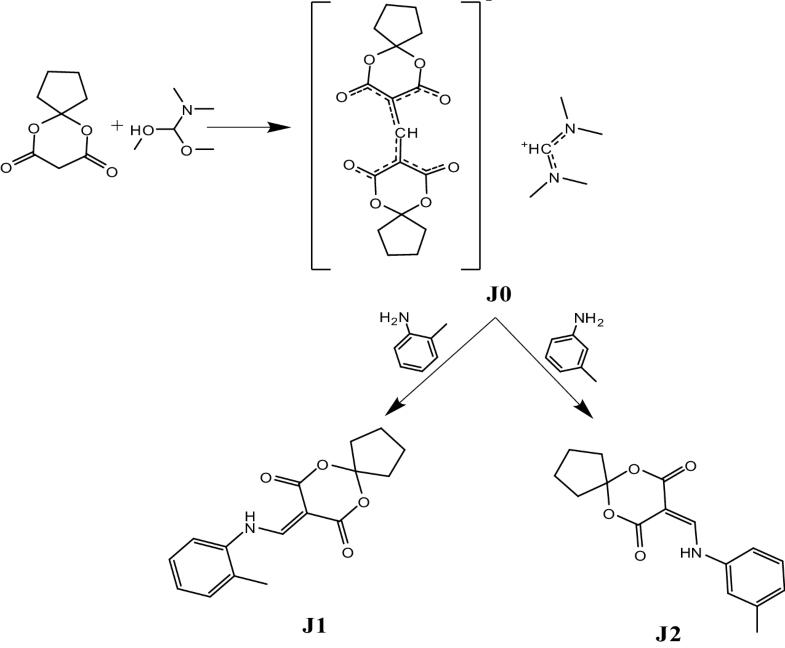 Keywords
Crystal structure 
6,10-Dioxaspiro[4.5]decane-7,9-dione 
Oxaspirocyclic compound 
Fluorescence spectra 
Notes
Acknowledgements
Financial assistance received from the Natural Science Foundation of Shandong Province (Grant No. ZR2017BEE038).
Copyright information
© Springer Science+Business Media, LLC, part of Springer Nature 2018