NMR, X-Ray Crystal Structure Studies and Mechanism for Formation of a Novel Di-gallium Complex and 5-Methoxy-4,5,6-triphenyl-4,5-dihydro-1,2,4-triazene-3(2H)-thione
Abstract
Gallium complexes of bis-thiosemicarbazones were prepared and characterized using NMR and X-ray crystallography. Formation of a gallium nitrate complex was proven by NMR spectroscopy. Surprisingly, this complex was found to convert on standing to a new hydroxido-bridged di-gallium complex. The X-ray crystal structure of the digallium complex is described. Similarly, a triazene compound was formed during the preparation of the gallium complex comprising a tetraphenyl unit in the bis-thiosemicarbazone structure. We propose a mechanism for the formation of both the di-gallium species as well as triazene compound in solution. The lattice parameters for the digallium complex is as follows: a: 17.6854(13) Å, b:16.6492(7) Å, c: 21.4659(14) Å, β = 112.383(8)°.
Graphical Abstract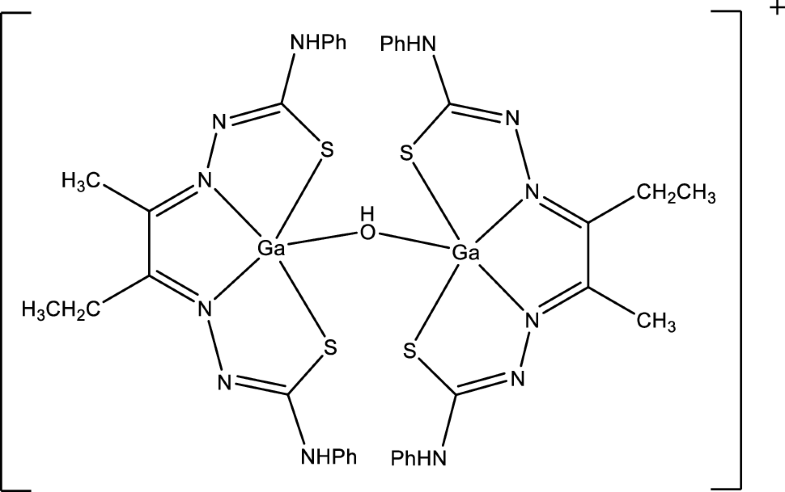 Keywords
Synthesis 
NMR 
X-ray crystallography 
Triazene 
Mechanism 
Notes
Acknowledgements
This work was partially supported by an ARC Linkage Project Grant LP 130100703 (D.R.). We thank our colleagues at the Centre for Advanced Imaging for their help during the course of this investigation.
Copyright information
© Springer Science+Business Media, LLC, part of Springer Nature 2018