Synthesis and Characterization of a New Layered Gallium Phosphonate Oxalate [C2H10N2]0.5[Ga3(PO3CH3)4(C2O4)].H2O
Abstract
A new layered gallium phosphonate-oxalate hybrid material, [C2H10N2]0.5[Ga3(PO3CH3)4(C2O4)].H2O, denoted as MOP-1, was synthesized under mild hydrothermal conditions (150 °C) in the presence of ethylenediammonium ion (H2en)2+ as structure-directing agent. The compound was structurally characterized by single-crystal X-ray diffraction (SCXRD), Fourier transformed infra-red spectroscopy (FTIR), and thermogravimetric analysis (TGA). Its structure consists of gallium phosphonate double layers formed of GaO6 octahedra, GaO4 tetrahedra, and PO3CH3 groups sharing corners. The double layers are cross-linked by oxalate ligands to form a three-dimensional framework with intersecting channels where the ammonium ions and water molecules are located. The bridging oxalate ligand acts as a bidentate ligand to each Ga in octahedral coordination environment. Crystal data are as follows: Monoclinic P21/n (14), a = 8.7530(5) Å; b = 16.3427(8) Å; c = 14.7522(8) Å; β = 93.284(1)°, V = 2106.8(2) Å3 and Z = 4.
Graphical Abstract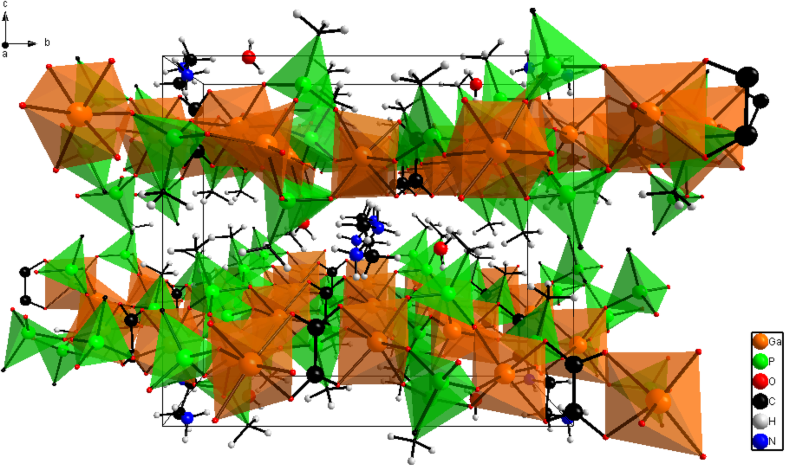 Keywords
Hybrid material 
Hydrothermal synthesis 
SCXRD 
TGA 
FTIR 
Notes
Achnowledgments
F. Dardar and A. El Jazouli acknowledge the financial support of the Moroccan American Commission for Educational and Cultural Exchanges - Fulbright's Program (http://www.macece.org). They also acknowledge the support of the Department of Chemistry and the Center for Energy, Environment, and Sustainability at Wake Forest University, during their stay at WFU.
Copyright information
© Springer Science+Business Media, LLC, part of Springer Nature 2019