Columnar Formation in Sodium Triphenylacetate
Abstract
A new sodium salt, sodium triphenylacetate has been synthesized and characterized by single-crystal X-ray diffraction: triclinic, P-1 with a = 8.3846(2) Å, b = 13.5992(3) Å, c = 15.5288(3) Å, α = 76.7270(11)°, β = 74.4500(11)°, γ = 84.7410(13)°, M W  = 656.65, V = 1659.42(6) Å3, Z = 2. The triphenylacetic molecules bridge the metallic ions forming an infinite columnar structure. Calorimetric data does not support the existence of a mesophase induced by temperature.
Graphical Abstract
A new sodium salt, aqua-μ
2
-aqua-μ
2
-triphenylacetato-μ
4
-triphenylacetato-disodium, has been synthesized and characterized by X-ray diffraction, differential scanning calorimetry and thermomicroscopy.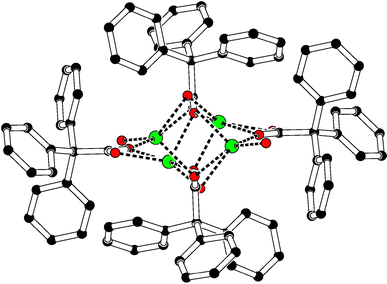 Keywords
Columnar structure 
Hydrogen bonds 
Flexible molecule 
Triphenylacetic acid 
Sodium salt 
Notes
Acknowledgments
This work was supported by funds from FEDER (Programa Operacional Factores de Competitividade COMPETE) and from FCT-Fundação para a Ciência e a Tecnologia under the Project PEst-C/FIS/UI0036/2014. Access to TAIL-UC facility funded under QREN-Mais Centro Project ICT/2009/02/012/1890 is gratefully acknowledged. P. Martín-Ramos would like to thank Iberdrola Foundation for its financial support.
Copyright information
© Springer Science+Business Media New York 2014