Modulating Cavity Size in an Acyclic Amino Alcohol Assembly
Abstract
An acyclic amino alcohol compound (1) and its protonated form (2) are investigated as solid state synthons for the design of self-assembled columnar structures. Compound 1, C16 H33 N3 O2, crystallizes in double-stranded chains comprising ill-defined, collapsed central cavities. Chains in (1) are further linked by stereospecific O–H···N interactions to form porous sheets. Well-defined central cavities are observed in the columnar structure of compound 2, C16 H36 Cl3 N3 O14. The larger cavities result from a reorientation of N–H···O and hydroxycyclohexyl O–H···O hydrogen-bonding interactions effected by protonation of nitrogen atoms.
Graphical Abstract
The nature and size of the central cavity observed for an amino alcohol compound (
1
), C
16
H
33
N
3
O
2
, is modulated by altering the hydrogen bonding array. Heteroatom protonation and anion inclusion redirect hydrogen bonding interactions of amino alcohol moieties and their bridging
trans
dialkylammonium chains, that result in the formation of well-defined central cavities observed in compound (
2
), C
16
H
36
Cl
3
N
3
O
14
.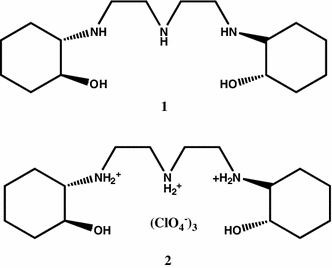 Keywords
Amino alcohol assembly 
Tubular and helical structures 
Supramolecular cavities 
Hydrogen bonding 
Notes
Acknowledgments
This research was supported by the University of the Witwatersrand, Johannesburg, South Africa.
Copyright information
© Springer Science+Business Media New York 2014