Synthesis, Spectroscopic Characterization, Crystal structure, Antimicrobial and In Vitro Hemolytic Studies of Some Novel Substituted Thiourea Derivatives
Abstract
A series of N,N′-disubstituted thioureas, [R–CONHCSNH–R′] where (R = thiophenyl, furonyl, phenyl and R′ = 4-sulphonamido phenyl, pyrimidine-2yl, thiazole-2yl, 3-nitro phenyl, 2-nitro-4-chloro phenyl, 2-chloro-4-nitro phenyl, 2-methoxy-4-nitro phenyl, and 6-phenyl-1,3,5-triazinyl were synthesized, characterized and screened for their antimicrobial activities. The structures of synthesized compounds were established by elemental analysis and spectroscopic techniques (FT-IR, 1H NMR, and 13C NMR). Single crystal study on compounds 1a and 1c have been done. The compound 1a crystallizes in monoclinic space group Cc, with a = 15.2974(5) Å, b = 11.7766(4) Å, c = 8.1059(3) Å, α = 90°, β = 106.31(3)°, γ = 90° and Z = 4 molecules per unit cell, where as compound 1c crystallizes in orthorhombic space group Pbca, with a = 7.6307(6) Å, b = 11.3895(9) Å, c = 24.121(2) Å, α = β = γ = 90° and Z = 8 molecules per unit cell. All the compounds were tested for their inhibitory activities against four human pathogen bacteria and three fungal strains. The screening data revealed that five compounds showed moderate to good activity whereas one of the compound 1k displayed excellent activity. In vitro hemolytic activity of the compounds has shown them to be nontoxic in nature.
Graphical Abstract
Eleven disubstituted thiourea compounds have been synthesized and characterized by elemental analysis, spectroscopic techniques (FT-IR,
1
H NMR, and
13
C NMR) and single crystal study on two of compounds has been done to understand the proper structural features of the compounds. All the compounds have been screened for their antimicrobial activity; out of them two have shown promising activity against the bacteria and fungi used.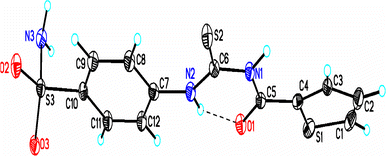 Keywords
Thiourea 
Single crystal 
Spectroscopic techniques 
Antimicrobial screening 
Hemolytic activity 
Notes
Acknowledgments
The authors sincerely thanks to Prof. Ray J. Butcher, Department of Chemistry, Howard University, 525 College Street NW, Washington, DC 20059, USA, for X-ray data collection. The author Durga Prasad Singh is grateful to BHU for providing UGC-research fellowships. Mr. Mayank Gangwar and Mr. Dharmendra Kumar is thankful to CSIR-New Delhi for providing senior research fellowship.
Copyright information
© Springer Science+Business Media New York 2013