X-ray Structure of mer-[Mo(CO)3(PPh3)(κ 2-dppm)]
Abstract
Treatment of [Mo(CO)3(NCMe)3] with bis(diphenylphosphino)methane (dppm) and triphenylphosphine (PPh3) at 50 °C afforded mer-[Mo(CO)3(PPh3)(κ 2-dppm)] (1) in 55% yield which has been characterized by single crystal X-ray diffraction studies and spectroscopic measurements. Compound 1 crystallizes in the triclinic space group P−1 with a = 10.3449(6), b = 11.1570(6), c = 17.8961(10) Å, β = 80.8400(10)°, Z = 2 and V = 1959.8(2) Å3.
Graphical Abstract
Synthesis and molecular structure of
mer
-[Mo(CO)
3
(PPh
3
)(
κ
2
-dppm)] are described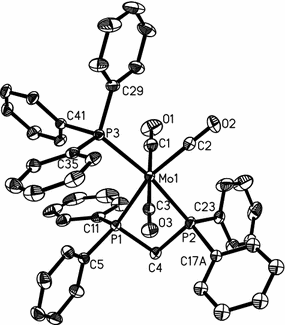 Keywords
Molybdenum 
Bis(diphenylphosphino)methane 
Triphenylphosphine 
X-ray structure 
Notes
Acknowledgments
Financial support of this work by the University Grants Commission of Bangladesh is gratefully acknowledged.
Copyright information
© Springer Science+Business Media, LLC 2010