On the Two Closely Related Phases of [Ru(C5Me5)(η6-1,3-(Me2NCH2)2C6H4)](BF4) and the Reversible Solid–Solid Order–Disorder Phase Transition
Abstract
Crystals of the complex [Ru(C5Me5)(η6-1,3-(Me2NCH2)2C6H4)](BF4) have been examined over the temperature range 150–300 K via X-ray diffraction measurements. This study shows that the Ru complex is a two-phase system in this T-range and the solid–solid transition is reversible. At 150 K, phase II (P21/c, Z′ = 4) is ordered and non-merohedrally twinned, a = 16.4396 (9) Å, b = 17.3226 (4) Å, c = 32.1874 (11) Å, β = 91.375 (2)°. At 295 K, phase I (Pbca, Z′ = 1) is disordered, a = 8.5071 (3) Å, b = 17.1567 (3) Å, c = 32.8250 (8) Å. The relationship between the two phases is obvious because the packing remains similar in the two phases. The greatest structural changes between the two phases are found in the rows of adjacent cations [Ru(C5Me5)(η6-1,3-(Me2NCH2)2C6H4)]+ packed along the a direction. These rows are ordered in phase II but are disordered in phase I. The phase transition is first order. Significant changes in thermal motion for the cations are considered as being the driving force for the occurrence of this phase transition.
Graphical Abstract
The X-ray diffraction study showed that the complex [Ru(C
5
Me
5
)(η
6
-1,3-(Me
2
NCH
2
)
2
C
6
H
4
)](BF
4
) is a two-phase system between 150 and 300 K.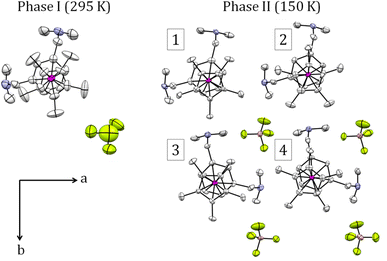 Keywords
Solid–solid phase transition 
Polymorphism 
First-order 
Notes
Acknowledgments
We gratefully acknowledge the support of this research by Utrecht University and the NRSC-Catalysis program. This work was also supported in part (A.L.S.) by the Council for the Chemical Sciences of The Netherlands Organization for Scientific Research (CW-NWO).
Copyright information
© Springer Science+Business Media, LLC 2010