α-Diimine Ligand Coordination and C–H Bond Activation in the Reaction of Os3(CO)10(MeCN)2 with 6-R-2,2′-Bipyridine (where R = Et, Ph): X-ray Diffraction Structures of the Ortho-Metalated Hydride Clusters HOs3(CO)9(N2C10H6-6-R)
Abstract
The reactivity of the labile cluster Os3(CO)10(MeCN)2 (1) with the monofunctionalized heterocyclic ligands 6-R-2,2′-bipyridine (where R = Et, Ph) has been investigated. The alkyl-substituted heterocycle 6-Et-2,2′-bipyridine reacts with 1 in refluxing CH2Cl2 to give an isomeric mixture of HOs3(CO)9(N2C12H11) due to cyclometalation of the side-chain ethyl group (2) and ortho metalation of the unsubstituted bipyridine ring (3). The solid-state structure of the latter cluster, HOs3(CO)9(N2C10H6-6-Et) (3), has unequivocally established the site of the C-H bond activation in the product. Treatment of 1 with the aryl-substituted ligand 6-Ph-2,2′-bipyridine proceeds similarly with ortho metalation at the ancillary phenyl group and the C-6′ ortho site of the unsubstituted bipyridine ring, as verified by 1H NMR spectroscopy. The X-ray diffraction structure of the thermodynamically more stable bipyridine-metalated cluster HOs3(CO)9(N2C10H6-6-Ph) (5) has been determined. The course of these reactions is discussed with respect to our recent study involving the reaction of cluster 1 with the ligand 6-Me-2,2′-bipyridine.
Graphical Abstract
The reaction between the labile cluster Os
3
(CO)
10
(MeCN)
2
(
1
) and the monofunctionalized heterocyclic ligand 6-Et-2,2′-bipyridine proceeds readily at room temperature to furnish an isomeric mixture of the cyclometalated and ortho-metalated hydride-bridged clusters HOs
3
(CO)
9
(N
2
C
12
H
11
) (
2
and
3
). Treatment of
1
with 6-Ph-2,2′-bipyridine also yields two distinct hydride-containing clusters that result from independent ortho-metalation paths involving the 6-phenyl substituent and unsubstituted bipyridine group. The bipyridine-derived ortho metalation attendant in the new clusters HOs
3
(CO)
9
(N
2
C
10
H
6
-6-Et) (
3
) and HOs
3
(CO)
9
(N
2
C
10
H
6
-6-Ph) (
5
) has been established by X-ray crystallography.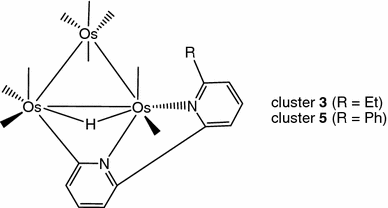 Keywords
α-Diimine ligand 
Triosmium clusters 
Cyclometalation 
Ortho metalation 
Ligand substitution 
Notes
Acknowledgments
Financial support from the NSF (CJC) and Robert A. Welch Foundation (Grant B-1093-MGR) is greatly appreciated. The NSF-MRI program grant CHE-0320848 is gratefully acknowledged for support of the X-ray diffraction facilities at San Diego State University. We also acknowledge the expert assistance of Dr. Yongxuan Su and his recording the mass spectrum for cluster 5.
Copyright information
© Springer Science+Business Media, LLC 2009