X-ray Crystallographic Structures of Neuroprotective Pyrimidine Derivatives: (I) the Mesylate Salt of BW1003C87 and (II) Sipatrigine Base
Abstract
Drugs based on 5-phenyl-2,4 diamino pyrimidine and 6-phenyl-1,2,4 triazine derivatives are well known for their effects on the central nervous system. The study presented here provides detailed crystal structures of two pyrimidine derivatives which have neuroprotective properties in models of both grey and white matter ischemia. Recently published studies suggest that the compounds lamotrigine (a triazine derivative), and the two pyrimidines BW1003C87 (I) and sipatrigine (II) mediate their primary in vivo mode of action by inhibiting voltage-gated Na+ channels. The X-ray crystal structures will contribute valuable data for applications involving binding and modelling studies of the biological actions of these drugs.
Graphical Abstract
X-ray crystallographic structures of neuroprotective pyrimidine derivatives: (I) the mesylate salt of BW1003C87 and (II) sipatrigine base
Rex A. Palmer*, Brian S. Potter, Michael J. Leach and Babur Z. Chowdhry
Surface representations, [
20
] are a useful tool with respect to considerations employed for the purposes of drug design. Shown here are the neuroprotective drug molecules (a) BW1003C87 and (b) Sipatrigine Base (BW619C89) derived from their solid state structures reported in this paper. The molecules are viewed edge on to ring B with the two adjacent Cl atoms uppermost on the left.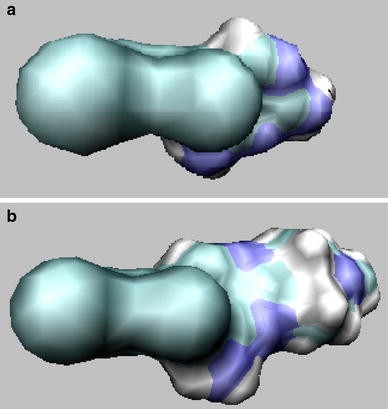 Keywords
Central nervous system drugs 
Pyrimidines 
Lamotrigines 
Voltage-gated Na+ channel inhibitors 
Crystal structures and drug design 
Notes
Acknowledgements
We thank Dr P. Barraclough (University of Greenwich) for the synthesis and provision of samples of BW1003C87 and sipatrigine.
Copyright information
© Springer Science+Business Media, LLC 2007