Abstract
Dysregulation of cerebral microvascular endothelial cells plays an important role in the pathogenesis of stroke. However, the underlying mechanisms still need to be elucidated. In the current study, we found that the long non-coding RNA (lncRNA) FAL1 was significantly reduced in response to oxygen-glucose deprivation and reoxygenation (OGD/R) stimulation in human primary brain microvascular endothelial cells (HBMVECs). Interestingly, overexpression of FAL1 ameliorated OGD/R-induced oxidative stress by reducing the production of reactive oxygen species (ROS) and increasing the level of reduced glutathione (GSH). Also, overexpression of FAL1 suppressed OGD/R-induced secretions of interleukin-6 (IL-6), monocyte chemotactic protein-1 (MCP-1), and high mobility group box-1 (HMGB-1). We then found that OGD/R-induced reduction of cell viability and release of lactate dehydrogenase (LDH) were prevented by overexpression of FAL1. Additionally, exposure to OGD/R significantly reduced the phosphorylated levels of PAK1 and AKT as well as the total level of proliferating cell nuclear antigen (PCNA), which was restored by overexpression of FAL1. Importantly, overexpression of FAL1 restored OGD/R-induced reduction in the expression of endothelial nitric oxide synthase (eNOS) and the subsequent release of nitric oxide (NO). Our results implicate that FAL1 might be involved in the process of brain endothelial cell damage.
This is a preview of subscription content, log in to check access.
Access options
Buy single article
Instant unlimited access to the full article PDF.
US$ 39.95
Price includes VAT for USA
Subscribe to journal
Immediate online access to all issues from 2019. Subscription will auto renew annually.
US$ 99
This is the net price. Taxes to be calculated in checkout.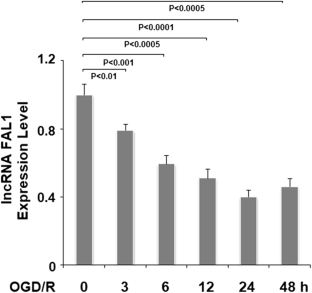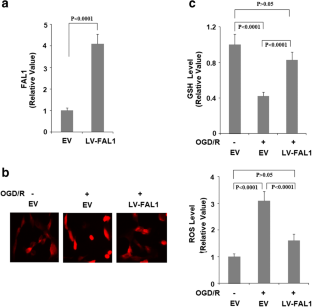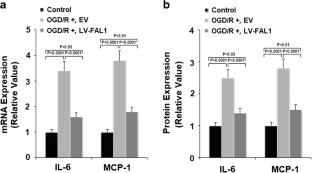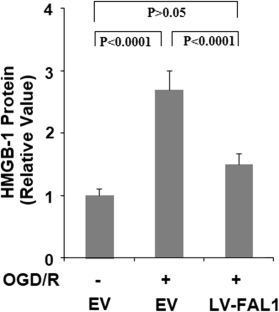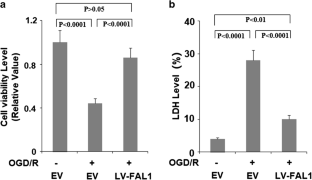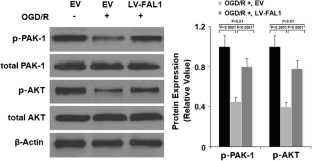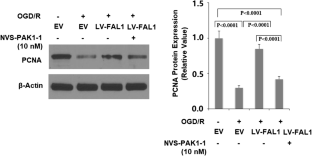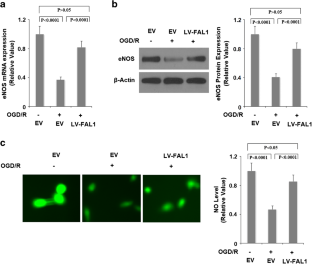 References
Baldwin K, Orr S, Briand M, Piazza C, Veydt A, McCoy S (2010) Acute ischemic stroke update. Pharmacotherapy. 30:493–514

Camós S, Mallolas J (2010) Experimental models for assaying microvascular endothelial cell pathophysiology in stroke. Molecules. 15(12):9104–9134

Conductier G, Blondeau N, Guyon A, Nahon JL, Rovère C (2010) The role of monocyte chemoattractant protein MCP1/CCL2 in neuroinflammatory diseases. J Neuroimmunol 224(1–2):93–100

Doyle KP, Simon RP, Stenzel-Poore MP (2008) Mechanisms of ischemic brain damage. Neuropharmacology. 55:310–318

Egom EE, Mohamed TM, Mamas MA, Shi Y, Liu W, Chirico D, Stringer SE, Ke Y, Shaheen M, Wang T, Chacko S, Wang X, Solaro RJ, Fath-Ordoubadi F, Cartwright EJ, Lei M (2011) Activation of PAK1/AKT/eNOS signaling following sphingosine-1-phosphate release as part of a mechanism protecting cardiomyocytes against ischemic cell injury. Am J Physiol Heart Circ Physiol 301(4):H1487–H1495

Erta M, Quintana A, Hidalgo J (2012) Interleukin-6, a major cytokine in the central nervous system. Int J Biol Sci 8(9):1254–1266

Fernandes JCR, Acuña SM, Aoki JI, Floeter-Winter LM, Muxel SM (2019) Long Non-Coding RNAs in the Regulation of Gene Expression: Physiology and Disease. Noncoding RNA, 5(1). pii: E17

Guo X, Yang J, Liang B, Shen T, Yan Y, Huang S, Zhou J, Huang J, Gu L, Su L (2018) Identification of novel LncRNA biomarkers and construction of LncRNA-related networks in Han Chinese patients with ischemic stroke. Cell Physiol Biochem 50(6):2157–2175

Hu X, De Silva TM, Chen J, Faraci FM (2017) Cerebral vascular disease and neurovascular injury in ischemic stroke. Circ Res 120(3):449–471

Huang J, Liu B, Yang C, Chen H, Eunice D, Yuan Z (2013) Acute hyperglycemia worsens ischemic stroke-induced brain damage via high mobility group box-1 in rats. Brain Res 1535:148–155

Li Y, Zhou L, Lu C, Shen Q, Su Y, Zhi Z, Wu F, Zhang H, Wen Z, Chen G, Li H, Xia Y, Tang W (2018) Long non-coding RNA FAL1 functions as a ceRNA to antagonize the effect of miR-637 on the down-regulation of AKT1 in Hirschsprung's disease. Cell Prolif 51(5):e12489

Liang XS, Sun Y, Liu T (2018) Long non-coding RNA FAL1 regulated cell proliferation through AKT pathway via targeting PDK1 in esophageal cancer cells. Eur Rev Med Pharmacol Sci 22(16):5214–5222

Mizuma A, Yenari MA (2017) Anti-inflammatory targets for the treatment of reperfusion injury in stroke. Front Neurol 8:467

Nareshkumar B, Akbar SM, Sharma HC, Jayalakshmi SK, Sreeramulu K (2018) Imidacloprid impedes mitochondrial function and induces oxidative stress in cotton bollworm, Helicoverpa armigera larvae (Hubner: Noctuidae). J Bioenerg Biomembr 50(1):21–32

Pan C, Yao G, Liu B, Ma T, Xia Y, Wei K, Wang J, Xu J, Chen L, Chen Y (2017) Long noncoding RNA FAL1 promotes cell proliferation, invasion and epithelial-Mesenchymal transition through the PTEN/AKT signaling Axis in non-small cell lung Cancer. Cell Physiol Biochem 43(1):339–352

Pang D, Wang L, Dong J, Lai X, Huang Q, Milner R, Li L (2018) Integrin α5β1-Ang1/Tie2 receptor cross-talk regulates brain endothelial cell responses following cerebral ischemia. Exp Mol Med 50(9):117

Pereira Fernandes D, Bitar M, Jacobs FMJ, Barry G (2018) Long Non-Coding RNAs in Neuronal Aging. Noncoding RNA 4(2). pii: E12

Quan Z, Zheng D, Qing H (2017) Regulatory roles of long non-coding RNAs in the central nervous system and associated neurodegenerative diseases. Front Cell Neurosci 11:175

Reinardy JL, Corey DM, Golzio C, Mueller SB, Katsanis N, Kontos CD (2015) Phosphorylation of threonine 794 on Tie1 by Rac1/PAK1 reveals a novel angiogenesis regulatory pathway. PLoS One 10(10):e0139614

Ryou MG, Mallet RT (1717) An in vitro oxygen-glucose deprivation model for studying ischemia-reperfusion injury of neuronal cells. Methods Mol Biol 2018:229–235

Shang J, Li QZ, Zhang JY, Yuan HJ (2018) FAL1 regulates endothelial cell proliferation in diabetic arteriosclerosis through PTEN/AKT pathway. Eur Rev Med Pharmacol Sci 22(19):6492–6499

Vanhoutte PM (2018) Nitric oxide: from good to bad. Ann Vasc Dis 11(1):41–51

Vučićević D, Schrewe H, Orom UA (2014) Molecular mechanisms of long ncRNAs in neurological disorders. Front Genet 5:48

Wang C, Qu Y, Suo R, Zhu Y (2019) Long non-coding RNA MALAT1 regulates angiogenesis following oxygen-glucose deprivation/reoxygenation. J Cell Mol Med. https://doi.org/10.1111/jcmm.14204

Wei R, Zhang L, Hu W, Wu J, Zhang W (2019) Long non-coding RNA AK038897 aggravates cerebral ischemia/reperfusion injury via acting as a ceRNA for miR-26a-5p to target DAPK1. Exp Neurol 314:100–110

Wu H, Li R, Wei ZH, Zhang XL, Chen JZ, Dai Q, Xie J, Xu B (2016) Diabetes-induced oxidative stress in endothelial progenitor cells may be sustained by a positive feedback loop involving high mobility group Box-1. Oxidative Med Cell Longev 2016:1943918

Wu K, Zhang N, Ma J, Huang J, Chen J, Wang L, Zhang J (2018) Long noncoding RNA FAL1 promotes proliferation and inhibits apoptosis of human colon cancer cells. IUBMB Life 70(11):1093–1100

Xu J, Chen Y, Wu Z, Dou Y, Lun P, Sun P (2018) Kalirin-7 plays a neuroprotective role in Neuro-2A cells injured by oxygen-glucose deprivation and reperfusion through Rac1 activation. Iran J Basic Med Sci 21(10):992–997

Yang X, Zi XH (2018) LncRNA SNHG1 alleviates OGD induced injury in BMEC via miR-338/HIF-1α axis. Brain Res

Yang H, Xi X, Zhao B, Su Z, Wang Z (2018) KLF4 protects brain microvascular endothelial cells from ischemic stroke induced apoptosis by transcriptionally activating MALAT1. Biochem Biophys Res Commun 495(3):2376–2382

Yang Z, Liu D, Wu D, Liu F, Liu C (2019) The biological function of long noncoding RNA FAL1 in oesophageal carcinoma cells. Artif Cells Nanomed Biotechnol 47(1):896–903

Zhong X, Hu X, Zhang L (2015) Oncogenic long noncoding RNA FAL1 in human cancer. Mol Cell Oncol 2(2):e977154

Zhu Y, Li XY, Wang J, Zhu YG (2019) Bradykinin alleviates DR retinal endothelial injury by regulating HMGB-1/NF-κB pathway. Eur Rev Med Pharmacol Sci 23(13):5535–5541
Acknowledgements
This work was supported by the Shandong Provincial Nature Fund Joint Special Fund Project (ZR2018LH006) and the Key Research and Development Program of Shandong Province (2015GSF118146).
Ethics declarations
Conflict of interest
The authors declare that they have no conflicts of interest that need to be disclosed.
Additional information
Publisher's note
Springer Nature remains neutral with regard to jurisdictional claims in published maps and institutional affiliations.
About this article
Cite this article
Gao, M., Fu, J. & Wang, Y. The lncRNA FAL1 protects against hypoxia-reoxygenation- induced brain endothelial damages through regulating PAK1. J Bioenerg Biomembr (2020) doi:10.1007/s10863-019-09819-2
Received:

Accepted:

Published:
Keywords
Stroke

Oxygen-glucose deprivation and reoxygenation

lncRNA

FAL1

Cerebral microvascular endothelial cells