Selective diagonal-free 13C,13C-edited aliphatic–aromatic NOESY experiment with non-uniform sampling
Abstract
A band-selective aromatic–aliphatic C,C-edited four-dimensional NOESY experiment is proposed here. Its key advantage is the absence of auto-correlation signals which makes it very attractive for joint use with non-uniform sampling. It is demonstrated here that the sensitivity of the experiment is not significantly affected by utilization of selective pulses (for either aromatic-13C or aliphatic-13C spins). The method was applied to the sample of E32Q mutant of human S100A1 protein, a homodimer of total molecular mass ~20 kDa. High-resolution 4D spectra were obtained from ~1.5 % of sampling points required conventionally. It is shown that superior resolution facilitates unambiguous assignment of observed aliphatic–aromatic cross-peaks. Additionally, the addition of aliphatic-13C dimension enables to resolve peaks with degenerated aliphatic 1H chemical shifts. All observed cross-peaks were validated against previously determined 3D structure of E32Q mutant of S100A1 protein (PDB 2LHL). The increased reliability of structural constraints obtained from the proposed high-resolution 4D 13C(ali),13C(aro)-edited NOESY can be exploited in the automated protocols of structure determination of proteins.
Keywords
Aliphatic–aromatic NOESY 
Proteins 
Selective pulses 
Four-dimensional NMR 
Non-uniform sampling 
Introduction
Modern multidimensional NMR spectroscopy allows successful determination of three-dimensional structure for double- or triple-labeled proteins with molecular weights of up to 50 kDa (Kay 2005). Typically protein structure elucidation can be split into two main parts (Wüthrich 1986): sequence-specific assignment of chemical shifts, and extraction of distances between proton pairs from NOESY spectra. The precision of determined structures depends primarily on a number of observed NOE contacts and their proper assignment. The main difficulty arises due to the ambiguity of NOE assignment since chemical shifts are derived from NMR measurements with a certain level of precision. A related severe problem lies in the frequent chemical shift degeneracy in proteins. It was shown that in larger systems less than 10 % of NOE cross peaks can be assigned unambiguously (Mumenthaler et al. 1997). Over the years several dedicated protocols for automatic NOE assignment were developed (Gronwald et al. 2002; Herrmann et al. 2002b; Nilges and O'Donoghue 1998). Nevertheless, the problem of structural calculations from ambiguous NOEs still remains severe. Here we report an NMR measurement that allows to dramatically decrease the ambiguity of assignment of NOE between aromatic and aliphatic protons. It was shown previously (Jee and Guntert 2003) that chemical shifts of aromatic side chains are crucial for NOE assignment. These residues are buried in the hydrophobic core of a protein and give rise to many long-range NOE contacts. The same conclusions concern protons of methyl groups (Janin et al. 1988). Therefore, the ability to obtain unambiguous contacts among aromatic and aliphatic protons can be a valuable tool for determination of protein structure with improved precision. The intrinsic uncertainty of NOE assignment due to flips of aromatic rings and frequently degenerated chemical shifts is alleviated by introduction of pseudo-atoms or other solutions (Wüthrich et al. 1983); the unavoidable loss of structure accuracy is entailed.
Although three-dimensional NOESY methods are most commonly applied (Zhang et al. 1994; Muhandiram et al. 1993), the full potential of 15N,13C isotope labeling can be utilized with double-heteronuclear-edited 4D spectra (Luan et al. 2005). It should be emphasized that the reasonable resolution of these spectra can be preserved by employing non-uniform sampling (NUS) of indirect time domains. Due to the strict requirements regarding high dynamic range and linearity of peak intensities, NUS NOESY spectra are particularly demanding for processing methods; this is reflected by a limited number of applications published to date (Luan et al. 2005; Hiller et al. 2009; Coggins et al. 2012; Stanek and Koźmiński 2010).
Diagonal-free NOESY experiments have attracted a considerable attention since the spectral reconstruction from sparse data is less severe for spectra with a limited dynamic range of signal amplitudes. Recently, a non-uniformly sampled (NUS) 4D 15N,15N-edited TROSY-NOESY-TROSY experiment based on the orthogonal spin state selection was reported (Werner-Allen et al. 2010; Diercks et al. 2010). The utility of an alternative approach to the diagonal peak suppression based on the straightforward diagonal subtraction (Wu et al. 2004) was also demonstrated for methyl–methyl NOESY spectroscopy (Wen et al. 2012). In these methods, however, the sensitivity per unit of time is reduced by the non-negligible factor of 2.
The 13C,15N-edited 4D NOESY experiment (Stanek et al. 2012) is an example of the most straightforward approach to the acquisition of diagonal-free NOESY spectra. Of the particular relevance is that it does not imply any loss of sensitivity.
In this work, we propose a novel four-dimensional aliphatic–aromatic NOESY experiment in which diagonal peaks are efficiently suppressed by the selective manipulation of 13C spins of different kinds. The major aim of this experiment is to retain high sensitivity of the method while achieving a reasonable level of selectivity and associated diagonal peak suppression. The proposed method complements the set of recently reported diagonal-free 4D aliphatic–amide (Stanek et al. 2012), amide–amide (Werner-Allen et al. 2010) and aliphatic–aliphatic (Wen et al. 2012) NUS NOESY experiments.
Materials and methods
Selective 4D HMQC-NOESY-HSQC experiments
The pulse sequences of 4D experiments providing aromatic–aliphatic NOESY cross-peaks are shown in Fig. 
1
. Two possible solutions are discussed here: aliphatic-to-aromatic (Fig. 
1
a) and aromatic-to-aliphatic (Fig. 
1
b) HMQC-NOESY-HSQC. In both cases the optimized HMQC scheme (Stanek et al.
2012
) was incorporated for
t
1
(
1
H) and
t
2
(
13
C) evolution as it utilizes the multiple-quantum line narrowing effect for C–H coherences (Grzesiek et al.
1995
). In the previous work on 3D H(aro)-NOESY-CH
3
,H
N
and 3D C(aro)-NOESY-CH
3
,H
N
(Xia et al.
2001
) the refocused INEPT was utilized for the selection of protons coupled to aromatic
13
C spins. In this case selective transfer can be achieved employing shaped
inversion
pulses and pulsed field gradients (PFGs) that suppress undesired coherences in the subsequent
z
-filtration. We have found that the same task is far more demanding using HMQC. In this case PFGs cannot be used to distinguish aromatic and aliphatic MQ
1
H–
13
C coherences as both have equal coherence order after initial 1/2J
CH
delay and 'hard' excitation pulse. If the selective excitation pulse is employed PFGs can be useful, however, sensitivity loss of a factor of
\( \sqrt 2 \)
is incurred and additional time is required for gradient encoding when
13
C magnetization is transverse. We thus conclude that the optimal solution includes phase cycling of selective excitation pulses. Despite these difficulties HMQC is preferred over refocused INEPT owing to (1) the apparently slower relaxation of MQ coherences and (2) the possibility to incorporate both magnetization transfer delays (1/J
CH
in total) for the shared-time proton evolution (
t
1
) that leads to increased sensitivity (Stanek et al.
2012
).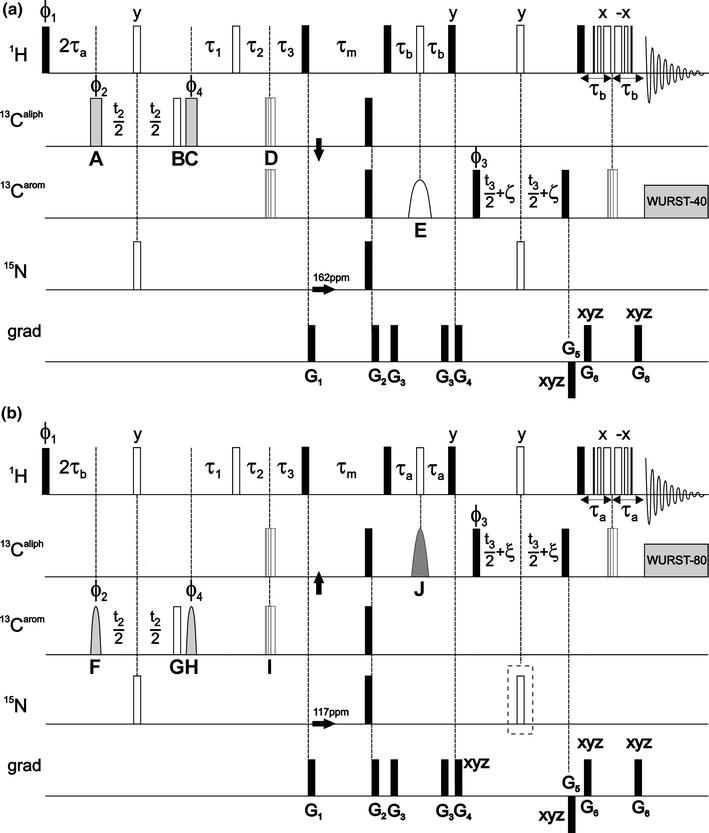 Here, the selection of either aliphatic (Fig. 1a) or aromatic (Fig. 1b) proton-carbon MQ coherences is accomplished solely by band-selective excitation of 13C spins in conjunction with the four-step phase cycle of two π/2 pulses ('A', 'C', or 'F', 'H', respectively). Therefore, the choice of selective π/2 pulses is of the particular relevance. The simulations of excitation profiles performed using Spinach software (Hogben et al. 2011) were fairly beneficial for this purpose (see Supplementary Materials). Apparently, it is quite straightforward not to excite aromatic 13C spins (the sequence shown in Fig. 1a) and simple rectangular pulses of properly adjusted γB1 can be employed. More advanced pulses such as Gaussian cascade Q5 (Emsley and Bodenhausen 1992) or e-BURP (Geen and Freeman 1991) could be utilized as well, however, these pulses are (1) of significantly larger duration, (2) more sensitive to miscalibration and (3) require high peak r.f. field. It was experimentally verified that these shortcomings offset theoretical benefits of high quality pulses and significant loss of sensitivity is incurred. For the aromatic-HMQC (Fig. 1b) short Gaussian π/2 pulses proved to be optimal.
Due to the use of shaped π/2 13C pulses in HMQC the refocusing π pulse is obligatory for correct phase properties of signals in ω2 dimension. However, no additional selectivity improvement can be achieved by replacement of this pulse by a band-selective one. Similarly, the subsequent carbon inversion pulse in HMQC (denoted 'D' and 'I', respectively) should be sufficiently broadband. A shaped pulse here would only result in the t 1-dependent J CH evolution of unaffected coherences during total time of τ1 + τ2 − τ3 = t 1 + 2τa. The resulting signals would be impossible to suppress using neither phase cycling nor pulsed field gradients.
Experimental
All NMR experiments were performed for the E32Q mutant of human S100A1 protein, for which resonance assignments are available in BMRB under accession code 17857. The high resolution 3D structure based on the standard 3D 13C- and 15N-edited NOESY-HSQC spectra (Zhang et al. 1994; Muhandiram et al. 1993) is available in PDB under accession code 2LHL. Similarly to the native S100A1 (Nowakowski et al. 2011), this protein mutant also exists in solution as a homodimer built up of noncovalently attached subunits (molecular weight of the monomer is 10 kDa). NMR sample contained 1.0 mM 15N,13C labeled protein (the monomer concentration) in 90 %/10 % H2O/D2O, 50 mM TRIS-d11, 1.0 mM EDTA, 0.1 mM NaN3 and 50 mM NaCl with pH adjusted to 7.2.
The experiments were performed at 37 °C on a 700 MHz Agilent/Varian spectrometer equipped with the Performa XYZ PFG unit and the 5 mm 1H,13C,15N triple-resonance probehead.
3D NOESY-HSQC and 4D HMQC-NOESY-HSQC spectra were analyzed with SPARKY (Goddard and Kneller). In both cases, peak picking and inspection of resulting peak lists was performed in approximately 30 min. Conventionally sampled 3D NOESY-13C-HSQC spectrum was acquired in 36 h and processed using nmrPipe program (Delaglio et al. 1995).
To derive NOESY interproton distance constrains from the 4D 13C(ali),13C(aro)-edited NOESY, automatic NOESY assignment procedure (Herrmann et al. 2002a) implemented in program CYANA 3.0 (Guntert et al. 1997) was applied. The final validation of obtained constraints was performed with XPLOR-NIH program (Schwieters et al. 2003).
The processing of four-dimensional NUS data was accomplished by the home-written SSA (signal separation algorithm) software package, which can be downloaded free of charge for non-commercial purposes from the website http://nmr.cent3.uw.edu.pl (64-bit versions for Linux). Artefact suppression in SSA software (cleaner4d program) was intentionally disabled by setting maximum number of iterations to zero. This is equivalent to the use of raw zero-augmented Fourier Transformation and limits cleaner4d to data conversion. The actual computation of spectral data was performed using reconstructor4d program (also from SSA package) that implements (a) automatic choice between FFT and DFT whenever beneficial, (b) multi-threaded computations and (c) memory-mapped and asynchronous input–output disk operations to improve overall performance. The total processing time on a PC equipped with Intel i5 3.3 GHz CPU running under Ubuntu 11 was 2 min and 6 min 30 s using 4 and 1 threads, respectively. Final spectrum stored in Sparky format (single-precision) was of size of 10.1 GB. SSA software supports native Agilent/Varian as well as nmrPipe format as input data. Further information on using SSA software can be found in the Supplementary Material.
Results and discussion
The sensitivity of NOESY experiments is a critical issue. 2D spectra shown in Fig. 2 do not indicate any substantial signal degradation resulting from use of selective pulses. Indeed, the closer inspection of 1D traces showing NOESY cross-peaks (Fig. 2c, f) reveals only minor decrease of sensitivity accompanied by virtually complete suppression of diagonal peaks. This conclusion applies to both 2D H–H correlation spectra: 13C(aro)-13C(ali)- and 13C(ali)-13C(aro)-filtered. A rough quantification was performed using integration over regions of aliphatic–aromatic cross-peaks. Although quite imprecise and susceptible to presence of unrelated spectral artefacts (as in Fig. 2e), the integration suggests that selective spectra (Fig. 2a, d) are approximately up to 10 % less intense than their non-selective counterparts (Fig. 2b, e). In the context of non-uniform sampling employed for four-dimensional experiment a rather moderate price for elimination of strong diagonal peaks—and associated spectral artifacts—seems fairly acceptable.
While both experimental possibilities presented here (Fig. 1a, b) seem to provide equivalent structural information, there is a number of practical considerations involved. Since aliphatic protons are typically far more populated than aromatic ones high resolution in aliphatic 1H dimension is especially desired. This suggests to prefer the aromatic-to-aliphatic variant which provides the optimal resolution of directly detected 1Haliph dimension. In the alternative aliphatic-to-aromatic spectrum the indirectly detected 1Haliph dimension features lower resolution, however, the assignment is supported by additional 13Caliph chemical shift. Noteworthy, aliphatic 1H and 13C nuclei exhibit a broader distribution of chemical shifts than aromatic ones, thus simplifying the assignment task. To sum up, there seems to be no evident resolution advantage of one variant over another.
Frequently, samples in H2O/D2O solution are used also for acquisition of NOESY spectra in order to avoid data inconsistency due to different sample preparation and isotopic effects. In this case the suppression of solvent signal becomes a major concern. The evident advantage of 13Cali,13Caro-separated NOESY is that WATERGATE (Piotto et al. 1992) can be employed without suppression of relevant resonances. On the other hand, for the 13Caro,13Cali-separated NOESY presaturation of HDO signal can be employed, however, our experience shows limited benefits of this approach.
It is also worth mentioning that in the case of the 13Cali,13Caro-NOESY the detection of aromatic protons decreases requirements on 13C decoupling during acquisition. As broadband decoupling at high B 0 field can be quite detrimental for the probehead circuits, the 13Cali,13Caro-edited NOESY might be easier to implement on some hardware (e.g., cryoprobes).
The most decisive argument in favor of the 13Cali,13Caro-separated NOESY is its higher sensitivity. Although it is not manifested in 2D H–H versions of compared experiments (Fig. 2a, d show similar intensity of cross-peaks), the direct comparison of four-dimensional C,C-edited spectra indicated that 13Cali,13Caro-edited experiment is considerably more sensitive. As the effect of shaped pulses is similar for both sequences, the most likely reason for different sensitivity of these experiments is the different attenuation of transverse relaxation rate observed for multiple quantum aromatic and aliphatic C–H coherences stored during 13C t 2 evolution period.
The final structural calculations were performed with XPLOR-NIH program to confirm if the NOE distance constraints from automatic procedure were calibrated correctly. The substitution of constraints derived from 3D NOESY with constraints from 4D 13C(ali),13C(aro)-edited NOESY did not lead to any constraint violations during calculations, or noticeable differences between obtained structures. We thus conclude that the obtained 4D spectrum provides genuine structural information.
Conclusions
To summarize, we have introduced selective aliphatic–aromatic C,C-edited 4D NOESY experiments. As these experiments inherently lack the diagonal signals, significant spectral artifacts originating from either non-uniform sampling, hardware instability or r.f. pulse imperfections are largely avoided. We have demonstrated that the selective version of aliphatic–aromatic NOESY does not noticeably compromise sensitivity. Thus, the applications of proposed experiment is not limited to small-sized proteins. Owing to high spectral resolution and selection of a subset of NOE contacts it may become a valuable tool for three-dimensional structure elucidation of large proteins. Full benefits of the novel method presented here can be achieved when applied in conjunction with previously reported 4D amide–amide, amide–aliphatic and methyl–methyl NOESY experiments.
Notes
Acknowledgments
The authors wish to thank the Foundation for Polish Science for the support with TEAM programme (M.N., S.S., W.K.) and acknowledge the Polish National Science Centre for PRELUDIUM Grant No. 2012/05/N/ST4/01120 (J.S.). This work was also supported by Bio-NMR (Project No 261863) project funded by European Commission's 7th Framework Program (FP7).
Copyright information
© The Author(s) 2013
Open AccessThis article is distributed under the terms of the Creative Commons Attribution License which permits any use, distribution, and reproduction in any medium, provided the original author(s) and the source are credited.