Abstract
Eucommia ulmoides gum (EUG) is an essential bio-based material with a similar chemical structure to natural rubber, but it is rigid plastic at room temperature due to crystallization, which limits its wide application. Herein, we report a new method for synthesis of functional Eucommia ulmoides ester (EUET) elastomer by chemical modification of EUG. First, EUG was epoxidized by performic acid formed from hydrogen peroxide and formic acid in situ in toluene solution and then subjected to ring-opening reaction with acetic acid. It was found that EUET contained both α-hydroxyl ester and β-hydroxyl ester in the molecular chain. Unlike EUG, EUET was no longer crystallized due to the reduction of regularity, and it has been successfully converted into elastomer, which was confirmed by the elastic strain recovery experiment. Furthermore, because of the presence of polar groups and the hydrogen bond between them, EUET could self-heal under the condition of 50 °C, and their vulcanizates possessed excellent mechanical properties, resilience, oil resistance and damping properties. This study may promote the application of EUG in the field of bio-based functional elastomers.
This is a preview of subscription content, log in to check access.
Access options
Buy single article
Instant unlimited access to the full article PDF.
US$ 39.95
Price includes VAT for USA
Subscribe to journal
Immediate online access to all issues from 2019. Subscription will auto renew annually.
US$ 199
This is the net price. Taxes to be calculated in checkout.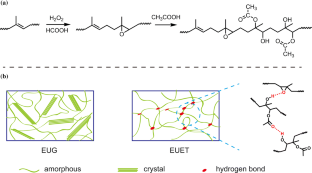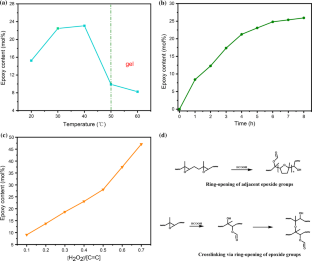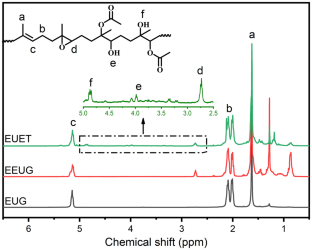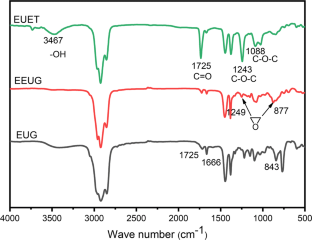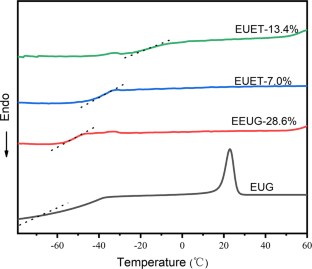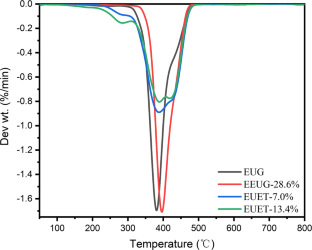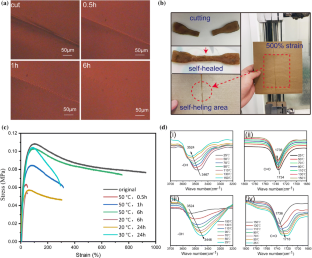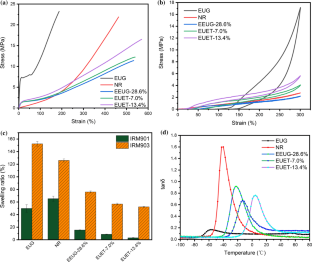 Acknowledgements
This work was funded by State Key Laboratory of Organic-Inorganic Composites, Beijing University of Chemical Technology.
Ethics declarations
Conflict of interest
The authors declare that they have no conflict of interest.
Additional information
Publisher's Note
Springer Nature remains neutral with regard to jurisdictional claims in published maps and institutional affiliations.
Electronic supplementary material
Below is the link to the electronic supplementary material.
About this article
Cite this article
Qi, X., Zhang, J., Zhang, L. et al. Bio-based self-healing Eucommia ulmoides ester elastomer with damping and oil resistance. J Mater Sci 55, 4940–4951 (2020). https://doi.org/10.1007/s10853-019-04272-3
Received:

Accepted:

Published:

Issue Date: