Superhydrophilic–superhydrophobic patterned surfaces on glass substrate for water harvesting
Abstract
Directional water harvesting is a special ability of flora and fauna in nature. Wettability-patterned surfaces inspired by natural structures have been extensively researched and could be a great potential avenue for easing water shortage. However, preparation strategies for these nature-inspired cases, including UV irradiation with mask technology, femtosecond laser direct writing and chemical treatment, are time-consuming, cost-ineffective and environmentally unfriendly. In this paper, robust and durable superhydrophobic (SHB) glass substrate was prepared by using laser-induced backward transfer technique and fluoroalkylsilane modification. Then wedge-shaped superhydrophilic (SHL) patterns on the SHB surfaces were rapidly constructed by inexpensive and commercially available fibre laser ablation for fog harvesting. This facile, cost-effective and non-corrosive preparation method described herein could be an alternative way to construct SHL–SHB patterns on glass substrate, which could be used for microfluidic devices, droplet manipulation and cell screening.
Introduction
Water harvesting is a special ability of flora and fauna in nature [1, 2]. For example, Namib Desert beetles could live in arid environment due to water harvesting on their back exoskeleton where waxy hydrophobic and non-waxy hydrophilic regions are alternately distributed [3]. Various extremely drought-tolerant plants like cactaceae species could survive in the desert with great fog harvesting performance via well-distributed conical spines and trichomes on their surfaces [4, 5, 6, 7]. Likewise, spider silk also possesses excellent water harvesting ability because of unique fibre structures of spindle knots and joints [8, 9, 10]. These natural cases inspired research focusing on construction of wettability-patterned surfaces or special structures to collect water, which shows great potential to alleviate water scarcity in terms of regional water shortage [11].
Wettability-patterned surfaces have been extensively created by mask-based methods. For example, Lin et al. [12] deposited copper on a polyethylene terephthalate (PET) surface via mask-assisted sputtering and then obtained superhydrophilic (SHL) wedge-shaped tracks on the PET substrates by alkali-assisted copper oxidation. The as-prepared patterned surface showed high water harvesting efficiency. Song et al. [13] proposed a mask-assisted chemical etching method to create superhydrophobic (SHB)–SHL patterns on various metal substrates for fog harvesting. Yang et al. [14] described a double electrochemical etching and boiling water immersion method to fabricate SHL–SHB wedge-shaped pattern on Al substrate with the assistance of masks for fog harvesting. The aforementioned works demonstrated enhanced water harvesting performance of wettability-patterned surface, but these reported methods involve the use of masks and corrosive chemical solutions, suffering from low processing efficiency and large environmental impact.
Glass substrates are widely used in various fields, such as houses and automobiles, where frequent fog condensate could be observed. Therefore, it should be of great importance to create extreme wettability patterns on glass surface to improve its water harvesting performance. Several methods, including hydrofluoric acid etching [15, 16] and laser direct writing (LDW) [17, 18, 19, 20, 21, 22, 23], have been proposed to texture glass substrates. LDW is considered as a rapid, green and highly efficient non-contact machining method. Laser-induced backward transfer (LIBT) is a LDW technology that could realize material deposition on transparent receiver substrates from donor substrates [24, 25, 26, 27]; thus, it could be an alternative tool to create special surface structures on glass substrate for further wettability control. However, to the best of our knowledge, LIBT has been rarely employed to impart glass substrate superwettability.
In this paper, we firstly obtained robust and durable superhydrophobic glass substrate by using LIBT technique and fluoroalkylsilane (FAS) modification. Then wedge-shaped superhydrophilic patterns on the superhydrophobic surfaces were rapidly constructed by laser ablation. The as-prepared SHL–SHB patterned surface shows impressive fog harvesting ability with an efficiency of 15.68 mg cm−2 min−1. Compared to the reported previous studies, our work possesses a high water collection efficiency with this facile, cost-effective and non-corrosive preparation method.
Experimental section
Fabrication of SHL–SHB patterns on glass substrate
As illustrated in Fig. 
1
, deionized water cleaned slide glass (70 mm × 25 mm × 1 mm) was placed on the metal sheet of aluminium (Al) with a gap of
d
GA
, which could be regulated by commercial tape (thickness of 0.05 mm, DELI Group Co., Ltd). An inexpensive and commercially available fibre laser system (SK-CX30, SK-Marker, China) was used for the LIBT technique to process the glass surface according to circular array pattern (diameter: 100 μm, spacing: 200 μm) with an area of 45 mm × 25 mm at ambient atmospheric pressure and room temperature. The process parameters included a frequency of 20 kHz, a scanning speed of 2000 mm/s, a laser fluence of 318.5 J/cm
2
, a pulse width of 100 ns, a focal diameter of 10 μm (focal length
f
: 19.45 cm) and an optical wavelength of 1064 ± 5 nm. Then the metal deposited glass surface was modified by 1 wt% fluoroalkylsilane (FAS, C
8
F
13
H
4
Si(OCH
2
CH
3
)
3
) ethanol solution to obtain a SHB surface. Fibre laser ablation was further conducted to form various complex SHL–SHB patterns on the glass substrate with the same process parameters as the LIBT technique.

Robustness and durability test
Falling sand abrasion and UV irradiation were conducted to test the robustness and durability of the prepared SHB surfaces, respectively. Sand grains (100 g, 0.3–0.9 mm in diameter) impinged on the tilted surfaces (45°) from a height of 25 cm with 7 cycles; prepared SHB samples were exposed to UV light (365 nm) for 24 h. Among the aforementioned tests, water contact angle (WCA) and sliding angle (SA) were measured. Tape peeling and fingerprint tests were carried out to investigate robustness of the SHB surfaces.
Characterization
Water droplets of ~ 5 μL on samples were recorded by measurement (Krüss, DSA100, Germany) at ambient temperature, from which an average value was calculated from five different positions. The electron microscope (TV-60, China) was used to observe the variation of surfaces prepared by different gap distances dGA and output powers. The morphology and chemical element distribution were further observed by a scanning electron microscopy equipped with energy-dispersive X-ray (SEM and EDX, SUPRA 55 SAPPHIRE, Germany). Chemical composition was further characterized by an X-ray diffractometer (XRD, Empyrean, Holland, X-ray source (Cu Kα radiation (k = 0.15418 nm)) within the 5°–100° range at a scanning rate of 2θ = 0.026°/min and X-ray photoelectron spectroscopy (XPS, Thermo ESCALAB250Xi, American). Curve fitting of C 1s peak was operated by XPS peak 4.1 software with the C 1s peak at 284.6 eV as a reference.
Fog harvesting
To extend the application of SHL–SHB pattern on glass substrate, the pattern of wedge-shaped tracks (wedge angle of 7°) was prepared for harvesting the fog condensate. In a fog harvesting test (temperature: 20 ± 1 °C, RH: 80 ± 5%), the surfaces, including bare SHL, untreated glass, pristine Al surface, bare SHB and patterned glass, were vertically fixed at the holder. The culture dish was placed under the prepared sample for fog harvesting, as shown in Fig. 
2
. Fog was simulated by a household humidifier (Ultrasonic Nebulizer 402Al, moisture flow: ~ 3 mL/min), with a distance of 50 mm between the prepared surface and nozzle of the fog generator. Precision balance (resolution: 0.1 mg) was used to weigh the collected water for 20 min. A Sony camera (DSC-RX10M3, Japan) was used to record the aforementioned processes.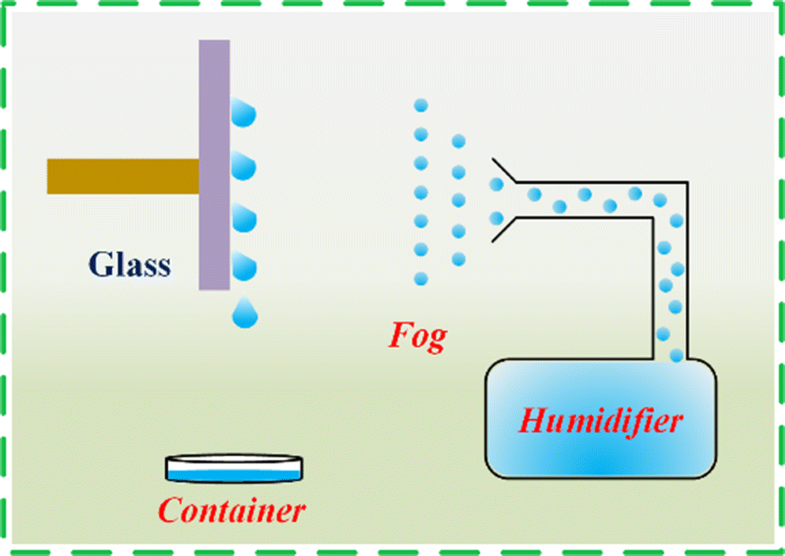 Results and discussion
Fabrication of extreme wetting patterns on an Al plate
Conclusion
We constructed SHL wedge-shaped patterns on robust and durable SHB glass substrates by using the LIBT technique, FAS modification and laser ablation, avoiding the use of mask technology and any hazard chemicals. This research could be an alternative way SHL–SHB patterns on glass substrates, which is not merely a promising candidate for water harvesting to alleviate he regional water shortage but also for microfluidic devices, droplet manipulation and cell screening.
Notes
Acknowledgements
This work was financially supported by the National Natural Science Foundation of China (NSFC, Grant No. 51305060) and National Basic Research Program of China (Grant No. 2015CB057304). F. Chen acknowledges the support from National Postdoctoral Program for Innovative Talents (No. BX20190233). I. P. Parkin acknowledges the support from EPSRC grant of Industrial Doctorate Centre: Molecular Modelling & Materials Science (EP/G036675/1). Yao Lu acknowledges the financial support from the QMUL-SBCS start-up.
Copyright information
© Springer Science+Business Media, LLC, part of Springer Nature 2019