Abstract
We present here an experimental study on the growth of CH3NH3PbBr3 crystals by conventional spin coating and simple drop casting methods. We observed directly that under the diffusion-limited regime, large-size cuboids and pyramid-like single crystals were obtained. Single-crystal X-ray diffraction revealed that these crystals were in the Pm-3m cubic crystalline structure phase, with a refined unit size of 5.93 Å. Polycrystals with fractal-like or snowflake-like morphologies were grown by spin coating method, on fluorine-doped tin oxide-coated glass substrates, that we referred to as the attachment kinetics-limited regime. Interestingly enough, with the same technique, cuboids CH3NH3PbBr3 single crystals were obtained on bare glass substrates. These single crystals and polycrystals exhibited a very strong photoluminescence effect. This study paves a way for controlled growth of CH3NH3PbBr3 crystals and their advanced optoelectronic applications.
This is a preview of subscription content, log in to check access.
We're sorry, something doesn't seem to be working properly.
Please try refreshing the page. If that doesn't work, please contact support so we can address the problem.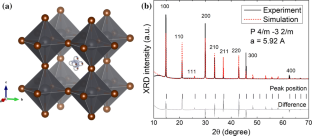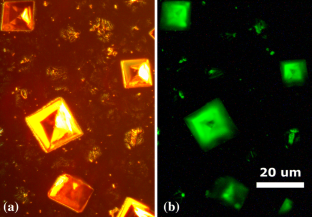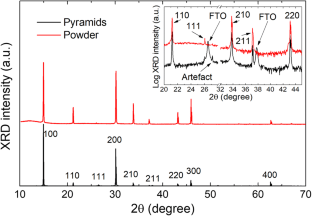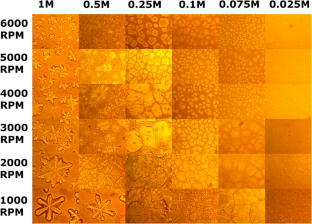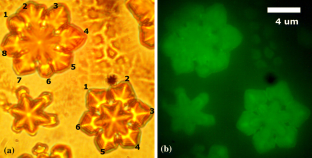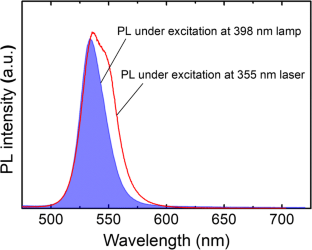 Ethics declarations
Conflict of interest
The authors declare that they have no conflict of interest.
Additional information
Publisher's Note
Springer Nature remains neutral with regard to jurisdictional claims in published maps and institutional affiliations.
Electronic supplementary material
Below is the link to the electronic supplementary material.
Supplementary material 2 (AVI 3489 kb)
Supplementary material 3 (AVI 4587 kb)
About this article
Cite this article
Nguyen-Tran, T., Truong, T.T., Nguyen, T.M. et al. Growth and morphology control of CH3NH3PbBr3 crystals. J Mater Sci 54, 14797–14808 (2019). https://doi.org/10.1007/s10853-019-03943-5
Received:

Accepted:

Published:

Issue Date: