Abstract
Morphology engineering is vital for tuning electronic and optical properties of perovskite nanocrystals (NCs). Though many 1D, 2D and 3D perovskite NCs have been prepared, perovskite rings are not reported. This work reported the preparation of perovskite rings by a simple method of dewetting perovskite NCs solution on the glass slide. Our results indicate that perovskites NCs can change their morphology from the starting nano-sized spherical shape to intermediate molecules/ions and finally to micron-sized perovskite rings during the dewetting process. The alteration of NCs–molecules–rings is driven by the dewetting-induced alteration of solvent environment for perovskite from the initial insoluble mixture of N,N-dimethylformamide (DMF) and toluene (1:50 v/v), to intermediate soluble DMF and finally to the glass slide without solvent. During the decomposing process from starting NCs to molecules/ions, the original oleic acid ligands of perovskite NCs will be released. These oleic acid surfactants will form ligand-stabilized gas bubbles, which act as in situ templates for reshaping of perovskite ring shape from molecules/ions.
This is a preview of subscription content, log in to check access.
Access options
Buy single article
Instant unlimited access to the full article PDF.
US$ 39.95
Price includes VAT for USA
Subscribe to journal
Immediate online access to all issues from 2019. Subscription will auto renew annually.
US$ 199
This is the net price. Taxes to be calculated in checkout.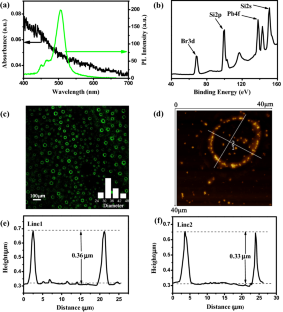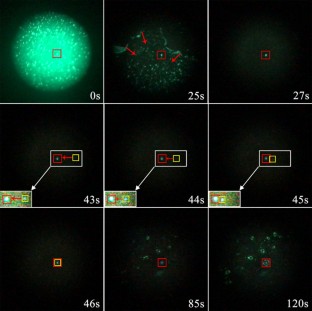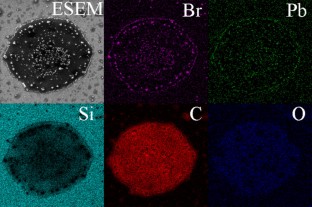 References
1

Swarnkar A, Chulliyil R, Ravi VK, Irfanullah M, Chowdhury A, Nag A (2015) Colloidal CsPbBr3 perovskite nanocrystals: luminescence beyond traditional quantum dots. Angew Chem Int Ed 54(51):15424–15428

2

Malgras V, Henzie J, Takeia T, Yamauchi Y (2017) Hybrid methylammonium lead halide perovskite nanocrystals confined in gyroidal silica templates. Chem Commun 53(15):2359–2362

3

Malgras V, Tominaka S, Ryan JW, Henzie J, Takei T, Ohara K, Yamauchi Y (2016) Observation of quantum confinement in monodisperse methylammonium lead halide perovskite nanocrystals embedded in mesoporous silica. J Am Chem Soc 138(42):13874–13881

4

Malgras V, Henzie J, Takei T, Yamauchi Y (2018) Stable blue luminescent CsPbBr3 perovskite nanocrystals confined in mesoporous thin films. Angew Chem Int Ed 57(29):8881–8885

5

Malgras V, Nattestad A, Kim JH, Dou SX, Yamauchi Y (2017) Understanding chemically processed solar cells based on quantum dots. Sci Technol Adv Mater 18(1):334–350

6

Zhang H, Mao J, He H, Zhang D, Zhu HL, Xie F, Wong KS, Grätzel M, Choy WCH (2015) A smooth CH3NH3PbI3 film via a new approach for forming the PbI2 nanostructure together with strategically high CH3NH3I concentration for high efficient planar-heterojunction solar cells. Adv Energy Mater 5(23):501354. https://doi.org/10.1002/aenm.201501354

7

Zhang H, Cheng J, Li D, Lin F, Mao J, Liang C, Jen AK-Y, Grätzel M, Choy WCH (2017) Toward all room-temperature, solution-processed, high-performance planar perovskite solar cells: a new scheme of pyridine-promoted perovskite formation. Adv Mater 29(13):1604695. https://doi.org/10.1002/adma.201604695

8

Zhang X, Lin H, Huang H, Reckmeier C, Zhang Y, Choy WCH, Rogach AL (2016) Enhancing the brightness of cesium lead halide perovskite nanocrystal based green light-emitting devices through the interface engineering with perfluorinated ionomer. Nano Lett 16(2):1415–1420

9

Li X, Wu Y, Zhang S, Cai B, Gu Y, Song J, Zeng H (2016) CsPbX3 quantum dots for lighting and displays: room-temperature synthesis, photoluminescence superiorities, underlying origins and white light-emitting diodes. Adv Funct Mater 26(15):2435–2445

10

Song J, Li J, Li X, Xu L, Dong Y, Zeng H (2015) Quantum dot light-emitting diodes based on inorganic perovskite cesium lead halides (CsPbX3). Adv Mater 27(44):7162–7167

11

Wang W, Ma Y, Qi L (2017) High-performance photodetectors based on organometal halide perovskite nanonets. Adv Funct Mater 27(12):1603653. https://doi.org/10.1002/adfm.201603653

12

Ithurria S, Tessier MD, Mahler B, Lobo RPSM, Dubertret B, Efros AL (2011) Colloidal nanoplatelets with two-dimensional electronic structure. Nat Mater 10(12):936–941

13

Kojima A, Ikegami M, Teshima K, Miyasaka T (2012) Highly luminescent lead bromide perovskite nanoparticles synthesized with porous alumina media. Chem Lett 41(4):397–399

14

Liu H, Wu Z, Shao J, Yao D, Gao H, Liu Y, Yu W, Zhang H, Yang B (2017) CsPbxMn1−xCl3 perovskite quantum dots with high Mn substitution ratio. ACS Nano 11(2):2239–2247

15

Huang G, Wang C, Xu S, Zong S, Lu J, Wang Z, Lu C, Cui Y (2017) Postsynthetic doping of MnCl2 molecules into preformed CsPbBr3 perovskite nanocrystals via a halide exchange-driven cation exchange. Adv Mater 29(29):1700095. https://doi.org/10.1002/adma.201700095

16

Zhang F, Zhong H, Chen C, Wu X, Hu X, Huang H, Han J, Zou B, Dong Y (2015) Brightly luminescent and color-tunable colloidal CH3NH3PbX3 (X = Br, I, Cl) quantum dots: potential alternatives for display technology. ACS Nano 9(4):4533–4542

17

Protesescu L, Yakunin S, Bodnarchuk MI, Krieg F, Caputo R, Hendon CH, Yang RX, Walsh A, Kovalenko MV (2015) Nanocrystals of cesium lead halide perovskites (CsPbX3, X = Cl, Br, and I): novel optoelectronic materials showing bright emission with wide color gamut. Nano Lett 15(6):3692–3696

18

Dirin DN, Protesescu L, Trummer D, Kochetygov IV, Yakunin S, Krumeich F, Stadie NP, Kovalenko MV (2016) Harnessing defect-tolerance at the nanoscale: highly luminescent lead halide perovskite nanocrystals in mesoporous silica matrixes. Nano Lett 16(9):5866–5874

19

Sun S, Yuan D, Xu Y, Wang A, Deng Z (2016) Ligand-mediated synthesis of shape-controlled cesium lead halide perovskite nanocrystals via reprecipitation process at room temperature. ACS Nano 10(3):3648–3657

20

Zhang D, Yu Y, Bekenstein Y, Wong AB, Alivisatos AP, Yang P (2016) Ultrathin colloidal cesium lead halide perovskite nanowires. J Am Chem Soc 138(40):13155–13158

21

Imran M, Stasio FD, Dang Z, Canale C, Khan AH, Shamsi J, Brescia R, Prato M, Manna L (2016) Colloidal synthesis of strongly fluorescent CsPbBr3 nanowires with width tunable down to the quantum confinement regime. Chem Mater 28(18):6450–6454

22

Cho J, Choi Y, O'Loughlin TE, Jesus LD, Banerjee S (2016) Ligand-mediated modulation of layer thicknesses of perovskite methylammonium lead bromide nanoplatelets. Chem Mater 28(19):6909–6916

23

Lv L, Xu Y, Fang H, Luo W, Xu F, Liu L, Wang B, Zhang X, Yang D, Hu W, Dong A (2016) Generalized colloidal synthesis of high-quality, two-dimensional cesium lead halide perovskite nanosheets and their applications in photodetectors. Nanoscale 8(28):13589–13596

24

Liang Z, Zhao S, Xu Z, Qiao B, Song P, Gao D, Xu X (2016) Shape-controlled synthesis of all-inorganic CsPbBr3 perovskite nanocrystals with bright blue emission. ACS Appl Mater Interfaces 8(42):28824–28830

25

Leung YP, Choy WCH, Markov I, Pang GKH, Ong HC, Yuk TI (2006) Synthesis of wurtzite ZnSe nanorings by thermal evaporation. Appl Phys Lett 88(18):183110. https://doi.org/10.1063/1.2200155

26

Xu J, Xu S, Qi Z, Wang C, Lu C, Cui Y (2018) Size-tunable CsPbBr3 perovskite ring arrays for lasing. Nanoscale 10(22):10383–10388

27

le Feber B, Prins F, Leo ED, Rabouw FT, Norris DJ (2018) Colloidal-quantum-dot ring lasers with active color control. Nano Lett 18(2):1028–1034

28

Jiang H, Wang C, Lv C, Xu S, Zhu L, Zhang R, Cui Y (2017) Ultrasonic irradiation-promoted one-pot synthesis of CH3NH3PbBr3 quantum dots without using flammable CH3NH2 precursor. Mater Res Express 4(2):025038. https://doi.org/10.1088/2053-1591/aa5c01

29

Wang Z, Zhu F, Rong Z, Ying X (2008) Experimental determination and estimation of the evaporation rate of pure solvents. Pait Coat Ind 38(6):5–9

30

Saidaminov MI, Abdelhady AL, Maculan G, Bakr OM (2015) Retrograde solubility of formamidinium and methylammonium lead halide perovskites enabling rapid single crystal growth. Chem Commun 51(100):17658–17661
Acknowledgements
We thank prof. Xuhao Hong in Nanjing University for ESEM and mapping measurements. This work is supported by National Natural Science Foundation of China (Grant Nos. 61875037, 21875034, 61475034), the Fundamental Research Funds for the Central Universities (Grant No. 2242018K41019). Funding was provided by National Key Basic Research Program of China (2015CB352002).
Ethics declarations
Conflict of interest
The authors declare that they have no conflict of interest.
Electronic supplementary material
Below is the link to the electronic supplementary material.
Supplementary material 1 (AVI 9792 kb)
About this article
Cite this article
Wang, X., Xu, S., Wang, C. et al. Spontaneous morphology reconfiguration of luminescent CH3NH3PbBr3 perovskites from monodispersed nanocrystals to discontinuous rings by dewetting-triggered solute migration. J Mater Sci 54, 1248–1254 (2019). https://doi.org/10.1007/s10853-018-2935-7
Received:

Accepted:

Published:

Issue Date: