Novel poly(aryl ether) bearing oligoaniline and carbazole pendants: synthesis and properties
Abstract
A novel poly(aryl ether) bearing oligoaniline and carbazole pendants (PAEOC) was successfully designed and prepared. Fourier-transform infrared spectroscopy, 1H nuclear magnetic resonance spectroscopy, gel permeation chromatography and X-ray powder diffraction were used to characterize the structure of PAEOC. Its electrochemical properties were investigated using cyclic voltammetry on a CHI 660A Electrochemical Workstation with a conventional three-electrode system. The PAEOC material showed satisfactory electrochromic properties with high contrast value, acceptable switching times, excellent coloration efficiency and admissible stability. Moreover, tunable fluorescence properties have been found by changing the oxidation states of PAEOC.
Graphical Abstract
A novel poly(aryl ether) bearing oligoaniline and carbazole pendants (PAEOC) has been successfully designed and synthesized. This material shows reversible electroactivity, good electrochromic performance and tunable fluorescence properties.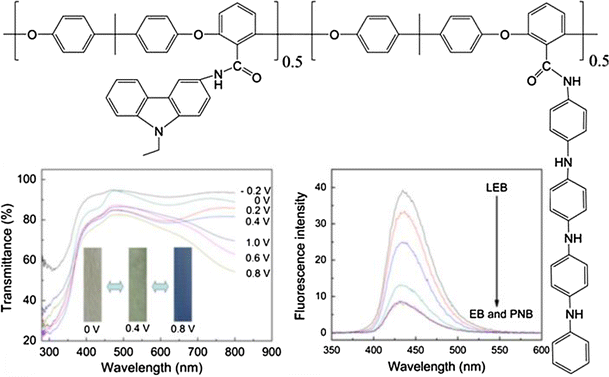 Keywords
PANI 
Atom Transfer Radical Polymerization 
Carbazole 
DMAc 
Aryl Ether 
These keywords were added by machine and not by the authors. This process is experimental and the keywords may be updated as the learning algorithm improves.
Notes
Acknowledgement
This work has been supported in part by the National Natural Science Foundation of China (Nos. 21104024 and 21274052) and the National 973 Project (No. S2009061009). Erik B. Berda would like to thank the NSF for support through Grant NSF EEC 0832785.
Copyright information
© Springer Science+Business Media New York 2013