Chemical–physical properties, morphology, and magnetic investigations on new cystine functionalized ultra-small super-paramagnetic iron-oxide nanoparticles
Abstract
Several experimental techniques have been used to investigate the chemical–physical properties of new functionalized ultra-small iron-oxide nanoparticles (USPION), which are of interest for biomedical applications. The chemical composition of oleate-coated iron-oxide (OA-NPs) and cystine-coated iron-oxide (Cy-NPs) nanoparticles was investigated by means of analytical methods and Fourier transform infrared (FT-IR) spectroscopy. Atomic force microscopy (AFM) and transmission electron microscopy (TEM) investigations, at high and low resolutions, on both OA-NPs and Cy-NPs, were performed to investigate their morphology. The magnetization and susceptibility behavior of OA- and Cy-NPs were studied by SQUID magnetometry. The combination of different experimental techniques was of help in characterizing the chemical structure of both magnetic core and surface-coating of OA- and Cy-NPs. AFM/TEM images and magnetic measurements were analyzed in terms of crystallinity, polydispersity, average magnetic core size, and coating effects of these nanoparticles. These results show that the preparations reported in the present paper are effective in obtaining nanoparticles of 4 nm magnetic core size and the procedure is highly reproducible. The presence of the external cystine shell, fundamental for biomedical applications, does not affect the polidispersity, the crystallinity or the average core size. Moreover, similar values of the average core dimensions have been obtained by three different techniques (AFM and TEM images, magnetic measurements).
Graphical Abstract
New cystine-functionalized magnetite nanoparticles have been synthesized. Physical chemical investigations show an average core size of about 4 nm and super-paramagnetic properties.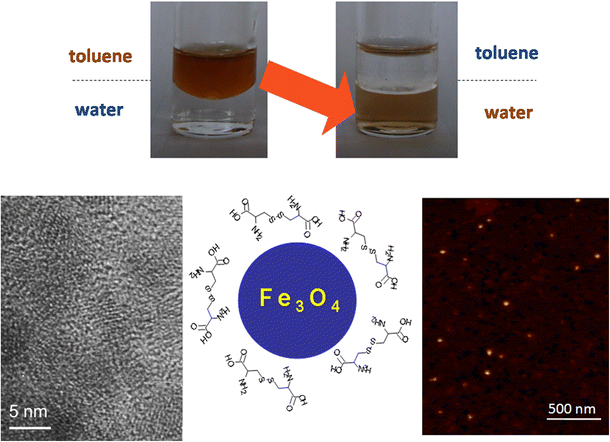 Keywords
Atomic Force Microscopy 
Magnetite 
Cystine 
High Resolution Transmission Electron Microscopy 
Maghemite 
These keywords were added by machine and not by the authors. This process is experimental and the keywords may be updated as the learning algorithm improves.
Notes
Acknowledgements
Sara Dolci thanks the IMAGO 7 Foundation for partial financial support of the project and the "Galileo Galilei" Ph.D. School of the University of Pisa. Valentina Domenici thanks the L'Oreal Italia-Unesco grant "Women in Science 2010".
Copyright information
© Springer Science+Business Media, LLC 2012