Self-propagating high-temperature synthesis (SHS) of rotator mixed and mechanically alloyed Ni/Al powder compacts
A significant amount of work has been published on the combustion synthesis of nickel aluminides including thermal explosion and SHS type of ignition, [
1
,
2
,
3
,
4
]. In the SHS of nickel aluminides, nickel and aluminum powders are mixed in the desired composition and pressed into a compact, which is then ignited at one end, usually with the aid of a tungsten-heating coil (Fig.
1
). An exothermic reaction proceeds converting the nickel and aluminum powders into the desired intermetallic compound, and raises the compact temperature to the maximum
combustion temperature
.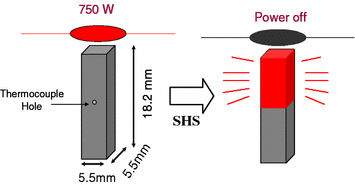 Keywords
Mechanical Alloy 
Elemental Powder 
Nickel Aluminides 
Zinc Stearate 
Mechanical Alloy Powder 
Copyright information
© Springer Science+Business Media, LLC 2006