Abstract
Oleuropein (OLE) is a major phenolic compound of olive leaf (Olea europaea) and has many therapeutic properties associated with olive leaf extracts. This work concerns the determination of the inclusion complex constant between OLE and cyclodextrins (CDs), based on the competition of two guests for the CD cavity, one being a dye and the other OLE. The dye used was methylorange (MO) and pH 3 was selected, since MO molar absorptivity at 500 nm is at maximum in this condition. A solution of MO, OLE, and α-CD or β-CD, with citrate buffer was used for determining the absorbance values. From these data and by appropriate mathematical modeling, the equilibrium constant for the formation of OLE:CD complexes were obtained: for OLE:α-CD K = 1,352.4 L mol−1 (R 2 = 0.9975) and for OLE:β-CD K = 1,827.9 L mol−1 (R 2 = 0.9991). The results show that OLE has a greater affinity for β-CD than for α-CD and given the relatively high constants, OLE:CD complexes have potential for giving longer shelf lives for OLE medicinal and food additive preparations.
This is a preview of subscription content, log in to check access.
Access options
Buy single article
Instant access to the full article PDF.
US$ 39.95
Price includes VAT for USA
Subscribe to journal
Immediate online access to all issues from 2019. Subscription will auto renew annually.
US$ 199
This is the net price. Taxes to be calculated in checkout.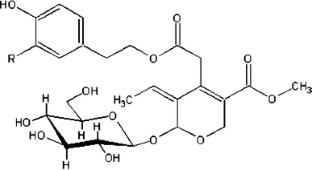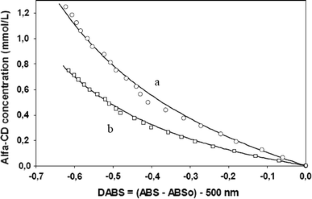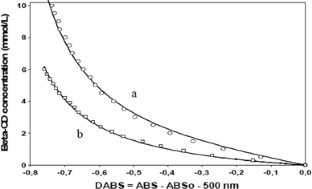 References
1.

Bekers, O., Uijtendaal, E.V., Beijnen, J.H., Bult, A., Underberg, W.J.M.: Cyclodextrins in the pharmaceutical field. Drug Dev. Ind. Pharm. 17, 1503–1549 (1991)

2.

Szejtli, J.: Cyclodextrin Technology, pp. 1–185. Kluwer Academic Publishers, Dordrecht (1988)

3.

Walter, W.M., Fleming, H.P., Etchells, J.L.: Preparation of antimicrobial compounds by hydrolysis of oleuropein from green olives. Appl. Microbiol. 26(5), 773–776 (1973)

4.

Efmorfopoulou, E., Rodis, P.: Complexation of oleuropein and trans-cinnamic acid with cyclodextrins. Chem. Nat. Compd. 40(4), 362–366 (2004)

5.

Martins, F.P., Pinto, M.: Isolation and characterization of a new hydroxytyrosol derivative from olive (Olea europaea) leaves. J. Agric. Food Chem. 56, 5582–5588 (2008)

6.

Zbidia, H., Salidob, S., Altarejosb, J., Perez-Bonillab, M., Bartegia, A., Rosado, J.A., Salido, G.M.: Olive tree wood phenolic compounds with human platelet antiaggregant properties. Blood Cells Mol. Dis. 42(3), 279–285 (2009)

7.

Carluccio, M.A., Siculella, L., Ancora, M.A., Massaro, M., Scoditti, E., Storelli, C., Visioli, F., Distante, A., De Caterina, R.: Olive oil and red wine antioxidant polyphenols inhibit endothelial activation. Arterioscler. Thromb. Vasc. Biol. 23, 622–629 (2003)

8.

Omar, S.H.: Oleuropein in olive and its pharmacological effects. Sci. Pharm. 78, 133–154 (2010)

9.

Andreadou, I., Iliodromitis, E.K., Mikros, E., Constantinou, M., Agalias, A., Magiatis, P., Skaltsounis, A.L., Kamber, E., Tsantili-Kakoulidou, A., Kremastinos, T.D.: The olive constituent oleuropein exhibits anti-ischemic, antioxidative, and hypolipidemic effects in anesthetized rabbits. J. Nutr. 138, 1074–1078 (2008)

10.

Huang, S.L., Zhang, L., Huang, P.L., Chang, Y., Huang, P.L.: Anti-HIV activity of olive leaf extract (OLE) and modulation of host cell gene expression by HIV-1 infection and OLE treatment. Biochem. Biophys. Res. Commun. 307, 1029–1037 (2003)

11.

Watanabe, S.: Determinação da Constante de Complexação da Glicirrizina com a γ-Ciclodextrina p. 46 a 50. Master in Science dissertation, Universidade Estadual de Maringá (2005)

12.

Watanabe, S., Zanin, G.M., De Moraes, F.F.:VIII Seminário de Hidrólise Enzimática de Biomassas, Maringá, 5 a 9 de dezembro de 2005, Oral work nº 50, p. 14 (2005)

13.

Barão, C.E., Zanin, G.M., de Moraes, F.F.: Inclusão molecular da oleuropeína e do BHA (Butil Hidroxianisol) em Alfa e Beta Ciclodextrinas, pp. 38–57. Master in Science dissertation, Universidade Estadual de Maringá (2008)

14.

Higuchi, T., Connors, K.A.: Phase solubility techniques. In: Nurnberg, H.W. (ed.) Advances in Analytical Chemistry and Instrumentation, pp. 117–212. Wiley Interscience, New York (1965)

15.

Karathanos, V.T., Mourtzinos, I., Salta, F., Yannakopoulou, K., Chiou, A.: Encapsulation of olive leaf extract in β-cyclodextrin. J. Agric. Food Chem. 55, 8088–8094 (2007)

16.

Barão, C.E., Zanin, G.M., de Moraes, F.F.: Molecular inclusion of butylated hydroxyanisole (BHA) into alpha and beta cyclodextrins. J. Incl. Phenom. Macrocycl. Chem. 71, 179–187 (2011)
Acknowledgments
We are grateful to the supporting institutions: CAPES (Coordenação de Aperfeiçoamento de Pessoal de Nível Superior) and UEM (Universidade Estadual de Maringá).
About this article
Cite this article
Barão , C.E., Paiva-Martins, F., Zanin, G.M. et al. Determination of the inclusion complex constant between oleuropein and cyclodextrins by complexation theory. J Incl Phenom Macrocycl Chem 78, 465–470 (2014). https://doi.org/10.1007/s10847-013-0318-x
Received:

Accepted:

Published:

Issue Date:
Keywords
Oleuropein

Cyclodextrin

Inclusion

Complex