Abstract
BHA (butylated hydroxyanisole) was complexed with α- and β-cyclodextrins with the objective of characterizing the thermal stability. From phase solubility diagrams, the association constants for the complexes of α-CD:BHA and β-CD:BHA were found as 49.3 and 585 L mol−1, respectively. To increase the thermal stability of BHA, its molecular encapsulation in α-CD and β-CD, was tested using molar ratios of 1:1 and 1:2 (BHA:CD) and the complex preparation techniques of kneading and physical mixture. The products of complexation were characterized by differential scanning calorimetry and thermogravimetry, indicating the formation of a BHA:β-CD complex and showing that the release of the complexed BHA occurs in the temperature range of 280–350 °C, well above the temperature at which BHA sublimates. Dissolution tests have shown that the BHA: β-CD complex produced by kneading has high efficiency of dissolution and partition coefficient experiments demonstrated that the presence of β-CD leads to higher concentration of BHA in the organic phase.
This is a preview of subscription content, log in to check access.
Access options
Buy single article
Instant access to the full article PDF.
US$ 39.95
Price includes VAT for USA
Subscribe to journal
Immediate online access to all issues from 2019. Subscription will auto renew annually.
US$ 199
This is the net price. Taxes to be calculated in checkout.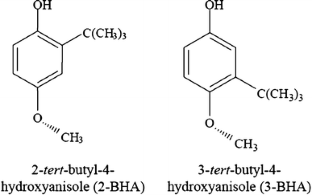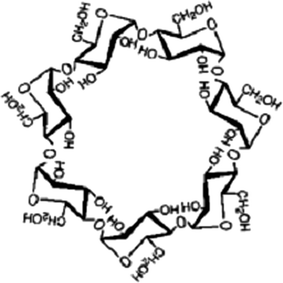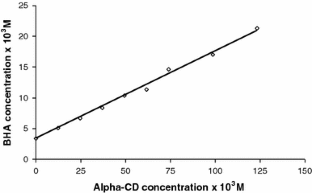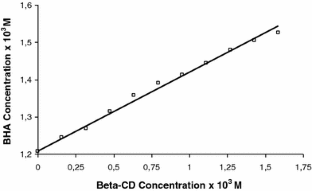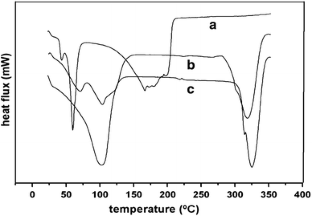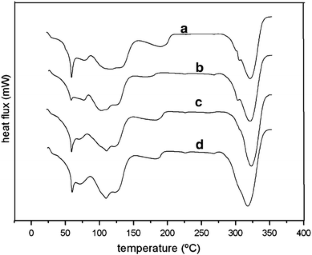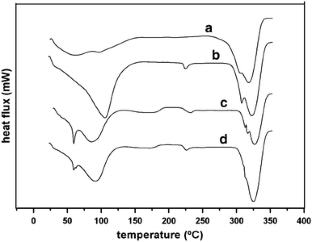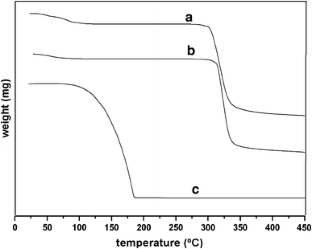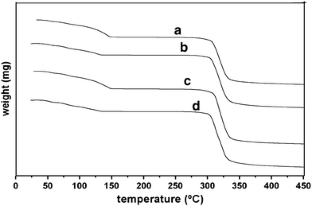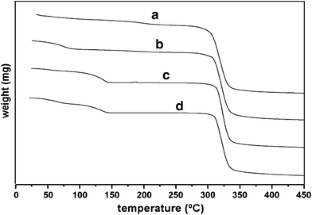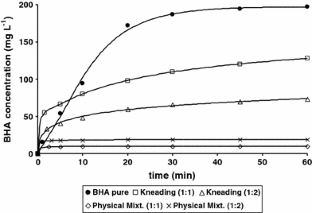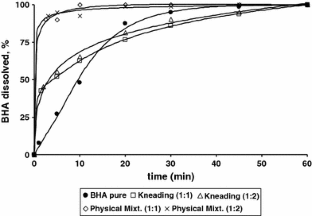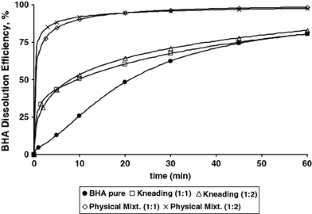 References
1.

National Toxicology Program, Eleventh Report on Carcinogens.: Butylated hydroxyanisole (BHA) CAS no. 25013-16-5. http://ntp.niehs.nih.gov/ntp/roc/eleventh/profiles/s027bha.pdf (2009). Accessed 27 Feb 2009

2.

Williams, G.M., Iatropoulos, M.J., Whysner, J.: Safety assessment of butylated hydroxyanisole and butylated hydroxytoluene as antioxidant food additives. Food Chem. Toxicol. 37(9–10), 1027–1038 (1999)

3.

Ramalho, V., Jorge, N.: Antioxidantes utilizados em óleos, gorduras e alimentos gordurosos. Quim. Nova 29(4), 755–760 (2006)

4.

Szejtli, J., Szente, L.: Cyclodextrins as food ingredients. Food Sci. Technol. 15, 137–142 (2004)

5.

Vora, J., Boroujerdi, M.: Enhanced aqueous solubility of phenolic antioxidants using modified β-cyclodextrins. Drug Dev. Ind. Pharm. 21, 495–502 (1995)

6.

Higuchi, T., Connors, K.A.: Phase Solubility Techniques (Advances in Analytical Chemistry and Instrumentation), pp. 117–212. Wiley Interscience, New York (1965)

7.

Khan, K.A., Rhodes, C.T.: The concept of dissolution efficiency. J. Pharm. Pharmacol. Wallingford 27, 48–49 (1975)

8.

Bekers, O., Uijtendaal, E.V., Beijnen, J.H., Bult, A., Underberg, W.J.M.: Cyclodextrins in the pharmaceutical field. Drug Dev. Ind. Pharm. 17, 1503–1549 (1991)

9.

Zia, V., Rajewski, R.A., Stella, V.J.: Effect of cyclodextrin charge on complexation of neutral and charged substrates: comparison of sulfobutyl ether-β-cyclodextrin to hydroxypropyl β-cyclodextrin. Pharm. Res. 18(5), 667–673 (2001)

10.

Archontaki, H., Vertzoni, M., Athanassiou-Malaki, M.: Study on the inclusion complexes of bromazepam with β and β-hydroxypropyl-cyclodextrins. J. Pharm. Biomed. Anal. 28, 761–769 (2002)

11.

Yilmaz, V.T., Karadag, A., Içbudak, H.: Thermal decomposition of β-cyclodextrin inclusion complexes of ferrocene and their derivatives. Thermochim. Acta 261, 107–118 (1995)

12.

Rama, A.C.R., Veiga, F., Figueiredo, I.V., Souza, A., Caramona, M.: Complexos de inclusão de indometacina com hidroxipropil-β-ciclodextrina. Estudos de dissolução e coeficiente de partição. Braz. J. Pharm. Sci. 42(1), 59–68 (2006)

13.

Frijlink, H.W., Schoonen, A.J.M., Lerk, C.F.: The effects of cyclodextrins on drug absorption I: in vitro observations. Int. J. Pharm. Amst. 49, 91–102 (1989)

14.

Nakajima, T., Sunagawa, M., Hirohashi, T.: Studies of cyclodextrin inclusion complexes. II. Application of the partition coefficient method. Chem. Pharm. Bull. Tokyo 32(2), 401–408 (1984)

15.

Uekama, K., Uemura, Y., Irie, T., Otagiri, M.: Analysis of interfacial transfer and absorption behaviour of drugs following dissolution from β-cyclodextrin complexes. Chem. Pharm. Bull. Tokyo 31(10), 3637–3643 (1983)
Acknowledgments
We are grateful to the supporting institutions: CAPES (Coordenação de Aperfeiçoamento de Pessoal de Nível Superior) and UEM (Universidade Estadual de Maringá).
About this article
Cite this article
Barão, C.E., Zanin, G.M. & de Moraes, F.F. Molecular inclusion of butylated hydroxyanisole (BHA) into alpha and beta cyclodextrins. J Incl Phenom Macrocycl Chem 71, 179–187 (2011). https://doi.org/10.1007/s10847-011-9925-6
Received:

Accepted:

Published:

Issue Date:
Keywords
Butylated hydroxyanisole

Cyclodextrins

Complex

Inclusion