Abstract
Small and medium enterprises' entry to international markets leads to their continuous growth and facilitates national and global economic development. In an attempt to substantiate these outcomes, they seek to acquire best practices and experiences in order to facilitate entering, surviving, and growing in global markets. To address this challenge practically, the present paper introduces a media for networking and a system for transferring internationalization best practices across small and medium enterprises under the concept of Best Practice Network. Subsequently, the paper tries to depict Best Practice Network as a viable business and establish a guideline for implementing it by developing its business model. To achieve this objective, the authors have administered multi-case study research among the top managers of international small and medium enterprises in the information and communication technology sector of Iran. The resulting model is based on business model ontology and proposes a bird's eye view of the Best Practice Network including product, customer interface, infrastructure management, and financial aspects. Moreover, by proposing a media for sharing related best practices, this paper can lead to the decline of the stage theory of internationalization and can excel the born global theory of small and medium enterprises.
This is a preview of subscription content, log in to check access.
Access options
Buy single article
Instant access to the full article PDF.
US$ 39.95
Price includes VAT for USA
Subscribe to journal
Immediate online access to all issues from 2019. Subscription will auto renew annually.
US$ 99
This is the net price. Taxes to be calculated in checkout.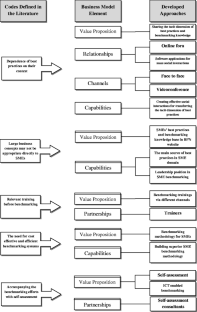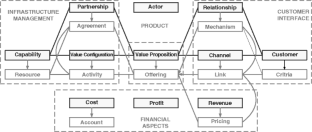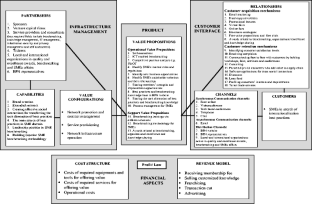 References
Aspelund A, Moen Ø (2005) Small international firms: typology, performance and implications. Manag Int Rev 45(3):37–57

Bell J (1995) The internationalization of small computer software firms, a further challenge to stage theories. Eur J Mark 29(8):60–75

Buchel B, Raub S (2002) Building knowledge—creating value networks. Eur Manag J 20(6):587–596

Canzano D, Grimaldi M (2004) Knowledge management and collaborations: knowledge strategy and processes in the knowledge networks. In: Proceeding of I-KNOW 04 Graz, Austria, pp 175–183

Cassell C, Nadin S, Gray MO (2001) The use and effectiveness of benchmarking in SMEs. Benchmarking An Int J 8(3):212–222

Coviello NE, Munro H (1995) Growing the entrepreneurial firm: networking for international market development. Eur J Mark 7(7):49–61

Crick D, Barr P (2007) SMEs' barriers towards internationalization and assistance requirements in the UK: differences between exporters and firms employing multiple modes of market entry. J Small Bus Entrep 20(3):233–243

Deros BM, Yusof SM, Salleh AM (2006) A benchmarking implementation framework for automotive manufacturing SMEs. Benchmarking An Int J 13(4):396–430

Elmuti D, Kathawala Y (1997) An overview of benchmarking process: a tool for continuous improvement and competitive advantage. Benchmarking An Int J 4(4):229–243

Etemad H (1999) Globalization and the small and medium-sized enterprises: search for potent strategies. Glob Focus 11(3):85–104

Fathian M, Akhavan P, Hoorali M (2008) E-readiness assessment of non-profit ICT SMEs in a developing country: the case of Iran. Technovation 28:578–590

Fragidis G, Tarabanis K (2006) From repositories of best practices to networks of best practices. In: IEEE International Conference on Management of Innovation and Technology, pp 370–374

Gordijn J, Akkermans H, Van Vilet H (2000) What's in an electronic business model. EKAW, France

Gordijn J, Osterwalder A, Pigneur Y (2005) Comparing two business model ontologies for designing e-business models and value constellations. Proceedings of the 18th Bled eConference, Bled, Slovenia, 6–8 June

Hallen L (1992) Infrastructural networks in international business. In: Forsgren M, Johanson J (eds) Managing Networks in International Business. Gordon and Breach, Philadelphia

Hickey P (2000) AORN's role in the Best Practice Network, association of operating room nurses. AORN J 71(3):664–670

Johanson J, Mattsson L (1988) Internationalization in industrial systems—a network approach. In: Buckley PJ, Ghauri PN (eds) The internationalization of the firm: a reader. Academic, London, pp 303–321

Johanson J, Wiedersheim-Paul F (1975) The internationalization of the firm—four Swedish cases. J Manag Stud 12(3):305–322

Kyro P (2003) Revising the concept and forms of benchmarking. Benchmarking An Int J 10(3):210–225

Miles MB, Haberman AM (1994) Qualitative data analysis, 2nd edn. SAGE Publication, Thousand Oaks

Moen Ø, Gavlen M, Endresen I (2004) Internationalization of small, computer software firms entry forms and market selection. Eur J Mark 38(9):1236–1251

Monkhouse E (1995) The role of competitive benchmarking in small to medium-sized enterprises. Benchmarking An Int J 2(4):41–50

Osterwalder A (2004) The business model ontology, a proposition in a design science approach. Ph.D. dissertation, Lausane Universty

Osterwalder A, Pigneur Y, Tucci LC (2005) Clarifying business models: origins, present, and future of the concept. Commun Assoc Inf Syst 16:1–25

Rappa MA (2004) The utility business model and the future of computing services. IBM Syst J 43(1):32–42

Ruzzier M, Hisrich RD, Robert D, Antoncic B (2006) SME internationalization research: past, present, and future. J Small Bus Enterp Dev 13(4):476–497

Simard C, Rice RE (2007) The practice gap: barriers to the diffusion of best practices. In: McInerney CR, Day RE (eds) Re-thinking knowledge management: from knowledge objects to knowledge processes. Springer, Dordrecht, pp 87–124

Yin RK (2003) Applications of case study research, vol 34, 2nd edn, Applied Social Research Methods Series. SAGE Publications, Thousand Oaks
Acknowledgments
We would like to thank Hamidreza Yazdani for his useful discussions around the research methodology section of an earlier draft of this paper. In addition, we gratefully acknowledge the three blind peer reviewers of JIEN and the editor, Hamid Etemad, for their constructive comments on earlier versions of the paper and their contributions to its improvement.
About this article
Cite this article
Zarei, B., Nasseri, H. & Tajeddin, M. Best practice network business model for internationalization of small and medium enterprises. J Int Entrep 9, 299–315 (2011). https://doi.org/10.1007/s10843-011-0080-3
Keywords
Best Practice Network

Internationalization

Small and medium enterprises

Business model design

Business model ontology