Abstract
Purpose
When patients with implantable cardioverter defibrillators (ICD) develop symptomatic atrial fibrillation (AF), external direct current cardioversion (EDCCV), as well as internal cardioversion using their ICD, are the options available. It is currently unknown which of these two methods are more effective. We compared the effectiveness of EDCCV versus internal cardioversion to terminate AF in patients with a single-coil ICD.
Methods
This randomized controlled trial (clinicaltrial.gov NCT03164395) enrolled consecutive patients with a single-coil ICD that presented with symptomatic AF of less than 1-year duration. They received either the maximum energy internal shock through the ICD or an EDCCV using transcutaneous pads of 200 J. The primary endpoint was a successful conversion to sinus rhythm after one shock. Crossover was permitted if the first shock was unsuccessful.
Results
Thirty-one patients were enrolled in the study, including 16 in the internal ICD cardioversion group. The study included patients with a mean age of 59.5 ± 16.0 years, 41.9% females, median AF duration 1 month (interquartile range 1–3), 45.2% non-ischemic cardiomyopathies, mean EF 28.6 ± 16.0%, and 45.2% biventricular ICD. There were no significant differences in baseline clinical characteristics between the two groups. In the internal cardioversion group, 5/16 patients (31.3%) met the primary endpoint versus 14/15 (93.3%) in the EDCCV group, p < 0.001. All patients that failed the first shock were subsequently cardioverted externally.
Conclusion
Among patients with a single-coil ICD and symptomatic AF of less than 1 year, external direct current cardioversion is much more effective than internal shock through the ICD.
This is a preview of subscription content, log in to check access.
Access options
Buy single article
Instant unlimited access to the full article PDF.
US$ 39.95
Price includes VAT for USA
Subscribe to journal
Immediate online access to all issues from 2019. Subscription will auto renew annually.
US$ 99
This is the net price. Taxes to be calculated in checkout.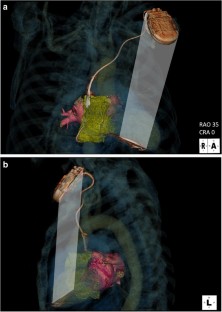 Abbreviations
AF:

Atrial fibrillation

EDCCV:

External direct current cardioversion

ICD:

Implantable cardioverter defibrillators
References
1.

Borleffs CJ, van Rees JB, van Welsenes GH, van der Velde E, van Erven L, Bax JJ, et al. Prognostic importance of atrial fibrillation in implantable cardioverter-defibrillator patients. J Am Coll Cardiol. 2010 Mar 2;55(9):879–85.

2.

Lubitz SA, Benjamin EJ, Ellinor PT. Atrial fibrillation in congestive heart failure. Heart Fail Clin. 2010 Apr 1;6(2):187–200.

3.

Gallagher MM, Guo XH, Poloniecki JD, Guan Yap Y, Ward D, Camm AJ. Initial energy setting, outcome and efficiency in direct current cardioversion of atrial fibrillation and flutter. J Am Coll Cardiol. 2001 Nov 1;38(5):1498–504.

4.

Hsu JC, Saxon LA, Jones PW, Wehrenberg S, Marcus GM. Utilization trends and clinical outcomes in patients implanted with a single- vs a dual-coil implantable cardioverter-defibrillator lead: insights from the ALTITUDE study. Heart Rhythm. 2015 Aug;12(8):1770–5.

5.

January CT, Wann LS, Calkins H, et al. 2019 AHA/ACC/HRS focused update of the 2014 AHA/ACC/HRS guideline for the management of patients with atrial fibrillation: a report of the American College of Cardiology/American Heart Association Task Force on Clinical Practice Guidelines and the Heart Rhythm Society. J Am Coll Cardiol. 2019 Jan;28:25873.

6.

Ambler JJ, Sado DM, Zideman DA, Deakin CD. The incidence and severity of cutaneous burns following external DC cardioversion. Resuscitation. 2004;61:281.

7.

Lüker J, Sultan A, Plenge T, van den Bruck J, Heeger CH, Meyer S, et al. Electrical cardioversion of patients with implanted pacemaker or cardioverter-defibrillator: results of a survey of German centers and systematic review of the literature. Clin Res Cardiol. 2018 Mar;107(3):249–58.

8.

Manegold JC, Israel CW, Ehrlich JR, Duray G, Pajitnev D, Wegener FT, et al. External cardioversion of atrial fibrillation in patients with implanted pacemaker or cardioverter-defibrillator systems: a randomized comparison of monophasic and biphasic shock energy application. Eur Heart J. 2007 Jul;28(14):1731–8.

9.

Lau EW. Technologies for prolonging cardiac implantable electronic device longevity. Pacing Clin Electrophysiol. 2017 Jan;40(1):75–96.

10.

Wang YT, Efimov IR, Cheng Y. Electroporation induced by internal defibrillation shock with and without recovery in intact rabbit hearts. Am J Physiol Heart Circ Physiol. 2012 Aug 15;303(4):H439–49.

11.

Elayi CS, Whitbeck MG, Charnigo R, Shah J, Macaulay TE, Morales G, et al. Is there an association between external cardioversions and long-term mortality and morbidity? Insights from the Atrial Fibrillation Follow-up Investigation of Rhythm Management study. Circ Arrhythm Electrophysiol. 2011 Aug;4(4):465–9.

12.

Elayi CS, Charnigo RJ, Heron PM, Lee BK, Olgin JE. Primary prevention of sudden cardiac death early post-myocardial infarction: root cause analysis for implantable cardioverter-defibrillator failure and currently available options. Circ Arrhythm Electrophysiol. 2017 Jun;10(6). pii: e005194.

13.

Limantoro I, Vernooy K, Weijs B, Pisters R, Debie L, Crijns HJ, et al. Low efficacy of cardioversion of persistent atrial fibrillation with the implantable cardioverter-defibrillator. Neth Heart J. 2013 Dec;21(12):548–53.

14.

Kutyifa V, Huth Ruwald AC, Aktas MK, Jons C, McNitt S, Polonsky B, et al. Clinical impact, safety, and efficacy of single- versus dual-coil ICD leads in MADIT-CRT. J Cardiovasc Electrophysiol. 2013 Nov;24(11):1246–52.

15.

Ching CK, Elayi CS, Di Biase L, et al. Transiliac ICD implantation: defibrillation vector flexibility produces consistent success. Heart Rhythm. 2009 Jul;6(7):978–83.

16.

Darrat YH, Benn F, Salih M, Shah J, Parrott K, Morales GX, et al. Single incision technique for implantation of subcutaneous implantable cardioverter defibrillators. Pacing Clin Electrophysiol. 2018 Nov;41(11):1543–8.

17.

Wittwer MR, Rajendran S, Kealley J, Arstall MA. A South Australian registry of biphasic cardioversions of atrial arrhythmias: efficacy and predictors of success. Heart Lung Circ. 2015 Apr;24(4):342–7.
Acknowledgments
The authors would like to express their gratitude to Paul T. Morrison, RN; Michael Curran, RN; and Jan R. Yankey, RN for their help with this project.
Ethics declarations
The study was approved by the local institutional review board.
Conflict of interest
The authors declare that they have no conflict of interest.
Additional information
Publisher's note
Springer Nature remains neutral with regard to jurisdictional claims in published maps and institutional affiliations.
About this article
Cite this article
Elayi, C.S., Parrott, K., Etaee, F. et al. Randomized trial comparing the effectiveness of internal (through implantable cardioverter defibrillator) versus external cardioversion of atrial fibrillation. J Interv Card Electrophysiol (2020). https://doi.org/10.1007/s10840-019-00689-7
Received:

Accepted:

Published:
Keywords
Atrial fibrillation

Cardioversion

External cardioversion

Implantable cardioverter defibrillator