Abstract
Introduction
Cardiac implantable electronic device (CIED) leads frequently develop echogenic masses. However, the nature of these masses is not well understood. In patients in whom atrial fibrillation (AF) catheter ablation is planned, there is concern that transseptal puncture may result in cerebrovascular embolism of these masses. The optimal therapeutic strategy in this setting remains undefined.
Methods
We describe six patients identified over a 6-year period (2008–2014) with device lead-based masses prior to or at the time of AF ablation. We examined the anticoagulation strategy and periprocedural management based on mass identification.
Results
In all six patients (age 39–73; four males), the device lead mass was found in the right atrium. The average mass size was 11 ± 1.3 mm. The majority of patients were already on anticoagulation (5/6; 83 %), and an intensified anticoagulation regimen was initiated (INR goal 3.0). In all six patients, the size of the device lead mass decreased on repeat imaging. In two sixths (33 %) patients, the lead-based mass completely resolved within 2 months. The remaining four patients had persistent lead-based masses (average follow-up of 10.9 ± 9.6 months).
Discussion
We describe a series of patients with CIED lead-based masses found at the time of ablation. These cases illustrate that lead-based masses can disappear while patients are on high-intensity anticoagulation, most compatible with a thrombotic origin. These early data will need to be assessed in larger cohorts for further validation and evaluation of safety.
This is a preview of subscription content, log in to check access.
Access options
Buy single article
Instant unlimited access to the full article PDF.
US$ 39.95
Price includes VAT for USA
Subscribe to journal
Immediate online access to all issues from 2019. Subscription will auto renew annually.
US$ 99
This is the net price. Taxes to be calculated in checkout.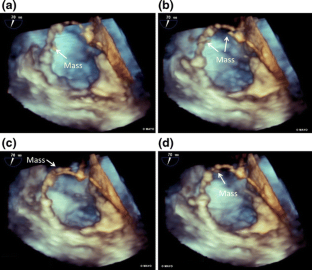 Abbreviations
AF:

Atrial fibrillation

CIED:

Cardiac implantable electronic device

ICE:

Intracardiac echocardiography

PPM:

Permanent pacemakers

RA:

Right atrial

RV:

Right ventricular

TEE:

Transesophageal echocardiogram
References
1.

January, C. T., et al. (2014). 2014 AHA/ACC/HRS guideline for the management of patients with atrial fibrillation: a report of the American College of Cardiology/American Heart Association Task Force on Practice Guidelines and the Heart Rhythm Society. Journal of the American College of Cardiology, 64(21), e1–e76.

2.

Cappato, R., et al. (2010). Updated worldwide survey on the methods, efficacy, and safety of catheter ablation for human atrial fibrillation. Circulation. Arrhythmia and Electrophysiology, 3(1), 32–38.

3.

Korkeila, P., et al. (2010). Clinical and laboratory risk factors of thrombotic complications after pacemaker implantation: a prospective study. Europace, 12(6), 817–824.

4.

Scherr, D., et al. (2009). Incidence and predictors of periprocedural cerebrovascular accident in patients undergoing catheter ablation of atrial fibrillation. Journal of Cardiovascular Electrophysiology, 20(12), 1357–1363.

5.

Seeger, W., & Scherer, K. (1986). Asymptomatic pulmonary embolism following pacemaker implantation. Pacing and Clinical Electrophysiology : PACE, 9(2), 196–199.

6.

Vazquez, S. R., Johnson, S. A., & Rondina, M. T. (2010). Peri-procedural anticoagulation in patients undergoing ablation for atrial fibrillation. Thrombosis Research, 126(2), e69–e77.

7.

Bruce, C. J., et al. (2008). Early heparinization decreases the incidence of left atrial thrombi detected by intracardiac echocardiography during radiofrequency ablation for atrial fibrillation. Journal of Interventional Cardiac Electrophysiology, 22(3), 211–219.

8.

Calkins, H., et al. (2012). 2012 HRS/EHRA/ECAS Expert Consensus Statement on Catheter and Surgical Ablation of Atrial Fibrillation: recommendations for patient selection, procedural techniques, patient management and follow-up, definitions, endpoints, and research trial design. Europace, 14(4), 528–606.

9.

Novak, M., et al. (2009). Autopsy and clinical context in deceased patients with implanted pacemakers and defibrillators: intracardiac findings near their leads and electrodes. Europace, 11(11), 1510–1516.

10.

Noheria, A., et al. (2015). Pulmonary embolism in patients with transvenous cardiac implantable electronic device leads. Europace.

11.

Coleman, D. B., et al. (2004). Pacemaker lead thrombosis treated with atrial thrombectomy and biventricular pacemaker and defibrillator insertion. The Annals of Thoracic Surgery, 78(5), e83–e84.

12.

Supple, G. E., et al. (2011). Mobile thrombus on device leads in patients undergoing ablation: identification, incidence, location, and association with increased pulmonary artery systolic pressure. Circulation, 124(7), 772–778.

13.

DeSimone, C. V., et al. (2013). Stroke or transient ischemic attack in patients with transvenous pacemaker or defibrillator and echocardiographically detected patent foramen ovale. Circulation, 128(13), 1433–1441.

14.

Baddour, L. M., et al. (2010). Update on cardiovascular implantable electronic device infections and their management: a scientific statement from the American Heart Association. Circulation, 121(3), 458–477.

15.

Dumont, E., et al. (2003). Suspected pacemaker or defibrillator transvenous lead infection. Prospective assessment of a TEE-guided therapeutic strategy. European Heart Journal, 24(19), 1779–1787.

16.

Rahbar, A. S., et al. (2013). Risk factors and prognosis for clot formation on cardiac device leads. Pacing and Clinical Electrophysiology, 36(10), 1294–1300.

17.

Jaber, W. A., et al. (2000). Efficacy of anticoagulation in resolving left atrial and left atrial appendage thrombi: a transesophageal echocardiographic study. American Heart Journal, 140(1), 150–156.

18.

Almekhlafi, M. A., et al. (2008). Calcification and endothelialization of thrombi in acute stroke. Annals of Neurology, 64(3), 344–347.

19.

Vaidya, V., et al. (2014). Implanted endocardial lead characteristics and risk of stroke or transient ischemic attack. Journal of Interventional Cardiac Electrophysiology, 41(1), 31–38.

20.

Korkeila, P. J., et al. (2006). Transesophageal echocardiography in the diagnosis of thrombosis associated with permanent transvenous pacemaker electrodes. Pacing and Clinical Electrophysiology : PACE, 29(11), 1245–1250.

21.

Ren, J.-F., Marchlinski, F. E., & Callans, D. J. (2004). Left atrial thrombus associated with ablation for atrial fibrillation: identification with intracardiac echocardiography. Journal of the American College of Cardiology, 43(10), 1861–1867.
Ethics declarations
Financial support
CVD is supported by NIH T32 Training grant no. HL007111.
Electronic supplementary material
Below is the link to the electronic supplementary material.
Consecutive frames from a 3D-transesophageal echocardiogram view of the right atrium demonstrating mobility of a 12-mm mass within the atrium and attachment of the mass to the right ventricular lead. A second mass not seen with 2D-imaging can be seen moving independently of the first mass. (AVI 1882 kb)
Transesophageal echocardiogram four-chamber view with focus on right atrial and right ventricular views shows the RA lead of the permanent pacemaker, an 11-mm mass within the RA, and the attachment of the mass to the RA lead. (AVI 2430 kb)
Transesophageal echocardiogram biplane right atrial view shows mobile mass of unclear size attached to the right atrial lead. (AVI 7051 kb)
3D-transesophageal echocardiogram view focusing on the right atrium demonstrates appearance and disappearance of multiple RA lead-based masses indicating mobility of masses associated with stationary mass identified on traditional TEE. (AVI 7874 kb)
Intracardiac echocardiography of the right atrium clearly demonstrates large size of mobile mass on the right atrial lead. (AVI 8082 kb)
Right ventricular inflow view on transesophageal echocardiogram focusing on right atrium demonstrates ventricular and atrial CIED leads with a single lead-based 12 mass attached to the right ventricular lead. (AVI 6569 kb)
Consecutive frames from a 3D-transesophageal echocardiogram view of the right atrium demonstrating mobility of a 12-mm mass within the atrium and attachment of the mass to the right ventricular lead. A second mass not seen with 2D-imaging can be seen moving independently of the first mass. (AVI 1882 kb)
Transesophageal echocardiogram four-chamber view with focus on right atrial and right ventricular views shows the RA lead of the permanent pacemaker, an 11-mm mass within the RA, and the attachment of the mass to the RA lead. (AVI 2430 kb)
Transesophageal echocardiogram biplane right atrial view shows mobile mass of unclear size attached to the right atrial lead. (AVI 7051 kb)
3D-transesophageal echocardiogram view focusing on the right atrium demonstrates appearance and disappearance of multiple RA lead-based masses indicating mobility of masses associated with stationary mass identified on traditional TEE. (AVI 7874 kb)
Intracardiac echocardiography of the right atrium clearly demonstrates large size of mobile mass on the right atrial lead. (AVI 8082 kb)
About this article
Cite this article
Lenz, C.J., DeSimone, C.V., Ponamgi, S.P. et al. Cardiac implantable electronic device lead-based masses and atrial fibrillation ablation: a case-based illustration of periprocedural anticoagulation management strategies. J Interv Card Electrophysiol 46, 237–243 (2016). https://doi.org/10.1007/s10840-016-0110-0
Received:

Accepted:

Published:

Issue Date:
Keywords
Catheter ablation

Lead-based masses

Lead thrombus

Anticoagulation

Cardiac implantable electronic device