Abstract
A quarter of patients with implanted cardiac devices have a patent foramen ovale (PFO). Thrombus is frequently noted on intravascular leads that in the presence of a PFO could result in cerebral vascular embolic events. However, whether this mechanism of stroke occurs is not clearly known. We report three patients with PFO, implanted leads with thrombus, and stroke, including a patient where thrombus partially attached to the lead was seen traversing the PFO.
This is a preview of subscription content, log in to check access.
Access options
Buy single article
Instant unlimited access to the full article PDF.
US$ 39.95
Price includes VAT for USA
Subscribe to journal
Immediate online access to all issues from 2019. Subscription will auto renew annually.
US$ 99
This is the net price. Taxes to be calculated in checkout.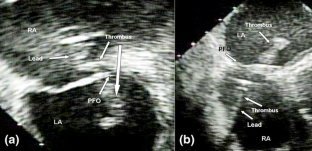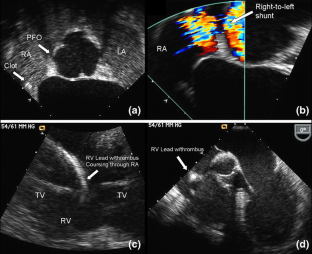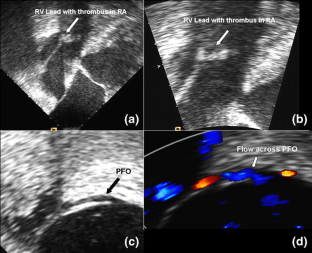 Abbreviations
PFO:

Patent foramen ovale

AF:

Atrial fibrillation

CT:

Computed tomography

TEE:

Transesophageal echocardiogram

CAD:

Coronary artery disease

CABG:

Coronary artery bypass graft

ICD:

Implantable cardioverter defibrillator

LAA:

Left atrial appendage
References
1.

Homma, S., & Di Tullio, M. R. (2010). Patent foramen ovale and stroke. Journal of Cardiology, 56(2), 134–141.

2.

Furlan, A. J., et al. (2010). Study design of the CLOSURE I Trial: a prospective, multicenter, randomized, controlled trial to evaluate the safety and efficacy of the STARFlex septal closure system versus best medical therapy in patients with stroke or transient ischemic attack due to presumed paradoxical embolism through a patent foramen ovale. Stroke, 41(12), 2872–2883.

3.

Supple, G. E., et al. (2011). Mobile thrombus on device leads in patients undergoing ablation: identification, incidence, location, and association with increased pulmonary artery systolic pressure. Circulation, 124(7), 772–778.

4.

Asirvatham, S. J., et al. (2000). Clinical significance of debris on pacemaker leads detected by transesophageal echocardiography (abstract). Europace, 1, D239.

5.

McLeod, C. J., et al. (2010). Epicardial versus endocardial permanent pacing in adults with congenital heart disease. Journal of Interventional Cardiac Electrophysiology, 28(3), 235–243.

6.

Coleman, D. B., et al. (2004). Pacemaker lead thrombosis treated with atrial thrombectomy and biventricular pacemaker and defibrillator insertion. The Annals of Thoracic Surgery, 78(5), e83–e84.

7.

Ergun, K., et al. (2004). An unusual cause of stroke in a patient with permanent transvenous pacemaker. Japanese Heart Journal, 45(5), 873–875.

8.

Wahl, A., et al. (2012). Long-term propensity score-matched comparison of percutaneous closure of patent foramen ovale with medical treatment after paradoxical embolism. Circulation, 125(6), 803–812.

9.

Calvert, P. A., et al. (2011). Patent foramen ovale: anatomy, outcomes, and closure. Nature Reviews Cardiology, 8(3), 148–160.
Additional information
Editorial Commentary
This paper describes three patients with systemic embolic events in the setting of documented thrombus on pacemaker or ICD leads. Although the images showing thrombus in a PFO are impressive, the observation in the absence of a denominator still leaves us not knowing how common this combination is, or what to do about it. Although the potential exists for pulmonary or paradoxical embolization of a lead-related thrombus, causality of embolization is far from certain in the majority of cases. How should the finding of lead-related thrombus and a PFO affect clinical decisions? Should the presence of thrombus prompt intervention with anticoagulation or PFO closure? Indeed, we know from papers referenced by the authors that lead-related thrombus is common.
Limitations of the manuscript include the small sample size and important comorbidities including known cerebrovascular disease in patient 3, recent fractures with attendant prothrombotic states in patients 1 and 2, and atrial fibrillation all make a causal relationship of lead-related thrombosis to stroke in these patients uncertain.
Unfortunately, the impact of the presence of both lead-related thrombus and a PFO in individual patients is unstudied. The negative CLOSURE trial is not helpful for guidance here since exclusion criteria for entry into the trial included "any identified potential cause of ischemic stroke or TIA" which would I suspect include thrombus on a pacemaker or ICD lead. Certainly more needs to be learned, and to develop insulation materials that are less thrombogenic desirable. For now, bedside decisions will have to be made on an individual basis perhaps taking into account the size or presence of right-to-left shunting, the morphology (sessile or pedunculated) and size of the thrombus, comorbidities that may make anticoagulation more risky, and local expertise in PFO closure.
Electronic supplementary material
Below is the link to the electronic supplementary material.
About this article
Cite this article
DeSimone, C.V., DeSimone, D.C., Patel, N.A. et al. Implantable cardiac devices with patent foramen ovale—a risk factor for cardioembolic stroke?. J Interv Card Electrophysiol 35, 159–162 (2012). https://doi.org/10.1007/s10840-012-9712-3
Received:

Accepted:

Published:

Issue Date:
Keywords
Stroke

Pacemaker defibrillator

Intravascular leads

Patent foramen ovale

Shunt

Thrombus